Here in India, where there is land there are people. Where there are people there is trash. Where there is trash there are cows. Where there are cows there is cow shit. Where there is cow shit there are people collecting the shit and making cow pies.
Such is the state of the outskirts of Agra. We drove through fields where we saw many cow pies drying in the sun today on our way to an old Mughal city of Fatehpur Sikri 40 clicks from Agra. Seems most tourists here choose the packaged option and go with tour groups. We were one of very, very few tourists who took a local bus to get here. We walked into the old city where we took out our cameras and were immediately MOBBED with children both young and old jumping all around, yelling, laughing and going crazy. They grabbed at our shirts and ran away when Jeff chased them while yelling and holding out pieces of food. They all asked for school pens.
The old city is very nice – completely walled off with people still living within the old walls built 400 years ago. There are not many hotels in this area.
Reluctantly we left Fatehpur Sikri yesterday. Even the mac daddy traveler warrior of them all Babur, the founder of the great Moghul Empire paid a visit to this remarkable old city. A plethora of guides hounded us every step of the way during our time in this city. They tell you they are volunteers and won't charge for their services. I kept telling them no, no, no and walking away but they stick like glue. So then I told them to take me inside the mosque building – I waited until there were lots of people entering and I pretended to enter with guide but then I shot out the side into the main mosque courtyard and lost the sucker for a few minutes, but then he came back. At the end he asked me to help a poor fellow out and wanted money. I just walked away again.
Fake ticket people hang around bathrooms asking for money. I ignored them and they started yelling at me. Fortunately they didn't follow me into the bathroom and I ran out and away as fast as possible so they could not come after me.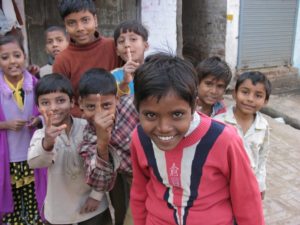 Speaking of Babur, an excellent read by the way is Rory Stewart's The Places in Between chronicling his EPIC & DANGEROUS winter walk across snow covered Afghanistan from west to east, ending in Kabul, retracing a winter journey of Babur. Rory's "hike" was done in the winter of 2002/2003.
There are two individuals who have visited every place we go – Bill Clinton and Mark Twain. Bill Clinton leaves behind photographs of himself with dignitaries which are on display at prominent places, and Mark Twain leaves behind witty quotes for every damn city he visited.
We took the train the other night, got to station at 9pm. Ha, we soon found out that we would have 3 hour wait. Yea right. Three hours turned into 5. We ended up leaving at 2am. And it was unbelievably cold even though we had jackets, 2 head coverings, gloves scarves etc. We spent our time watching literally HUNDREDS of rats, small babies, fat ones, fast ones, slow ones all picking through all the trash in the rails between the tracks. We talked to some travelers we met from Vancouver, and they told us about India's RAT TEMPLE – where Hindu's worship rats and feed them milk and other goodies, and they said there were literally thousands of rats at this temple 24 hours a day. And one removes shoes and walks through rat shit throughout the temple. Some believe the rats are incarnations of something.
It was VERY refreshing to talk to travelers who aren't scared off by the latest international fear factor. This couple had traveled all throughout Asia during SARS and just laughed at the media hype. When they returned home some of their friends were very worried about even being around them.
Then to top it off, there were thousands of birds at this particular train station, all shitting loads of shit – fortunately the poop appeared to be dry and bounced off of my jacket several times. We had the good fortune of meeting the "boss" of this station, i.e., the main superintendent. He invited us into his cold, but slightly warmer than the outside, office and we sat down for 4 hours. He fed us cup after cup of their sugary tea and gave us cookies. We could barely understand him with his terrible clipped English but we nodded over and over again and let out timely laughs meaning nothing to us but meaning everything to him as he thought he was really humoring us! Hahaha. He was surrounded by 10 very old black rotary dial telephones which kept ringing and he would answer while talking to us.
We were crammed in 6 bunks stacked 3 high in each compartment. Many, many snorers and we slept very little that night. Indian Railways employs over 1.6 million people, making it the world's largest private employer. That's more than 2x the population of San Francisco…all working for the railroad!
We visited a large mosque and met many people trying to part us with our money. We gave them no money. Guides pretend to give you free volunteer tour, say they are working at mosque and they are giving free tour because they want to practice their English for foreigners. Then they ask for money at end. Hahaaa yea right – not from us.
Such poverty here, easily comparable with parts of eastern Africa – much trash piled up around, cows and goats seen picking in the trash. We saw people living in small low to the ground tents just along the sides of the road in and around all the trash piles. The poverty here is immense. Also seeing camels pulling many things. The villagers gave me some food which was good. The food in the back streets of this ancient city was better than most of the food we have been eating in the restaurants.
Now we are waiting for our midnight sleeper train. Trying to take internet breaks every hour or so to feed the addiction. Hope all is well wherever you find yourself and your loved ones.