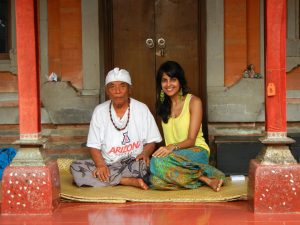 "You so pretty, your lips like sugar."
The 98 year old frail man let go of my palm and made me turn around so he can read my neck and  pronounced with a toothless smile that I would have great sex at midnight.
Good to know.
"Um Ketut, so what about my career?" Ketut coughed a bit, and said he had to go take a pee and got up to go inside. I smiled accommodatingly and looked at my friends patiently waiting their turn to speak to the most famous medicine man in Ubud.
"You get married in Bali," said Ketut upon his return from the bathroom. I looked at him perplexed and asked about my career again. "You so pretty, your lips like sugar," he said patting my palm. "You find husband outside in Bali." he said again, determined to make sure I get married.
"Um, Ketut, I'm already married," I tried to say quietly and slowly so he can understand me. "You find husband in Bali," he re-iterated.
Okay so maybe I was getting divorced in Bali and finding my true love a la Julia Roberts and Javier Bardem in the movie?! By the time I could sort this out in my head, it was time for me to leave my coveted position on his porch and move aside for the next person, one of my friends.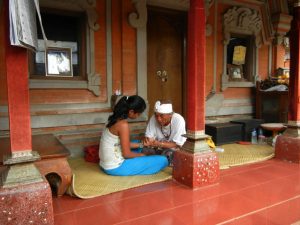 She excitedly scampered up onto the porch and sat down in front of Ketut and watched intently as he looked at her palm. "You so pretty, your lips like sugar," he began.
How did I discover Ketut, asked my friends.  Eat, Pray, Love. The book. When the unhappily married woman in the book divorces her husband and takes off on a journey to find herself, part of her quest leads her to Ketut Liyer, the medicine man in Ubud, Bali.
Okay so we weren't looking to find ourselves nor were we in unhappy marriages. We were 9 friends, couples and singles, simply looking for an Asian holiday amongst paddy fields & beaches.
And a medicine man on the side just seemed unique and adventurous. Now originally from India, I'm not a stranger to palm readers, astrologers, and alternative medicine. I wanted the Indonesian version.
The novel and the movie have firmly put Bali on the tourist map and now it seems Ketut as well. We asked our villa owner if he knew of Ketut Liyer and he said yes, he would arrange a reading with him and that's how we began the short car ride to see Ketut. He's right outside of Ubud town in a quiet residential street.
Ketut lives in a typical Balinese compound. His home is quiet, warm and welcoming, with the walls dotted with pictures of Julia Roberts from the filming of the movie.
The board outside his home says he specializes in healing, meditation, Balinese astrology, palm reading and even home stays!!
We walked in and were asked to take a token from a peg in the wall. We looked at our tokens – 6,7,8,9. Okay that didn't seem so bad. We had 5 people before us, one Balinese family, and a few tourists and then we were up.
The compound slowly began to fill with foreigners and locals alike and we sat on a porch adjacent to his porch where he conducted his readings. We chatted with a woman from New Zealand, and someone else from France, asking them how they had heard of Ketut. They also cited the popular novel as having led them on this quest to see Bali's medicine man.
We quickly realized while he spoke broken English, he didn't really understand some of the questions we asked. His translator tried relaying the questions to him but somehow his responses were not very revealing or convincing.
Realizing that we were starving and he had already told 3 of us 4 girls how our lips were like sugar, we decided to save another $25 from leaving our pockets and instead spend it at the Ubud market.
Now one of my girlfriends was told she'd have 4 children, even though she has decided not to have any. But who knows. Maybe Ketut's prediction will come true and she'll be blessed with 4 kids. She laughs when I tell her this.
I loved meeting Ketut, the toothless medicine man in Ubud. Waiting on his porch in the sticky Bali heat, giggling amongst ourselves, talking to other visitors, and waiting for his predictions – it made for an interesting and exciting experience!
Would I recommend him? If you really want to see a palm reader/medicine man, do your research and look for someone less affected by the popular novel and movie that has brought this man to fame.