Recently we were in Bali for a week. We spent most of our time in the Ubud area and this article focuses on area attractions and information regarding this region.
The closest International Airport is in Denpasar which is about 1 hour and 20 minutes from the town of Ubud. From the airport the cheapest way to get to Ubud is to take a taxi to the bus station in Legion/Kuta and from the station, a bus to the bus station in Ubud. Note that Denpasar airport is served by "airport taxis" and if you try to hail an arriving taxi they will refuse to take you. For more information about the potential "pitfalls" of taking a taxi, read our Taxi Article Here. Expect to pay around 40,000 Indonesian Rupiahs for a taxi ride from the airport to the bus station in Kuta/Legion (about 15 minutes). The bus ride one way from Legion/Kuta is about 80,000 Indonesian Rupiahs.
Once you arrive at one of the bus stations in Ubud you will most likely be greeted by several home stay owners all trying to convince you to stay in their particular house. You can go with them to review their accommodations or if you don't have a place to stay, the bus stations in Ubud are all within walking distance of many hotels, home stays and other guesthouses.
The roads on Bali Island are narrow and often curvy. As a result there is no fast way overland on the island. It can take several hours to drive across the center of the island. Ubud is home to many businesses offering tours. However, the main tours all visit the same attractions and are priced the same regardless of where you sign up. There is one main tour sheet listing the attractions and prices that is used by anyone offering tours. For information on what to look for before deciding on a tour on site, please review this article.
Area Attractions
In order to visit these attractions you can either rent a car, a car and a driver, a motorbike or go on a tour. If you are comfortable on a motorbike or driving in a non familiar country, this is definitely the way to go. Motorbike rentals are extremely cheap and gives you the flexibility of stopping when you want rather than being tied into a very set tour schedule.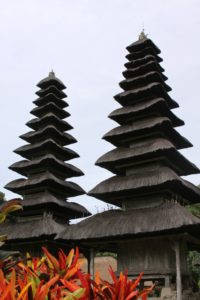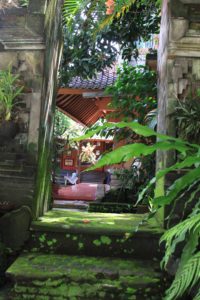 Here are a few attractions that we visited during our time in Ubud.
Banjar Hot Springs is only about 6km from Lovina Beach and is well worth a stop if you are in the area. This is about 2.5 hours from Ubud. Forgot your swimsuit? Don't despair as a number of cheap swimsuits are sold on site. If you live in a colder weather climate country your idea of a hot springs might be different from an Indonesian Hot Springs. These springs are rather luke warm which in actuality is perfectly suited to the already warm climate. Various raised pipes provide small waterfall like action for relaxing under. Beautiful tourists tend to congregate here.
Kintamani Volcano is a must visit highlight if you are staying in Ubud. It last erupted, albeit slowly, in 1994. The remnants of this eruption are clearly visible from the main viewpoint next to the road in the form of black lava which flowed most of the way down the volcano. Even today, steam continues to emit from some of the calderas on the side of this volcano. The viewpoint is located about 90 minutes from Ubud accessible an narrow windy paved roads. This is a popular stop with tour groups, or you can rent a motorbike or car and drive here yourself.
Also note, on the drive up to the Volcano lookout (about 20 minutes before you reach the lookout) there are several Spice and Fruit farms next to the road. It is definitely worth stopping at these as the spices and fruit grown on site is available for purchase in their gift shops. You may find the rarest coffee in the world for sale here. It is a Balinese coffee made from coffee beans collected from the poop of a mongoose like animal. This animal selectively eats the choicest coffee beans, not actually chewing them, so they pass entirely through its system. Various samples of the coffees and spices are typically available.
Royal Family Temple is located about 20 minutes from Ubud and is a good example of a Balinese temple. As with other Bali temples, a sign in front clearly states "no menstruating women allowed". This is not a huge temple and 30 minutes is a good amount of time to spend here.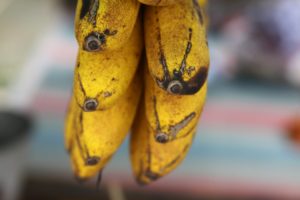 Sacred Monkey Forest is appropriately located at the end of Monkey Forest Road amidst a thick jungle like forest, within walking distance of the main part of Ubud (1-2 kilometers). A small admission fee is charged. Allow at least an hour for a visit here. You will see monkeys and lots of them! Small ones, big ones, families and hungry monkeys. They love bananas and coconuts and you might see them chasing each other for food. The monkeys are so numerous and used to humans that they will walk right past you, or sit in front of you as you watch them, or they watch you. If you have food, bulging pockets or other opened bags some of the monkeys will probably investigate and try to jump on you or get into your pockets. If you are not physically bothered by the monkeys, a visit here can be very peaceful and scenic. For more information visit: www.monkeyforestubud.com
Shopping. Ubud is the arts and cultural hub of Bali and as a result there are many business selling unique arts, handicrafts and clothing. The majority of the shops are privately owned and are small. Bargaining is expected – we typically found for many items that the price quoted was 2x what the owner would end up selling it for if you spent some time bargaining.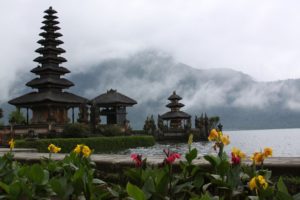 Temple of the Holy Water (Pura Tirta Empul) is located approximately halfway between Ubud and the Kitamani Volcano. Foreigners will have to pay a small entrance fee. A crystal clear stream flows here and during special events, the pools inside will be full of Balinese. This water is supposed to bring those who touch it prosperity and well-being. A great time to visit is during a full moon as the temple becomes alive with activity.
Ulun Danu Temple is located on the western shores of scenic Lake Beratan. This is a must visit temple located about an hour outside of Ubud. A small entrance fee is required for foreigners – if you look Indonesian but are not, chances are, like with other entrance fees – you will be able to enter for free. Many people from neighboring South East Asian countries could pass for Indonesian. This is a beautiful location especially if there is some fog around partially covering the mountains on the other side of the lake.
Restaurants
KAFE is a wonderful community oriented tropical cafe bistro type restaurant located at 44B Jln Hanoman Street in the heart of Ubud. This is a unique restaurant that is combined with a yoga studio upstairs and a product shop located within the actual restaurant (called Balicares, sells environmentally friendly items including organic food products). The restaurant serves all fresh, tasty and very healthy food. They have one of the best grilled tuna salads we've ever tasted on our travels and during our stay we ordered 4 of these on different occasions! It is also easy to go crazy and order a bunch of drinks. Their drink menu is very extensive ranging from coffee/espresso to extracted, to smoothies and shakes. As with their food, the focus is on healthy items and you will never see soft drinks sold here.
They offer a children's menu as well as a good dessert selection. They are open 11am to 8pm every day – free wireless Internet is provided and you always see tourists hanging out using their laptops. The front of the restaurant is open and looks out onto the street. All furniture is made from recycled materials and is designed with lounging and relaxing in mind. some of the seating is with pillows on cushions. Note that the yoga studio upstairs hosts Ubud Movie Nights – check their website for details and more information in general: www.balispirit.com/kafe
Warung Nasi Goreng is a tiny restaurant surrounded by art shops on Hanoman Street. This is one of those small restaurants you will never find online as they are only setup for walk by visitors. 2 tables are located on the sidewalk when the weather permits. One table is inside the restaurant with a wood bar like table that can service maybe 3 or 4 people. Their Granitas drinks are outstanding – these are fruit flavored ice drinks, akin to a snowcone. Also a good Sato Ayan soup, Roti and several Thai dishes. Phone (0361) 977161
Lodging
Ubud is home to a plethora of home stays which are the cheapest form of accommodation. You will stay with a family that rents out rooms, or inside a walled courtyard where there are several individual units. You can easily find these just by walking down any of the surrounding streets off of Jalan Raya (the main street through town). There are also a number of guesthouses and budget accommodation as well as higher priced small resorts both in and outside of town.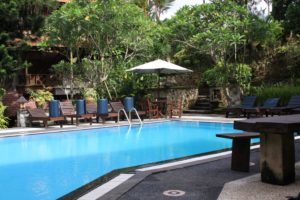 We stayed at the Artini 2 Cottages located on Jl. Hanoman Street in Ubud. Don't confuse this particular resort with the several other Artini locations around town. While certainly not the cheapest lodging in town by any stretch a stay here is peaceful, quiet and very relaxing. Intimate, tranquil and romantic are three other words that can easily describe a stay here. Each cottage is well decorated with local Balinese furnishings, has a porch and is either Fan or AC. The pool courtyard is the central part of the hotel – several waterfalls are built into the rock wall, lots of chairs surround the pool and the restaurant also overlooks the pool. Breakfast is included with the price – the selection is limited so on a multi-day stay you may find yourself ordering the same item each day. The staff is very friendly and helpful.
Artini 2 is located within walking distance of the Monkey Forest (about 1km away) and is surrounded by art shops, massage businesses, several restaurants and Internet Cafes. A beautiful rice field is located next door, the walls that surround one side of the hotel are earthen and form the barrier of part of the rice field. Sometimes during wet weather water leaks through creating a nice ambiance. Flowers are a big part of this hotel – when your room is made up every day flowers will be put on your doorstep and in your bed, part of the walkways are also decorated with these perfumed pretties!
There is a bunch of nearby lodging – one nice and much cheaper than Artini option is the Kunang-kunang Guesthouse across the rice field from Artini 2 at Hanoman Street 43.
Massages
Ubud contains a plethora of beauty salons and massage businesses. In general the prices are extremely reasonable especially when compared to the prices you would find in the states or in Europe. Most massage businesses offer multiple massage options ranging from reflexology, to a full massage, to various scrubs. Many of the massage businesses are not setup to take appointments and you just walk right in. We tried several massage businesses and two we recommend are:
Bali Healing is located at JL Raya Hanoman 43 and is a very small beauty salon offering a variety of massage services. For reference, they are located just north of the Artini 2 Cottages on the same side of the street. The owner, Ni Made Suweti has traveled and trained abroad including in India, Turkey and Malaysia. She has picked up a variety of massage techniques and offers a number of massages ranging from the "four hands" to Warm stone, to Lomi Lomi (Hawaiian), to Shiatsu and a Balinese Massage. A number of scrubs and wraps are also available.
Sang Spa is run by a husband wife team of Ngurah and Asti who at the time of this review are still both in their 20's. A variety of massage options are available, walkins are welcome although they do take reservations. Showers are available for cleaning off of the oil after your massage. Both Ngurah and Asti are very friendly and are the ones who have trained their own therapists. Sang Spa is located at Jalan Jembawan #29. Phone (0361) 8631816, 0813 207 29029. E-mail: sangspa@yahoo.co.id Visit: http://sangspa.blogspot.com
For reference, here are a few other day spas offering massage services.
Dewi Beauty Salon is located just off of the main Ubud Road on Jalan Sugriwa Street. This is predominately a beauty salon but they do offer several affordable massage options.
Sedona Spa is located at Jln. Raya Campuhan and offers a bunch of wellness services including massage. They also make outcalls and can give massages in your own hotel room. Visit: www.sedonaspa-ubud.com
Spa Taman Rahasia is located inside the Taman Rahasia resort. Indulge yourself with a visit to this spa – their all day package is especially popular with those looking to receive extra pampering. Visit: www.balisecretgarden.com
A good resource for spa's is: www.balispaguide.com
More Information
The following are good sites to reference in regards to travel to Bali.
www.balitouring.com – good resource for travel to Bali and Ubud