I had the happy occasion to be in Thailand in spring 2011, staying first in downtown Bangkok, then up in Chiang Mai, luxuriating in two hotels that were two of the most glorious and well appointed I'd ever enjoyed.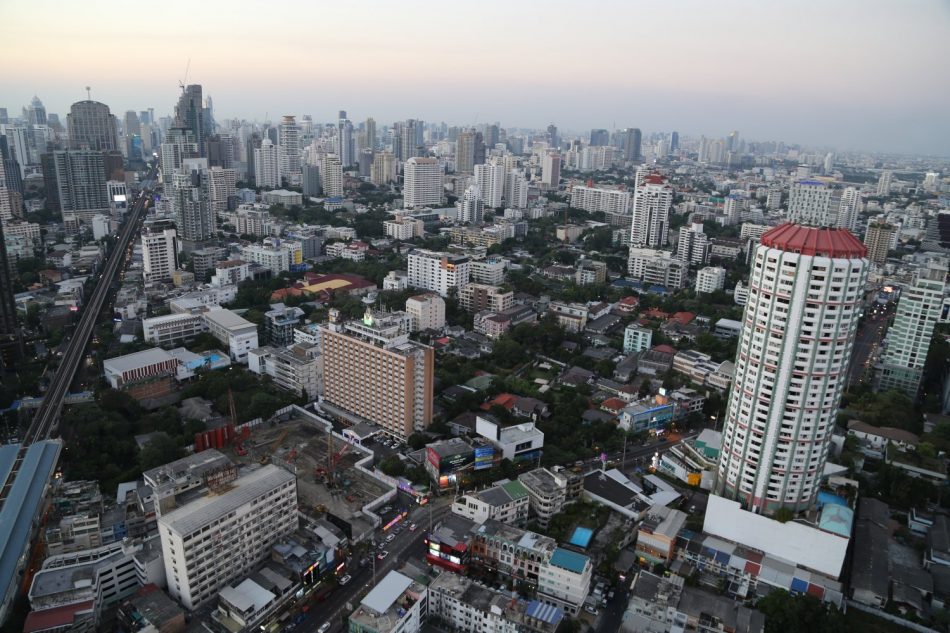 In the thick of downtown Bangkok is Lebua at State Tower, a five-star, all-suite luxury hotel that towers over the rest and offers stunning views of the city and Praya River below. It is a massive place of glass and stone, and my suite on the 57th floor offered more room than a single traveler could ever need. The floors were of gleaming hardwood, the kitchen huge with marble countertops, a dining area nearby, a long, sweeping living room, and two bedrooms with bath (one bedroom had the bed removed, and in its place a table for in-room massages).
It was a glorious space, with four rather large concrete balconies, access gained by sliders and a terrific place to take your Nespresso-made coffee out for an early-morning viewing. The only drawback was no furniture on the balconies, necessitating hauling out a kitchen stool. Small price to pay for so smashing a relaxing view.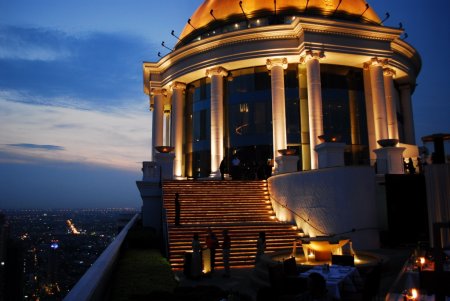 Dome seen from the Sky Bar at Lebua at State Tower
My first night there, after a grueling 24-hour trip, was offset by arranging an in-room massage with Aor, a pretty young Thai girl who provided me with traditional massage clothing, in my case an ill-fitting tank top and Capri pants (I'm six-feet tall, 210 pounds, it just wasn't a good fit). Aor was incredible, hands strong and capable as she gave me my first ever genuine Thai massage, which unbeknownst to me included bending and stretching me every which way in a treatment that seemed more submission wrestling than massage. But she worked her magic to a remarkable degree, and all those contortions paid off as I felt completely relaxed for a most needed long night's sleep.
Not to be missed here is the Sky Bar on the 64th floor, said to be the tallest open-air bar in the world. The neon bar changes color as guests gather round it, drinking in the killer cocktails and exceptional views. The bar is located by the Sky Dome, an astounding, gold-tinted dome that caps the hotel, and here they serve open-air dinners at Sirocco, with world-class food and provide live jazz music to complete the experience.
Check it all out at www.lebua.com
We also made our way up to northern Thailand, staying at the uber-elegant Four Seasons Chiang Mai, the rural setting a far cry from bustling Bangkok. This five-star resort surrounds working rice paddies (guests can plant their own rice if they want, and don't mind getting muddy), with Lanna-style pavilions overlooking them. The rice paddies are tended by local farmers who donate the crop to local charities, and daily they toil there, offering the most unique viewing experience I think I've ever had at a hotel, this one within the Mae Rim Valley overlooking the Doi Suthep mountain range in the distance..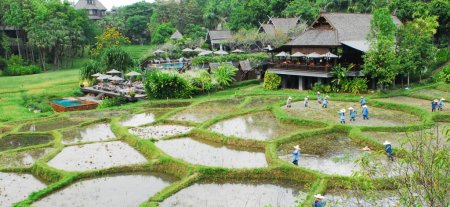 Here, you take your French press coffee from your impeccably appointed and spacious room and wander to your covered, furnished veranda (table, chairs and one massive, comfy couch), connected by a 40-foot boardwalk, and watch the day start. One morning, there was a yoga class stretching just across a pond at the resort, and later farmers dotted the paddies. It is a terrific place to listen to the early morning cacophony of insects and birds and the occasional throaty growl of gecko lizards. Later in the afternoon, a worker walked around the paddies and resort lighting tiki torches to burn long into the night.
My room was superb, of teak and rattan, with a huge bath, one wall of which was entirely glass, surrounding the shower and soaking tub, tastefully hidden from outside viewing by vegetation and lattice. Exquisite doesn't come close to describing the digs, with free Internet, huge comfortable bed, chilly air conditioning to fight the Thai heat and hand-made toiletry holders of blue, wood-ash glaze and products by L'Occitane en Provence to fill them.
There are ample walking and biking opportunities here as well, and even staying on the property is worth it. Daily, gardeners fill urns with a dazzling display of local flowers, each day the patterns changing, ever colorful. The restaurants are superb, including the outdoor terrace overlooking the resort and near the main infinity pool, and adults-only one below, a most restful place to relax in the afternoon and be doted on by super-attentive staffers.
Four Seasons Resort, Chiang Mai
There are 98 total rooms here, 64 of them pavilions such as mine, 12 are pool villas and there are 22 private residence rentals, truly astounding in size and appointments, with private pools and outstanding design and landscaping. The entire resort evokes the feel of a Thai village, and was built in 1995, rebranded as a Four Seasons in 2003.
Check it all out at www.fourseasons.com/chiangmai/
Bio:
Paul E. Kandarian is a freelance writer in Massachusetts who writes regularly for the Boston Globe, Rhode Island Monthly, Upscale Living Magazine and has written for a variety of other magazines and newspapers, including Yankee, Playboy, Banker and Tradesman, American History Magazine and others. Contact Paul: Paul E. Kandarian