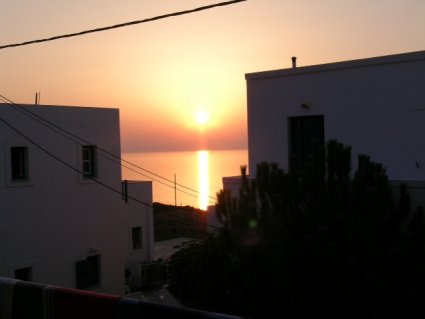 What makes a trip memorable? The people? The places you visit? The events? What if everything falls into place? What if the trip is so good that it becomes your Best Trip Ever?
This story takes places in sunny and beautiful Greece, in the hot summer month of August. I had received an email from one of my best friends from college who had decided to take his summer vacation a step further and get married in Greece. A few quick emails and phone calls around the world and this was turning into a small college reunion of sorts.
We all commenced from far off places like Japan, Australia, America, India and not so far off places like Switzerland and Poland towards Athens as it prepared to host the 2004 Summer Olympics. What followed over the next 10 days can only be described as a perfect vacation;
The Places:
Athens: My first stop and border of entry into Greece. I had flown into Athens having flown my trusted KLM from New Delhi via Amsterdam. Meeting my friend Jeanne, we headed together to meet the bride and groom, Brooke and Michael. It did not take long for me to fall in love with the place. The people were genuinely friendly, the air felt fresh, the food scrumptious, and the city simply vibrant. Since I am a sucker for all things antique you can imagine my joy at finding the ruins so marvellously preserved all around (something I hope was the case in India).
Our first day was spent walking around the streets of Athens and discovering the Greek way of life. I love to aimlessly wander in a new city to get a feel of the place and in doing so we ended up spending a considerable amount of time souvenir shopping (never too early to start) and cafe hopping in Monastiraki which is a centrally located square buzzing with tourist activities and in Plaka which is the oldest section of Athens.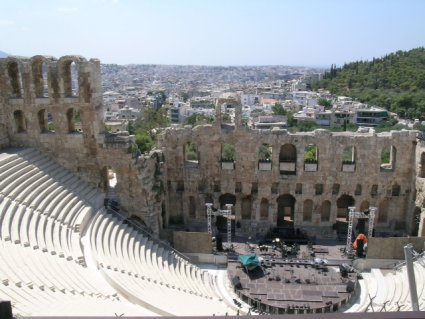 Day 2 and we turned typical tourists. Water bottles in hand and heads covered to protect us from the sun we walked around the city hitting all the major attractions. Acropolis, The Parthenon, Athenian Agora, The Olympian Zeus Temple, The Odeon of Herode Atticus, and the National Archaeological Museum. What is so wonderful about Greece and not only Athens is that there is history seeping out in every nook and corner. There are ruins and a stories waiting to be told at every turn.
Naxos: An approximately five hour ferry ride from Piraeus, Athens took us to our next destination, Naxos, where more friends and family joined the group. If your budget permits try and get a first class ticket on the ferry. The seats are a lot more comfortable and indoors. Naxos will always be special because this was also the first time I rode a scooter. Yes, it was a gear-less one and not too manly I suppose, but nevertheless it proved to be the best form of transport for the island. The island in itself comes alive at night, especially along the port with its many bars and cafes. One of the most prominent sites in Naxos is the Portara – The Gate of the Apollo Temple. Situated near the port it is visible from around the island and was supposed to be a temple for the God Apollon. Our time in Naxos was spent riding along the island discovering the villages and beaches. It would be unfair to name a single beach as each and every beach in Naxos was unique in its own respect and should be discovered by each traveler. During the day you are likely to find most people getting baked at the beach or recovering from their hangovers, but there is a much more laid back feel to this island. Naxos is an island that is touristy, yet doesn't fall in the same category as say Santorini or Mykonos famous for extreme partying.
Amorgos: Finally we headed towards our final destination, all together on a ferry, to Amorgos. Something I did not realise till much later was the fact that quite a bit of Luc Besson's movie "The Big Blue" was shot in Amorgos. The island is a much relaxed and a peaceful place where Greeks and the French (because of the movie) go for their vacations. Part of the Cyclades group of islands, Amorgos has some of the clearest blue waters I have come across in the world. The beaches range from stony to sandy, but each having its own identity and charm. The most breathtaking site on the island has to be of the cliff hanging Monastery of Virgin Chozoviotissa. It is simple one of the few places in the world that have to be seen to be appreciated. Once again hiring scooters on the island was essential as they proved to be the ideal form of transportation. Amorgos is one island that I recommend everyone visits when they plan their trip to Greece.
The Food:
Greek food, which was relatively new to me, literally blew my mind. Souvlaki (Pita break with meat, salad, sauce), Spanakopita (spinach, cheese, onions in a pie form), Moussaka (meat and eggplant baked layer casserole), Dolmadakia (vine leaves stuffed with rice and vegetables and/or meat), Tzatziki (Sauce), gyros, baklava (Nut pastry with honey on top), Halva, Marides (small deep fried fish that can be eaten whole), Kalamarika, and last but not the least some Ouzo to end it all are just some of the most amazing foods and drink available that I managed to try. One of my favourites was Octopus. Well until I witnessed a local catching octopi and then thrashing them on to a nearby rock to what I can only assume stun them. It reminded me of the famous Dhobi Ghat in Mumbai, India where clothes are cleaned in a somewhat similar fashion.
The Wedding:
Trying to remember the faithful day when two people became one, I contacted Michael to fill in the blanks in my memory. The wedding took place on Sunday, August 8, 2004. The Mayor married Michael and Brooke at the Town Hall in Chora, Amorgos. We got to throw rice on the couple and there was a silver tray with sweets and rice that were shared with on-lookers. We paraded through town for all to see, with the musicians playing Greek wedding music to let people know our arrival. As we passed doorways, people opened their windows and shutters to congratulate the couple.The Mayor on arrival to the square where the marriage took place gave the traditional Greek wedding speech, in English. That evening we were treated to a lavish reception dinner filled with music, dance, and all-round happiness.
Overcoming the Problems:
The trip was not without problems, but then I look back at them now and cherish those too.
The Heat Rash: This was the vacation where I finally discovered that I am allergic to heat, especially when in contact with sea water. Although I swam in the sea in Naxos, it wasn't until I reached Amorgos that I was suffering from this itchy and scratchy skin reddening heat rash. Rather than suffer the darn thing I figured that I already have it now, so how bad can it get and continued to enjoy the beaches. It wasn't until I reached Athens on our way back that I was itching no more.
The Room without an AC: An important aspect of booking your hotel room (or picking one up as you are greeted at the ports by local Bed & Breakfast owners) is making sure you have air-conditioning in your room. We made the mistake of not checking and being in need of cool air (a hot room didn't help my "heat" problems) I ended up sleeping under the stars in the balcony (the night providing a cool sea breeze) while in Amorgos.
The Special Moments:
This little trip of mine will always have a special place in my heart. The trip was all about just being there and sharing moments and memories with friends. It was about sitting till the wee hours playing "Truth or Truth" (too tired to do a dare), or having the father of the bride tell your future, him being a tarot card reader. It was about dancing till late in the hot and humid night not bothered about your clothes dripping with sweat. The trip was about not caring too much about anything and enjoying the present. It was about riding a scooter for the first time or eating an octopus. It was also about making new friends and strengthening old friendships. My Greek trip had it's up and downs but the most important lesson I learnt was that it was up to me to make the most of it.
Obviously seeing two of my friends get married and having the opportunity of being part in this union of souls (Yes! I just love to be cheesy with statements like these) in a foreign land was the icing on the cake.