It was about 3 in the morning and I pulled out of the hazy half-sleep I'd goaded myself into, there was a small commotion over the aisle where my friends were sitting –hurried whispers, rearranging and by the time my brain caught up with what was going on my friend was sitting in the aisle, half asleep himself, soaking wet.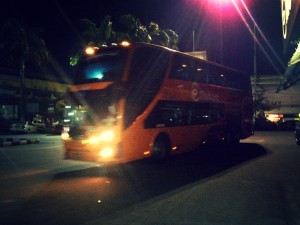 I tried to steady myself to figure out what happened, but any way I shifted threw my balance. We had the last row of seats on the bus and the driver was liberal with his turns through the hilly, bumpy road. My elbow grazed my friend's head and he caught my arm, startled, pointing over to his seat where water was pouring out of the ceiling for some reason. I hadn't slept in two days and burst out laughing at the absurdity of it. He leaned back with his face in his hands to rest against the rear of the bus but a heavy curtain gave way to a small compartment, and the bus gave a mean turn as he flailed his arms to catch himself from falling back and grabbed onto a person's leg.
Without warning a small Malaysian man stuck his head out from behind the curtain and just looked from me to my friend and back to me again before slowing retreating back into whatever little cave was in the back of this bus.
And we still had 4 more hours to go.
I absolutely loathe night buses. I'm a restless sleeper to begin with, so very never got the hang of dozing off in buses, trains or even airplanes (and greatly envy those who can.) But when it comes to budget travel the overnight buses are a must. They're usually a bit cheaper than travel during the day, sometimes are your only option, keep you from losing time traveling and best of all, help you save on accommodations. There's no expectation of luxury and while the weird conditions can sometimes make for great stories, there are a few other ways to keep the experience from being the absolute worst:
1. Splurge on the (slightly) nicer option: During long-term travel, a few dollars truly does make a difference so it's almost a no-brainer to automatically opt for the cheapest option on the board. But you need to know when to pick your battles. Often for only a few dollars more you can trade up from what looks like a converted school bus to something that could be an airplane cabin, complete with entertainment systems in the headrests. Some buses even have beds and hand out blankets, pillows, or even food. The cheaper option seems fine when you book a ticket, but at 4AM you'll be cursing your former self. That said, especially in regions like Southeast Asia there are tons of bus companies trying to earn your business, so shop around to get the beat rates.
2. Layer up: Buses crank the air conditioning down to arctic levels – the systems only seem to have two settings: maximum and off. The refrigeration is probably preferable to the stuffy, humid alternative, but is nevertheless hugely uncomfortable if you're not prepared.
3. Bring food and water: The buses are often pretty unpredictable regarding rest stops, so it's best to bring on some food and water for the ride. But pace yourself, because you don't want to end up needing the restroom at an inopportune time, either – which brings us to…
4. Don't drink booze: I've made this mistake before. Considering I board the bus with full knowledge that I won't get any sleep, I'll split some beer or wine with whomever I'm with to take the edge off the ride. Big mistake. While the first hour or so are fun, once you realize you need to use the toilet the fun halts, fast.
5. Bring headphones: The driver will turn off the lights for pretty much the entire duration of the bus, and as half the bus snores it's nice to have music or an ebook to listen to. If you have a laptop or iPad to watch movies on, even better. If you do plan on getting sleep, grab earplugs – because just like in hostels it's that one time you forget when you'll get a host of snorers.
6. Arrive early: Many bus lines will assign seats, but if yours does not – get there early to grab a seat. That way you'll be able to situate yourself and your stuff before the bus fills up. If the seats are assigned, getting the tickets early keeps you from getting the absolute last row as well, which can save you from a rocky ride.
Additionally, unless your ticket clearly has a seat number on it you're not necessarily guaranteed a seat. Sometimes buses have "hop-on hop-off" systems that are essentially operated first-come first-served.
7. Travel with friends: Even if you're on the road solo, make friends on your bus. Not only are the conversations you have on long bus rides sometimes the most interesting you'll have, but when you're tired and cranky, it's nice to have solidarity among others.
8. Just have fun with it, it'll be over soon. If we were taking luxury coaches or flying from place to place, it wouldn't be backpacking. Overnight travel is a tried and true tradition for travelers, and it's so often that the if not the best stories, at least the strangest stories come about from otherwise mundane, exhausting experiences.