Tihar, or Diwali, came and went last week and I went to Pokhara for a mini vacation. After a rainstorm, dinner at a Nepali family's house, and an impromptu whiskey with an old friend passing through Kathmandu, Kendra and I headed out to Pokhara via microbus on Tuesday morning. A day of travel on each end, we spent three full days in the town and it was a relaxing respite. We didn't realize we chose to travel on the biggest day of the Diwali festival—the equivalent of the Wednesday before Thanksgiving in the States—until we arrived at the bus park and were told the microbuses were full and we'd need to take a tourist bus. Tourist buses are just what they sound like, big bus-sized vehicles that transport…tourists. Microbuses on the other hand, are large-sized vans that typically carry Nepalis and are a mellower, cheaper, and safer feeling ride according to Kendra who had taken each type on her trip to and from Pokhara the last time around. Discouraged and disappointed, we wandered around for a bit longer and happened to find an empty microbus, destination Pokhara. I hopped into the 15-seater after somewhat reluctantly relinquishing my big pack to be carried atop the van (strapped down? I hope so…). A few people got in, then a few more. Then more. And more. And more and more and more. 27 people in a 15-person van kind of full.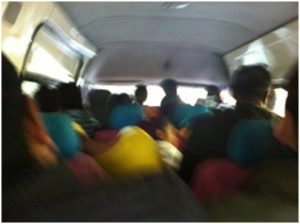 Kendra and I shared the back row of this van with a husband and wife and their four-ish year old daughter on their laps. As people were piling in and on top of other people, a man was directed to our back seat. I, ugly American that I am, stupidly thought I might have some say in the matter of squishing a sixth person onto our already overcrowded four-person seat and just put my hand out and said "no." Ha. For the next six hours I would be squished against the wall of the van, Kendra's left butt cheek half on my right thigh, and this Nepali man sleeping on her shoulder.
We stopped for a 15-minute stuff-your-face-with-dal-bhat break that was much appreciated by us ladies in the van who had not jumped out during the thirty-second pee-on-the-side-of-the-road break. As we got back in the car, Kendra and I sat and watched the men in the row in front of us fix the makeshift seat that was helping accommodate a few of the extra riders in our microbus: a piece of plywood placed across a narrow aisle and topped off which a flowery cushion. Seeing the curious looks on our faces, one of the men looked at us and simply said, "dis is Nepal." The young Nepali sleeping on Kendra's shoulder woke up at one point to sheepishly apologize for the unintentional snugglefest they were having and said, in reference to the 40 oz Everest beer he'd downed at our dhal bat rest stop, "sorry so tired, maybe it the beer."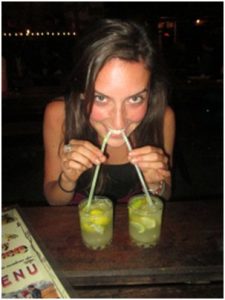 But eventually we did make it into Pokhara where we were unfortunately greeted by clouds rather than mountains. The available room at our guesthouse contained both a double and single bed and in trying to bargain down the price seeing as we had no need for the extra bed (though it was eventually deemed our 'snack bed'), we settled on 800 rupees. When we went back downstairs to formally check in and reiterated our new price to the manager, he responded with "oh maybe 800 but maybe 1000 also okay too." We got dinner in Lakeside – Pokhara's tourist neighborhood – and enjoyed the unique interpretation of happy hour: if you order one cocktail, you get the second free, and both drinks are delivered concurrently. We spent our time boating on the lake, went on a day hike to the World Peace Pagoda, did some shopping, wandered around the area outside of Lakeside, and woke up at 4am for a Himalayan sunrise at Sarangkot. We found a breakfast spot, Love Kush (the names typically given to Nepali twins) around the corner from our hotel and visited it each morning. Two very sweet Nepali waiters would giggle everyday when we showed up yet again. One day, after we'd ordered our food, Kendra inquired, "are there onions for the omelet?" Now that is a direct quote, no "likes," "ums," or confusing fillers. Our waiter paused for only a moment before fully understanding the question and replied, "Okay, 1 cheese tomato toast."
Our hike to the World Peace Pagoda was a typical experience of chicken-scratch directions from our hotel manager to accompany Lonely Planet's vague description and the general feeling of maybe knowing where you are headed, maybe not. On the way to the Peace Pagoda we planned to stop at Devi's Falls, a waterfall and cave combo site. We double-checked that our route was correct with an old Nepali man we encountered and pointed down the road we were on and asked, "Devi's Falls?" He stopped and paused before pointing down each of two streets and energetically saying, "Devi's Falls. Devi's Falls…same!" Later, after being warned by a toothless Nepali with questionable fingernail hygiene that we were not to venture into the jungle on our own, for fear of robbers ("jungle robbers! jungle robbing!" …), we forged on. A bit later we were chased down by a 6-year old boy whose name we were not able to pronounce and who insisted on guiding us to Devi's Falls. His route was an alternate one through the middle of rice paddies, backyards, and along fence lines. When we made it to Devi's Falls and asked if he knew where the cave was located, he responded with blank stare that indicated a lack of understanding. Just a minute later, a guide leading a pair of European women began barking at our novice guide in Nepali and pointing across the street. After a brief conversation in Nepali, our wee guide turned back to us and pointed with one hand saying, "okay, cave this way please." Successfully making it to the cave, we struggled with whether or not to give the boy any money. We ended up giving him 10 rupees at which he looked down dejectedly and said, "okay, maybe 20?"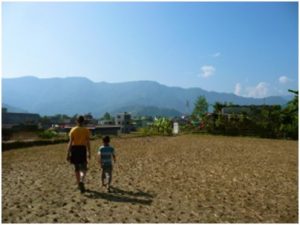 That same evening we decided to scope out some more local food – a curry or Indian or maybe Tibetan food. We settled on a hole-in-the-wall Indian joint in which white people were eating and deemed it acceptable. We took a seat and discussed what we'd order and if we might risk getting chicken. Neither Kendra nor I are vegetarian but we have both approached meat in Nepal the same way: skeptically and reluctantly. I said that I was interested in chicken but that if you were going to get sick, it would be from somewhere like this. However, we agreed that if we were going to go down, at least we would go down together and settled on chicken tikka masala. Just as our waiter approached us to take our order, next to me Kendra starts oh-my-godding and looking under the table. She told me she'd seen something rodent-like and I promptly picked up my flip-flop clad feet to rest them on the chairs opposite us. As I'm huddled up in Kendra's shoulder, my face mere inches from hers, in the most serious tone I said the very next thing that came to my mind: "so no chicken?"
Kendra was interested in seeking out Tibetan bread, something she'd been hearing about and wanted to try. We found another hole-in-the-wall Tibetan restaurant and stopped in one day for tea and bread. My intention was to order a cup of black tea but there was an item on the menu listed as Tibetan tea so we decided to make a theme out of our snack. As we are waiting (forever) for our order, Kendra says she's had Tibetan tea before and there's something about it…she just can't remember what. When our pot of tea was delivered and I poured us each a cup we were surprised to see a creamy white tea rather than something darker. I paused as I raised the cup to my mouth and observed Kendra's expression of distaste and reaction, "mmm you're not gonna like it" and then took my one and only sip of Tibetan tea, also known as butter tea. This is quite simply made of tealeaves, yak butter, and salt.
Back in Kathmandu (after a much less crowded microbus ride home), I feel slightly revived and am noticing myself (finally) beginning to gravitate towards the left side of the sidewalk instead of the right. But now, to bed!