An interview with Tokyo's hottest up-and-coming restaurateur Keisuke Inoue
Most people automatically think "sushi" when Japanese cuisine is mentioned. However, Japanese food is much bigger than just raw fish and rice. It is an entirely different food culture than we in the west are accustomed to. Just check out these stats on Japan's stunning restaurant scene:
Japan boasts more than twice as many restaurants per capita than the US (1 for every 260 people vs. 1 for every 550 people.)
Tokyo has an estimated 160,000 restaurants, over TEN TIMES as many as America's food haven of New York City.
But don't laugh, Paris. France's famed Michelin Guide has declared Tokyo the food capital of the world, awarding the city 190 stars in just its first year of review. Paris, by comparison, has amassed a total of "only" 97 in Michelin's entire lifetime. (Tokyo also leads the global count with 15 three-star restaurants.)
So what accounts for these incredible numbers? Ironically, much of it is driven by the economic and spatial reality of Japanese homes, which mostly lack the full kitchens that western homes offer. If you have ever been inside a Japanese home, you likely noticed that kitchens are extremely small and lack much of the equipment that we are used to. As a result, families tend to eat out frequently at local restaurants. Even guests are typically invited out to a restaurant rather than being entertained in the home.
Restaurants in Japan specialize in one particular type of food rather than the all-encompassing Japanese restaurants of the west that offer everything from ramen and steak to sushi and yakitori. Beef wasn't really consumed until the 1880s when the Meiji court decided to modernize in order to catch up with Western nations. Due to the strong Buddhist traditions held in Japan, beef consumption had been largely avoided over the centuries. However, during Japan's drive to industrialize, the government came to believe that Westerners tended to be bigger and stronger than the typical Japanese person largely due to their diet of red meat. Thus, beef became a more prominent part of Japanese cuisine. Today, Japan is renown for some of the best beef in the world.
It is with this background that I recently sat down with Keisuke "Keiske" Inoue, one of Tokyo's hottest up-and-coming restaurateurs, about his unique Wagyu beef restaurant. What follows is an uncut interview, in Keiske's own words:
How long have you been doing this?
I have started my restaurant business since 2008. My first restaurant was Cafe & Dining SCENE.
What inspired you to be a restaurateur?
Before a restaurateur, I was a animation producer. In order to make a new film or DVD, there are so many people involved. I was a member of a pre-production company. I did not understand why I am doing this and who I make a film for. I would like to switch my career from a complex industry to simple industry such as restaurant business. In a restaurant, customers react directly to us like "Great, I like this food" or "I don't like this." I love to communicate with customers every day.
Why did you choose to specialize in Wagyu beef?
Wagyu is a one we are proud of to the world. Everybody in Japan likes Wagyu and even foreigners like it too. I found out Takamori wagyu from Yamaguchi prefecture. Takamori was not famous before. Our restaurant can make it to be popular. Also in the future I want to expand my restaurant business in Asia, USA, and Europe. Wagyu has a potential to be a global brand.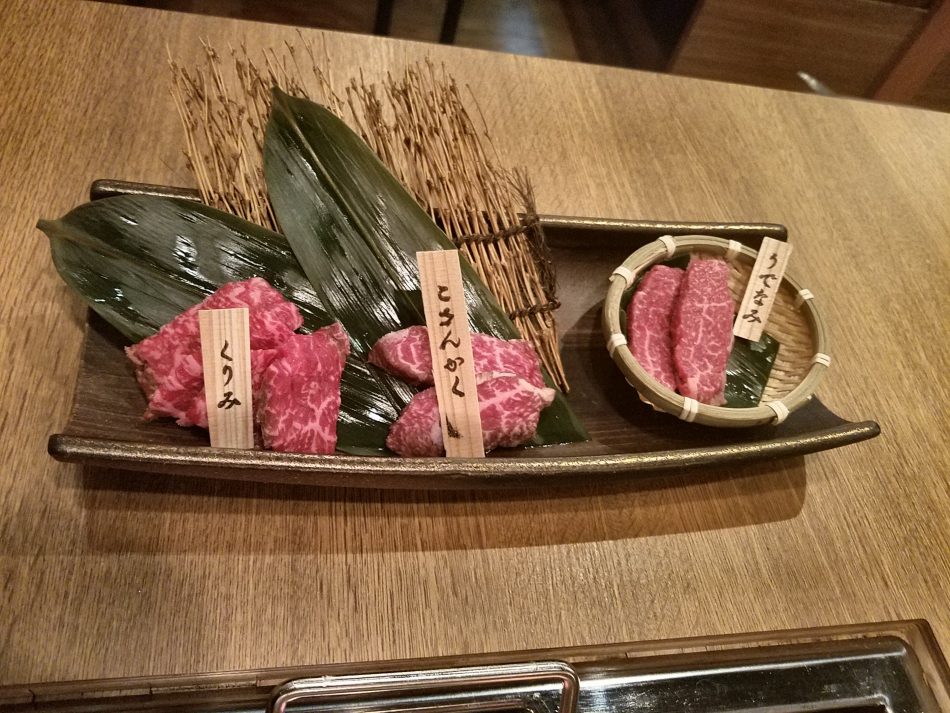 What is the most exciting aspect of the business?
We can receive great praises from customer directly. After biting our meat, customers say "this is so delicious," and "I never eat such a great meat in my life." Receiving these comment, I am so excited. Also, restaurant business is a people business. To seeing peoples improving and growing is so great to me. Novice staff became a people who teach new staff. I am so moved.
What's unique about your restaurant?
Onikuya Keisuke Sannanbo means " Meat shop Keisuke, the third son," This is literally I am a Keisuke who is third son among three brothers. My restaurant name itself is unique, right? Anyway, my restaurant uses a chunk of Wagyu like US steak restaurant. Japanese Korean BBQ style restaurant uses basically a sliced beef. But I did not forget that I eat a chunk of Takamori Wagyu in the Yamaguchi prefecture when I visited Yamaguchi farm in January 2016. In order to eat a chunk meat deliciously, we had to find a special roaster. We finally found out the one which is to make a chunk meat medium rare easily and taste great. One more unique thing is that every meat is cooked by a staff in front of customers.
What should your customers expect?
One is a Takamori Wagyu itself. Second is that customers expect a large chunk of meat and how we make a chunk of meat delicious.
What makes you different than other restaurants?
A large chunk of meat. And our restaurant's roaster is very unique. This roaster is used one or two in Tokyo.
Tell us about your procurement and quality control process. What do you look for when you work with farmers and why did you choose the particular farms you work with?
We have a contract with Iwakuni farm which make a best Takamori wagyu. We are an only restaurant to deal with the farm. By dealing with Iwakuni farm, we have kept a quality of a meat. In the Iwakuni farm, Takamori wagyu became a best meat in Japan 2016.
What should customers know about Wagyu beef?
Wagyu beef has a great flavor compared to other countries beef. Wagyu tenderness is a very famous. Not only tenderness but also flavor. You should feel Wagyu's flavor like Umami.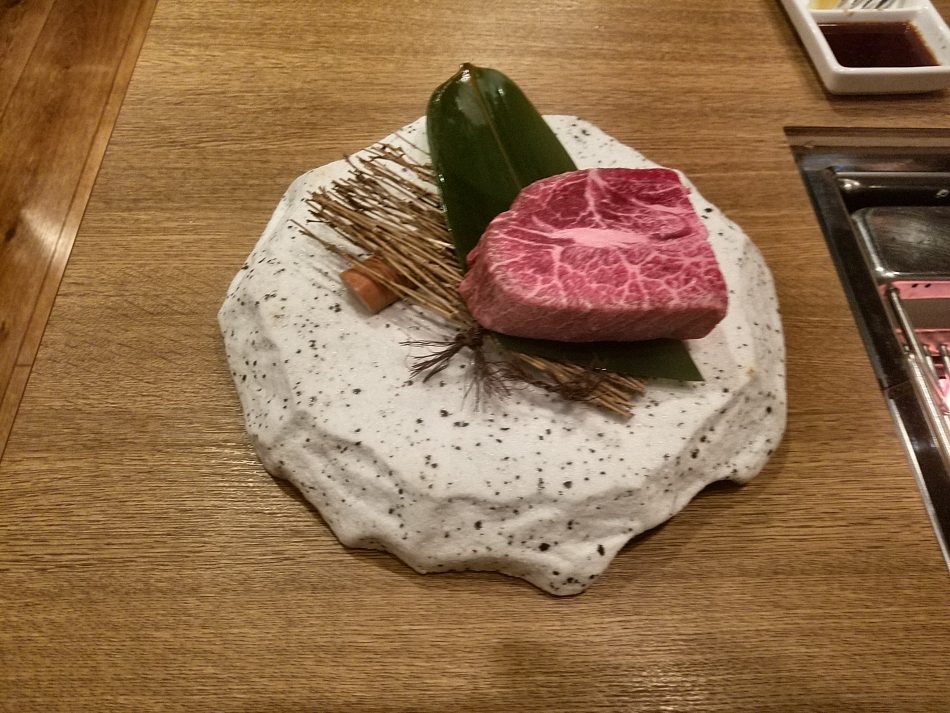 What is your vision for your restaurant?
We would like to make our restaurant and Takamori Wagyu to be more famous. I would like to open another meat restaurant in Tokyo and other city. In 5 years, I would like to have 15 restaurant. (Now I have 5 restaurants). Hope I expand it internationally.
You also have several ramen restaurants in Tokyo. How is running a beef restaurant different?
The biggest difference is cost control and people control. Cost of beef become a higher year by year because Wagyu beef became popular in worldwide. Also running a beef restaurant use more people than Ramen. Also we have to get a reservation. It's best to have a full house by reservation. This is hard. So We have to use a media like magazine, TV, and SNS. Difficult thing is to keep our restaurant famous in the Facebook and Instagram.
You have a clever sign that says "Nice to meat you."
It is a play on words. But most Japanese customers do not realize. Only English-speaking customers like you understand it.
Arrigato, Keiske. Come visit me in California some time.
It has been a long time since I came to California. I will come visit again.
So there you have it. Next time you are in Tokyo, I suggest you visit Keiske's restaurant for some of the best beef you'll ever taste. And tell him Abdul sent you.
Address:
Keisuke Sannanbou Hiroo Restaurant
Japan, 〒150-0012 Tokyo, Shibuya, Hiroo, 5 Chome−2−25, 本国ビル
Tel: 03-3446-2929
Map
Instagram
Facebook 
Disclosures:
Keiske is an old friend of mine from business school. This interview was conducted free of charge, with no exchange of money, goods or services, or any other quid pro quo.
Source for stats on Japanese food and history: Understanding Japan: A Cultural History by Mark J. Ravina; The Great Courses; 2015.