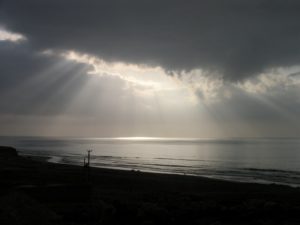 What a remote, interesting, economically poor (despite sitting on huge undeveloped oil reserves), culturally rich country. We left the Indian influence far behind in Oman in as India's great influence all over this part of the world hasn't quite made it to this part of Northern Yemen. The food here is much better than the food we dis-joyed in Oman. Typical scene – we walk into any one of numerous restaurants – US: "what type of food do you have" (as they have no menus). Then they rattle off like 15 types of chicken with rice, that's it.
We are so sick of Indian food and Indian Omani, and Indian Chainese (yes spelled like that in a few places!) and India chicken with rice. The food at the desert oasis, understandably is not that fresh and the chicken tastes old and is always cooked like leather so there is no taste left, like eating dead sticks from frankincense trees. We switched to camel in certain restaurants, but that is no better as camel is one of the toughest meats I've had!
After leaving Yemen, we are only left with empty feelings of not having enough time, and our stay there left us only wanting to see more of this fascinating country. The Arabic people are among the most hospitable people I have met in my travels. We entered the Yemen border via the coastal unconventional route. All the police at the check points remembered us when we returned and were very friendly and helpful. Very narrow windy road through deep wadi canyons and then up to the high coastal hills. We arrived at dusk after passing above a red sunset over white fog rolling in wisps up the wadi canyons.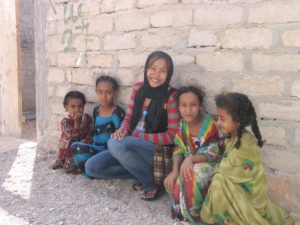 We kept dodging the damn camels who kept running and walking in front of us. I've never seen so many camels and so much camel shit on the road. Sometimes, we would find a solitary camel, stop next to him/her and roll window down. Typical conversation went like this with Syy leaning out of car to look up at camel mere feet away, gazing peacefully down at us "Hey dude, what's up" = camel usually offered no reply or maybe it grunted and kept walking. The beautiful white fog went out into the ocean as far as we could see. We arrived at the border in the darkness and had to abandon the car which we would later find out was a smart move (lots of corrupt cops, few gas stations (take extra tanks in your vehicle) – bad drivers etc in Yemen). This was the freedom of travel at its rawest. We had no idea what we would find across the border, it was dark, we had not eaten, we had just abandoned the car, the hotel situation was sketchy, but the weather was nice and warm and we could have always slept out – but knowing the hospitality, if we didn't find a hotel, someone was bound to let us sleep with them.
The border guard pulled over a van full of Yemeni's who couldn't speak a word of English and told the driver to take us to a small town about 40 clicks from the border. We arrived and the one very crappy hotel was totally booked with Omani's coming for weddings. We sat around for 2 hours while they offered to let us stay in the large "male" room and we ate with our hands as is traditional, from the large platter of rice and chicken. After a few hours this wasn't going to work for sleeping and we were preparing to sleep on the nearby beach but they located the police chief and he showed up in his police truck and we stayed in his large house above the village. We met his several wives and kids. Many large rifles & other semi-automatics in his house -and they even offered to let us sleep with one! Speaking of wives, apparently sometimes the Omani locals make "offers" on tourist wives…One guy told us he spoke to a German who was made a serious offer of $10,000 for his wife while they were there on vacation.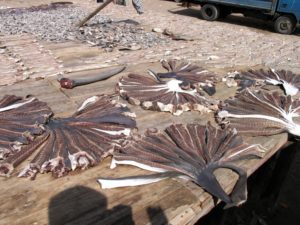 This part of Yemen and Oman has the Khareef season. From June to Sept the desert terrain next to the ocean are vivid shades of green with many waterfalls. Many tourists mostly from other Arabian countries come here to escape the terrible heat. This time of year its hard to believe as everything is completely brown and totally dry. The police chief hooked us up with another police chief traveling the 120 miles down the coast to Al Haida, a much larger Yemen town….so we squeezed into his old trucks cab for the slow ride.
Al Haida is a friendly town as many people are "high" on Gat, a narcotic they sit around chewing during the 'siesta' hours from 1-4pm. Always frustrating when wanting to buy something during these hours. We walked the streets and kids gave us candy, old men with turbans wrapped around their heads invited us to sit down with them for kawa, Arabic coffee eating with dates. Two Omani guys who looked to be cruising for chix, picked us up out of the blue and drove us around town. When they found out we from CA, they popped Tupac CD into their land rovers TV and we watched Tupac rap about Watts and Compton all the while with loud music, windows down, and driving among the "ruins" of parts of this crazy town! They would slow down and peer out their open windows when driving by the black completely hooded Muslim women, but what they could see totally escaped me. Nice round combs were kept on hand and were used often by these guys during our ride.
We met a nice Yemen chap who is completing his studies in English. He spoke very good English which was great as pretty much all the Yemeni's in this part of Yemen do not. They speak Mauri (sp?), Arabic and Swahili. Oman used to control Zanzibar and even in parts of Yemen the dress is very similar to what they wear on that Island. Sinan took us to meet his family as well as the goats and cows contained in small courtyard surrounded by the families' Individual rooms. His mom spoke very good English, she was totally covered and we could only see her eyes until we entered her house and she took off her eye covering. VERY VERY unusual for Yemen woman in this part of Yemen to speak English, she was English teacher. her husband speaks only a few words. 5 kids, one builds planes from scrap parts he finds in the dump but no money and no aeronautics education in Yemen so he will be policeman instead of studying aeronautics. We ate with them and the sister gave Syy and nice pair of sunglasses and showed her how to cook the chapatti bread. Aden, Sanna the capital, and Socotra are must visit places next time we travel to Yemen. Apparently parts of Aden are very "western" as the British were there for a number of years. The beautiful island of Socotra is known for a very large distinguishable flat topped tree, as well as beaches and ocean life.
We visited a fishing village that was devastated by the Tsunami 3 years ago. B/c so flat here wave went inland like 2 miles. Date palms unlike palm trees were unable to withstand the force of the wave and as a result all the mature dates were destroyed and new plantings r coming up. This village would be worst nightmare for a marine environmentalist. Dead small sharks everywhere, many drying, some bleeding just caught. Bigger sharks all over. HUGE sting rays with fins cut off were lying bleeding all over the beach. One sting ray they caught was bigger than one of their 15 foot boats and they had to use two trucks to drag it from the water it was so huge and heavy. I've never seen so many fish in my life. Huge racks of drying fish located all over the beaches and north and south of this town. MANY people from Somalia and Nigeria. Yemen def has more influence from Africa and migration from northern Africa than Oman…considering Somalia is located just across the water border, relatively close. We saw lots of what looked like coral in southern Oman and parts of northern Yemen and photos of the amazing diverse sea life in the water.
Next day we visited remote Bedouin camp, and by remote, I mean remote! Eastern part of Yemen – drove long ways to get there, then drove on dirt roads to where their tents are setup. These were real camps, not setup for tourists. The beginnings of what is now a pretty large wind/sand storm was beginning and sand infiltrated everywhere. We had taken foods, (and our friend) with us from the town and we quickly ran to one of the Bedouin tents through the white wind. Once inside, we found it to be colorful, simple, free of sand and very functional. Wind whipping outside did not blow any sand inside. They gave us water to drink in aluminum cans with lots of sand at the bottom. Great sandy, earthy taste to the water – this from their hole in the ground they dug in the middle of the wadi. We enjoyed Mundi with our hands, a spicy unique way they cook chicken – which in this case was delicious.
The women herd goats – they are all armed with AK47's or other scary looking guns which they take with them up and down the wadi's and hillsides. We were told the women know how to shoot very well using a variety of weapons.
Percentage wise and on the whole, Yemen as with other
"similar" countries receive a bad rap due to various dangerous situations and or kidnappings. These incidents which happen every once in a while pretty much blow off tourism as many tourists consider these entire countries "dangerous". These incidents ruin it for the entire country, regardless of whether only a small section of the country is where these incidents have occurred or are occurring.
We worried now b/c of huge sandstorm – we had to drive back slow yesterday as the wind was buffeting our car all over the road and the city is covered with a brown layer of sand and it is totally in the air now causing the sky to become very very very brown. We have 3 more days to make our way across the desert and near the sand dunes in the eastern part of Oman, it might be a bit sketchy. Will keep eye on weather.
We've put over 2000 miles on the vehicle so far! I must say that Oman is TRULY THE PINNACLE OF off roading! With its huge, steep, rocky, remote wadis, large sand dunes, and tracks anywhere you want to make them, this country is a 4wdrivers dream. The variety of off road books testify to this. Driving in the desert, we would see a sign, 177 km to next down with arrow pointing in the direction of the town, however there was 10 feet of paved road and then NO road!…. or a very faint track almost covered in sand. You basically 4wheel it in the general direction of the town and be sure you have a working GPS and backup unit. This desert of the Empty quarters is the most isolated place I've ever been. Syy an I took off towards the Saudi border last week and made it to within about 35 km of the "hazily" defined border in this part of Oman. Apparently we took the dirt track that does NOT have the armed guards patrolling it – as we later found out. We saw NO one the entire way. With our 2whd vehicle at this point, parts of the road were very sketchy with sand traps. We found a wadi in the distance with some greenery but the road was just too much and we were getting way too far from the main road to continue with our puny 2wd vehicle.
We tried pacing several of the cars that were passing us in the desert – I got the vehicle up to 200 KM/hour but they were still pulling away! That's 125 miles/hour and they were going faster. With the open roads, a country of under 3 million people, $24 us dollars to fill a humvee with petrol –cheeeap gas, Oman is a place for pure driving freedom.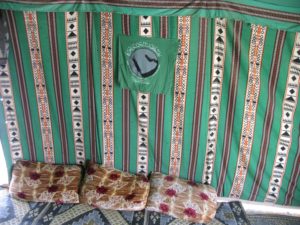 Prior to the long trek from N to S in Oman, we rented an H3 Hummer for 4 days. Now there is a vehicle made for this land We drove up one wadi described by the 4wd guidebook as being one of Oman's top 5 toughest drives! Man, I never knew steep until driving this – there are villages back there accessible by SUV like Hummer or by camel. We drove through some with H3 and soo steep and narrow with huge drops and crossings. We arrived at the furthest village named Mibam and met several Mohammed's & a Yusef who invited us in to try the dates from the many trees growing nearby and their Kava tea which tastes like coffee. They showed us their small homes, some built with earth and the many rocks found in the wadi's. Large bags of dates sat alone in the corner just waiting to be devoured.
We have camped out all over, on the beach in the desert. One night was so humid we could barely sleep until it actually cooled down nicely after 3am. Another night we camped on the ocean near Salalah, (mistake!), Oman's largest city in the south and off roaders were revving their vehicles ALL NIGHT up and down the beach. Camp anywhere, drive anywhere! We made our own road 2 clicks in from a dirt track, up a small wadi for one campsite. Under the Arabian nights in the middle of the desert, the stars shine so brightly that you are almost stained with their tears as you look upwards through your own humble tears.
Regarding Yemen – it is so refreshing, to be in a part of this country so unspoiled by tourism. When you compare Thailand with its own large population, foreign population and its popular islands, Thailand is WAY over touristed.
We visited a village that dates back 2400 years – sitting on site of camps dating back 9000 years – ruins still there including the well. Was major port city at the time for trading between Mediterranean and northern Europe, mostly bronze, iron and Frankincense. We also visited Wadi Dakah, a UNESECO Frankincense preserve in the desert – very neat trees and how they collect the sap. About 150 km from this wadi is the ancient "lost" buried city of Ubar. Originally "found" by using satellite imagery to locate ruins under sand – (we drove 4 hours on terrible rutted roads to get here – fortunately & amazingly the Oman Royal Army found us wandering aimlessly in the middle of the desert near one of their bases and they had us follow their military vehicle for 40 mins until they got us situated on the right road – the road we were on was really impassable by 2whd vehicles) Ubar was originally used by camel caravans during ancient times. It is completely buried under sand except for the main part of town which is situated under and on top of a collapsed cave that originally was the water source for this oasis. The cave probably collapsed in the 15th century and archeologists think that seemed to cause problems with the water supply so the town was abandoned and became "lost" until recently. More excavation remains to be done and imagine the archeology and digs that will occur here in the future. Very nice museum in Salalah containing hundreds of artifacts dating back 9000 years. Also history about Oman. In 1970 Sultan Quaboos forc3fully took power from his father – at the time where were like 50km of paved roads in the country and Oman was 3rd world. in 38 years or so, this country has really developed.\ under his plans and control.
The crossover Prophet Job roamed the hills above Salalah in southern Oman. For a good Job quote visit: The Book of Job, 4:14 "Fear came upon me and trembling" We visited his grave located high on a hill overlooking the ocean and nearby hills. Job makes several appearances in the Holy Quran as well as the Holy Bible. In today's musicology terminology, he would hold "crossover status"…sorta like a rock musician who has a rock hit that also goes country.
We came across a small oasis in the desert – actually 2 of them, one has a beautiful small hotel surrounded by date trees, with access to an underground spring, and the other is located a few clicks outside of the main oasis and at certain times of the year is very popular with birders. We sat down with the hotel's manager for a 3 hour breakfast. We hit it off and helped plan his trip to Thailand later this year. He is originally from India, who 8 years ago applied for the manager's job along with 793 other applicants after seeing an ad in the India times. The hiring Oman company apparently interviewed all applicants! He has friends from around the world – his good friend Mike Farmer is the world's foremost expert on Meteorites and spends his days in remote and exotic countries, often in dangerous situations hunting for meteorites. He once bought a meteorite for $11,000 from a villager in morocco and then sold it for $200k at the famous annual Tucson Gem & Mineral show. His friend is also a meteorite hunter and found a 22 kilo gold nugget by accident while hunting for Meteorites in Australia. Fascinating stuff.
Hope all is well wherever you find yourself on this very small planet.