PHOTOS BY WILLIAM CHO
International Freelance Photographer, Singapore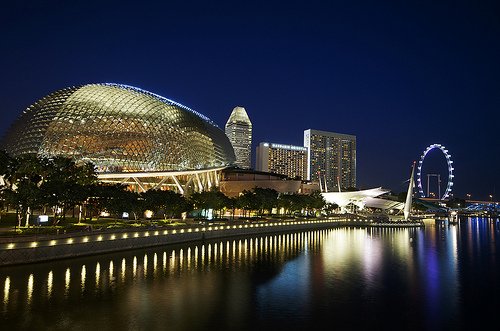 The 7:30 twilight already swathes the entire vicinity as I amble along and pass through the hallways of Changi Airport. My Singapore Airline flight has not given much of a jet lag. But then, routinely, a worker and a traveller desperately need to move out from the terminal. The intended place is in Jalan Kuang, East View Garden, about 10 minutes away from the Singaporean airstrip. This is where I live and spend all working days taking a pace, between my rented home and the bus stop, which drives the nearest way to the aviation company I work by.
Of course, I am acquainted with Singapore more than any neighbouring country in Southeast Asia. I have, once, worked and lived here. For a considerable length of time, it has become my own home. Singapore is one of the cleanest countries in the world; and a model of economic stability and public policy. Laws of the country are strictly put into practice. And whilst they are carefully observed by native citizens, visitors do need to have their pass updated accordingly, as do foreign workers stick to labour and immigration policies.
Yet, Singapore does a spellbinding treat to everyone otherwise. The intense places of interest, scrumptious cuisines and pristine environment-alongside gaiety of the people around-will undoubtedly allure world nomads. Or perhaps, it will give a nostalgic experience or enjoyment to Westerners and Asians alike.
Lest I put my superiors off, I rise up early the following morning, and do the first day in a company orientation seminar. With Asian colleagues, profession in the aviation world is not that easy. Company policy requires meticulous discussion, as does work procedures, the country's guidelines and important landmarks-filching about a week lecture-until finally the proper day job starts.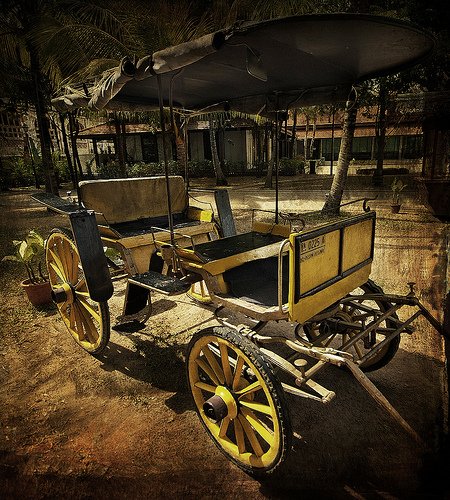 During work-hour endeavours and rest days of the week, I know in the first place, other than working, that there is also another activity to be had in this spotless land: Day out spree around the country. My free days from work make me very possible to visit different sites in Singapore. Places of interest in Orchard Road, the Sentosa Island, the Changi Beach Club, Changi Point, and a dining area in a cozy seacoast Marina Bay are among my regular favourites to hangout in. Also, there are several top rated tourist attractions which would make one's escapade satisfying:
The Bukit Timah Nature Reserve, situated in Hindhede Drive Northern Singapore, is a 164-hectare reserve that contains more species of tress than the North American continent and is one of the world's two tracts of rainforest positioned inside city boundaries. Singapore's highest peak at 164 metres, the Bukit Timah Hill, moreover, lies in the heart of the reserve-an excellent hiking spot, entering a jungle populated with birds, butterflies, monkeys, and lemurs. A number of attractions, too, have dwelt in just close to this awesome spot.
Among many others include the Changi Chapel and Museum, Jurong Bird Park, Singapore Zoological Gardens, the Sri Mariamman Temple (a Hindu temple), and the Sultan Mosque where all is welcome to visit the interior facet during non-prayer times. However, the mosque requires guests to wear modest attire; wearing shorts is strictly forbidden. The Sultan Mosque (or Masjid Sultan), in Muscat Street and North Bridge Road within the Kampong Glam district, shows off the massive golden dome, minarets and balustrades. It is the heart of Muslims in Singapore built around 1824-1826 and tells an enticing mix of Middle Eastern and Moorish influences (reconstruction was complete by 1928).
Also, I take a peer at the facade of Istana Negara Singapura, once the former residence of the British Crown representative and now the official residence of Singaporean President. The building's design, mainly, ranges from lavish Victorian to Classical Roman with touches of Chinese and Malay. Such beguiling attractions of the nation reflect its multi-racial people and mixed cultures as Chinese, Malays, Indians, Caucasians and Eurasians, and Asians of different origins.
The island of Singapore is told by history as its first records of settlement are from the 11th century. Once, it served as an outpost of the Sumatran Srivijaya Empire and firstly had the Javanese name "Temasek" (sea town). Sang Nila Utama, who founded ancient Singapore in the 14th century, named it "Singapura"-a Malay term which means "singa" (lion) and "pura" (city), upon which the country's today English name started off. Singapore, on the other hand, is sometimes referred to as "Lion City" by many historians.
From its modest beginnings in the 11th century, the West became little acquainted with the island until the 19th century, when Sir Thomas Stamford Raffles arrived in 1819 as an agent of the British East India Company. The British then purchased Singapore Island (this according to the US State Department info), and by 1825, the city of Singapore had become a major port. As a result in 1826, Singapore, Penang, and Malacca were combined as the Straits Settlements to form an outlying residency of the British East India Company, and the Straits Settlements were made a British Crown Colony in 1867-an arrangement that continued until 1946.
The Straits Settlements was dissolved in 1946. Penang and Malacca became part of the Malayan Union, and Singapore became a separate British Crown Colony. The country became self-governing in 1959, and it joined the newly independent Federation of Malaya, Sabah, and Sarawak to form Malaysia by 1963. Singapore then separated from Malaysia on August 9, 1965, and became an independent republic.
Twice a week I set an itinerary to whichever places of this small country that I've thought are of great importance. Zhan Yang Zhang, an intimate friend and colleague from China-along with a few Malaysian, Indonesian, Filipino, and Chinese co-workers-joins me in my travel adventure to Singapore Zoological Gardens-Night Safari. Such tourist spot gives a truly incredible experience and fun.
The Night Safari in Mandai Lake Road is the world's premier night zoo that allows the animals to be viewed in their nocturnal setting with the aid of special illumination that replicates moonlight. The enclosure is divided into 8 geographical zones and over 1,200 animals of more than 110 exotic species are housed in.
From the colourful work experiences (though some are normally stressful) and several jaunts I spend in Singapore, I have made many friends of different Asian nationalities and learnt to speak a few of their languages. Singapore is one of the densely populated countries in the world. The annual population growth rate last 2009 was 3.1%, including resident foreigners. It has a varied linguistic, cultural, and religious heritage. Malay is the national language, but Chinese (Mandarin), English, and Tamil also are official languages. English is the language of administration and also is widely used in the professions, businesses, and schools.
Singapore generally allows religious freedom, albeit government scrutinises religious groups, and some religious sects are restricted or banned. Almost Malays are Muslim; other Singaporeans are Taoists, Buddhists, Confucianists, Christians, Hindus, or Sikhs.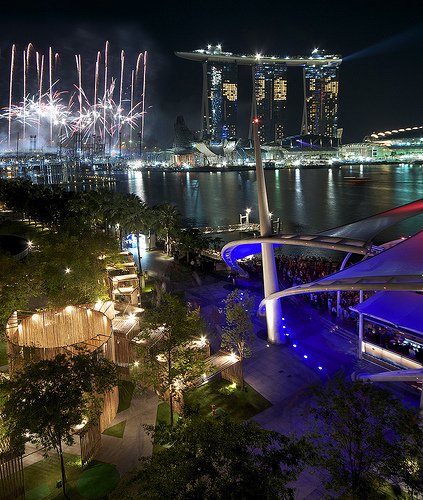 A view taken from the roof garden of the Esplanade during the opening night of Helix Bridge. Far left is pyrotechnics display at the opening of Helix Bridge. Far right is the Marina Bay Sands. Line of palms seen near left is a promenade that leads to the Helix Bridge and its adjacent with people is the Esplanade outdoor theatre.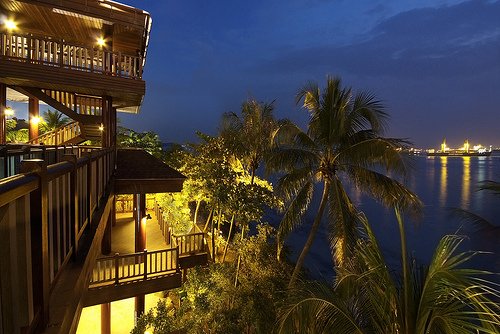 Lookout point on Sentosa Island
As a model of economic stability and public policy, Singapore's strategic location on major sea lanes and its industrious population have given the country an economic importance in Southeast Asia. The country's largely corruption-free government, skilled work force, advanced and efficient infrastructure have attracted investments from more than 7,100 multinational corporations from the United States, Japan, and Europe. Present, furthermore, are 1,500 companies from China and another 1,500 from India.
"Foreign firms are almost found in all sectors of the economy," says Das Nabalm, a Singaporean real estate broker, who arranged my rented home in the country. "Multinational corporations account for more than two-thirds of manufacturing output and direct export sales, though certain services sectors remain dominated by government-linked companies," he adds.
The world wide electronic slump in 2001 and the outbreak of Severe Acute Respiratory Syndrome (SARS) in 2003 dealt blows to the Singaporean economy, but growth bounced back each time, driven by world demand for electronics, pharmaceuticals, other manufactured goods, and financial services, particularly in the economies of its major trading partners-the United States, the European Union, Japan, and China, as well as expanding emerging markets such as India. Despite the nation's high taxes, the global financial crisis of 2008 and 2009, again, caused a jolt to Singapore's open, trade-oriented economy, but quickly recovered with strong performance in later quarters.
Transients in this country, conversely, should be aware of Singapore's stern and uncompromising sanitary laws, and more especially on forbidden substance, such as illegal drugs. Possession of even a small amount of drugs is subject to the "death penalty".
Just about a few metres from the Esplanade Theatres and Arts building rest both the Esplanade Park and Queen Elizabeth Walk, where I frequently use up time during off days. The Singaporean Government has brought its tourism up to new life in April 2005, and approved the development of two casinos that resulted in investments of more than 5 billion US dollars. Among the recently opened establishments include the Marina Bay Sands Resort-built up by the Las Vegas Sands-that just opened business last April 2010 and the Resorts World Sentosa-developed by Genting International-which set its operation in February 2010.
Sparkling nights in Singapore will also give visitors a longing experience to stride across the grandiose Helix Bridge, which provides panoramic view over the spectacular vicinity of Marina Bay that has embraced the Marina Bay Sands. The Marina Bay Sands is an integrated resort, which is billed as the world's most expensive standalone casino property at 5.7 billion US dollars, including cost of the prime land. The resort features a 2,560-room hotel, a 120,000-square metre convention-exhibition centre, The Shoppes mall, an Art & Science museum, two Sands Theatres, six "celebrity chef" restaurants, two floating pavilions, a casino with 500 tables and 1,600 slot machines.
Just as the Marina Bay Sands, according to latest information from reliable sources, the Resorts World Sentosa is also an integrated resort on the island of Sentosa, off the southern coast of Singapore. Its main attractions contain one of the country's two casinos, a Universal Studios theme park and Marine Life Park, which includes the world's largest oceanarium. Genting Singapore has developed it in a 4.93-billion US dollar investment; one of the world's most expensive casino properties, next to Marina Bay Sands, and occupies over 49 hectares of land. Such "Marine Life Park and Maritime Xperiential Museum" in Resorts World Sentosa is expected to be completed by end of 2010. And when fully open, it will employ 10,000 people directly. That is certainly what Singapore is. The country is simply an exceptional archetype when it comes to keeping up its wealth, policies, and employment.
By February, Chinese New Year is traditionally celebrated in Singapore. I get a day off and find myself going together with Zhan, a bosom friend and colleague, to see Chinatown, which is situated within the district of Outram. We take a train heading east, about 30 minutes from Changi, steering through Singapore's MRT North East Line Route.
Singapore's Chinatown is composed of several sub-districts. Kreta Ayer is one section within the larger Chinatown area. Other sections include Bukit Pasoh (known also as the "Street of Clans"), from which I've found several Chinese cultural and clan associations, and Tanjong Pagar, with many preserved pre-World War II shop houses. Finally, Telok Ayer was the original hub of settlement in Chinatown, and is home to many Chinese temples as well as Muslim mosques. There are also the Chinatown Heritage Centre, Chinatown Food Street, and Chinatown Night Market, which are largely maintained today for heritage and tourism purposes.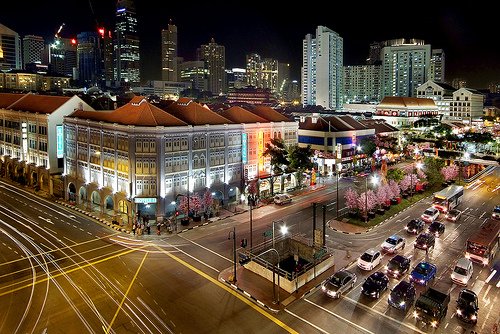 A melting pot of mainly Chinese, British, Malay and Indian cultures have best described the Singaporean way of life. In addition, variegated festivals of the country are religious in nature where the days are marked as public holidays. There are a few of these, namely the Lunar New Year, the Hari Raya Puasa (celebrated within the Malay community), the Deepavali (observed in the Indian society), and Christmas. The Lunar New Year festival is mainly celebrated by the Chinese community in the country. A culminating event signifying the start of a lunar calendar is traditionally celebrated with huge fanfare in Singapore. The color red is used substantially in all manners of decoration. And visits to family and relatives are done over the two-day public holiday.
My hundred days of working and living in Singapore would all be impossible to write in full details here. But none is as nostalgic as to the moments I spend with local friends and colleagues in the country-the hard work in the aviation company, the drinking spree in 24-hour leisure pubs, the vigourous nights full of life, the beautiful Asian women roaming around clean city, the learning of languages that I sound silly to speak with, the wanderlust to its tempting places; the tasty-sizzling cuisine in its food shops; the time being alone at the rented home, and the shopping escapades at market and malls during payday-Singapore remains my second home in Southeast Asia, and always will be.
About
Junfil Olarte has worked in ST Aviation Services Co. Pte. Ltd. as a professional aircraft engineering technician based in Changi North Way, Singapore. The company is one subsidiary of Singapore Technologies Aerospace and does maintenance and engineering to its customer aircrafts from different countries. Among them Australia's Qantas Airways, Germany's Lufthansa Airlines, Japan Airlines, Japan's All Nippon Airways (ANA), and FedEx Cargo Airline of the United States. Junfil is a freelance travel writer and is also a book author on several subjects. One of his books has just been published by Lulu Press, 3101 Hillsborough St. Raleigh NC www.lulu.com To contact Junfil email to freelancejune@yahoo.com
William Cho is a self taught freelance graphic designer/photographer from Singapore. Worked in Jeddah, Saudi Arabia during the 1980's, William has already travelled across Europe, New Caledonia, Mauritius, Re-union Island, the Philippines, Thailand, Vietnam, Taiwan, Japan, and does photography on its interesting places. Some of his exceptional works have been assigned or showcased on various media around the world, such as Marina Bay Sands, McDowell, Wikipedia, Taiwan Tourism Board, Japan Travel Bureau, "SILVER KRIS" in-flight magazine (Singapore Airlines), SINGAPORE TOURISM" (Headway); Equator Bulletin (cover)-Belgrade Serbia; Stockholm University, Sweden; Changi Class, Sparkle, Morning Star, Art-DasKunstmagazin, and many others. To see William's works go to www.flickr.com/photos/adforce1 or email to adforce1@pacific.net.sg