Singapore Island is one of the most densely populated countries in the world. It is also one of the wealthiest South East Asian countries. The city is extremely clean and well manicured and is one of the cleanest large cities we have ever visited. During our recent stay it was not uncommon to find signs indicating $500 to $1000 Singapore dollars for various offenses ($330 to $660 US dollars). For instance it is against the law to jaywalk or eat or drink in the metro, laws which yours truly tempted fate on several occasions.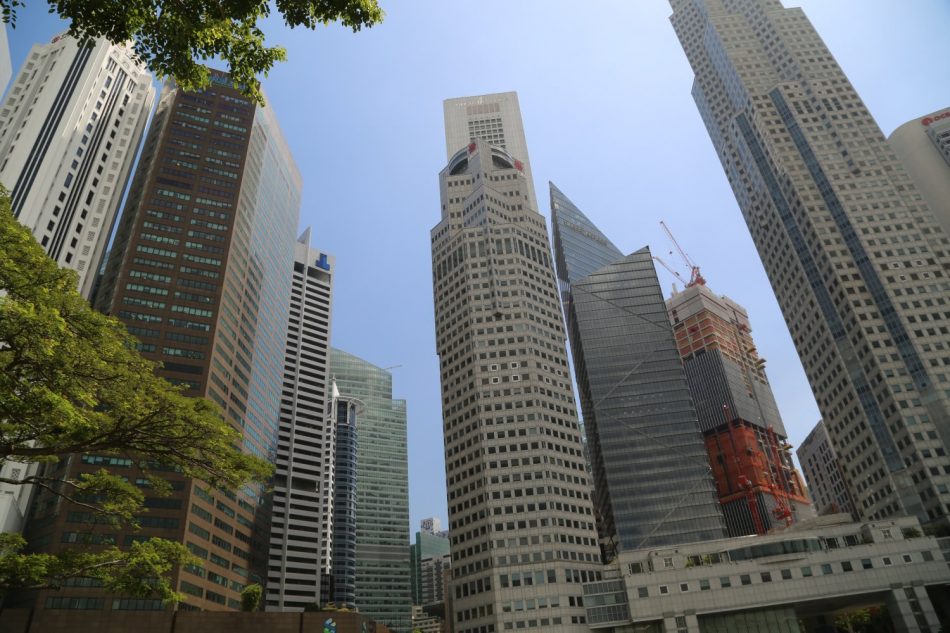 Changi is the primary airport serving Singapore; depending on traffic is located about 30-60 minutes from Chinatown or Little India and the major parts of Singapore downtown. The airport is also served by the Metro Green Line (change green line trains and then continue on the red line). There are always taxis waiting at the airport, all use the meters – expect to pay an additional surcharge if you use a taxi after midnight and an additional tax, always added regardless of the time of day or night. As of our latest update to this post, it is around 20-40 Singapore dollars for a ride from the airport to the main part of the city with an additional Singapore dollars added on for an after midnight trip.
Changi Singapore Airport is one of the world's best airports. Convenient and comfortable with high speed internet access, laptop docking stations with a variety of electrical outlets to service guests and numerous work spaces (great for business travelers). The airport also features a movie lounge, an outdoor sunflower garden, a gaming area, "resting rooms", special foot massage chairs and for those who have more than 5 hours between flights, complimentary city tours are offered – again all of these services are provided at no charge. Note the city tours often fill up quickly. The airport also offers other paying services including the use of a rooftop pool, a transit lounge offering showers and sleeping accommodations, as well as massage, fine dining and hotel options.
Attractions
We have visited the following attractions during our several trips to Singapore.
Chinatown is well worth visiting. Pick up a Chinatown walking brochure from any of the Singapore Chamber of Commerce offices (this brochure is also found in most area hotels). Chinatown has many interesting shops, restaurants and hawker markets. This part of the city is located within walking distance of the downtown core and Clarke Quay (a well-known waterway which runs through part of the city).
What is probably the best and most ornate example of a Chinese temple in South East Asia is the Buddha Tooth Relic Temple and Museum located at 288 South Bridge Road. This is a must visit free attraction located in the heart of Chinatown. Incredible artwork, huge statutes and a dazzling display of gold and red greets visitors who enter the temple. Knee length shorts are at minimum required to enter but several sarongs are available for use if you need to cover up. Asia's largest stupa is located inside made from a whopping 420 kg of solid gold. It is surrounded by over 200 rubies which makes for a very dazzling display.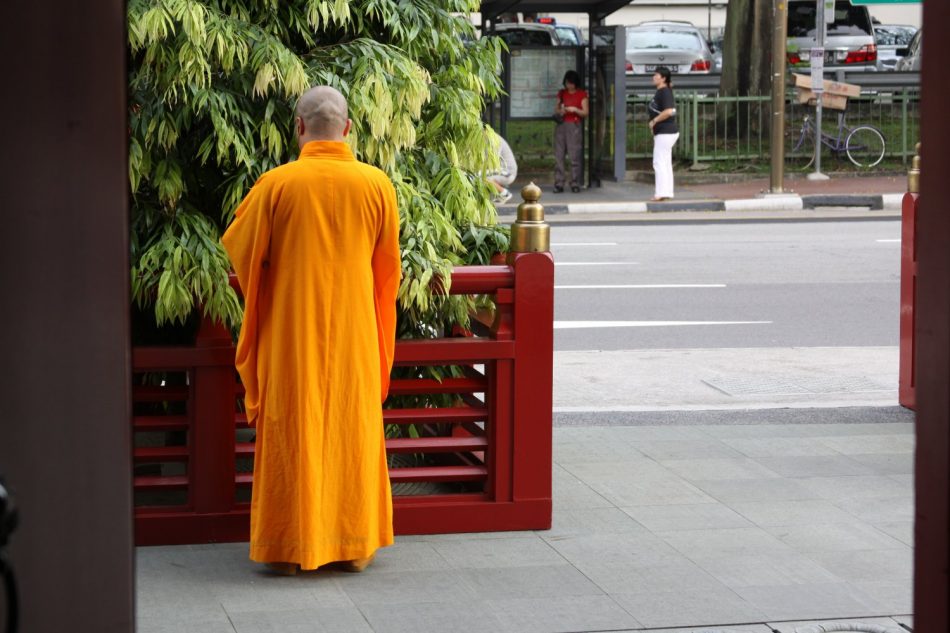 Merlion was built by Singapore in the 1960's to help promote tourism. It is located along the harbor front on the other side of the water from the main part of Singapore. This statue resembles a lion. This is a very popular spot at night especially for romantic couples. Features excellent views of the city lights and the Singapore Flyer Ferris Wheel and at times one can hear music coming from the other side of the water – where live performances are often hosted.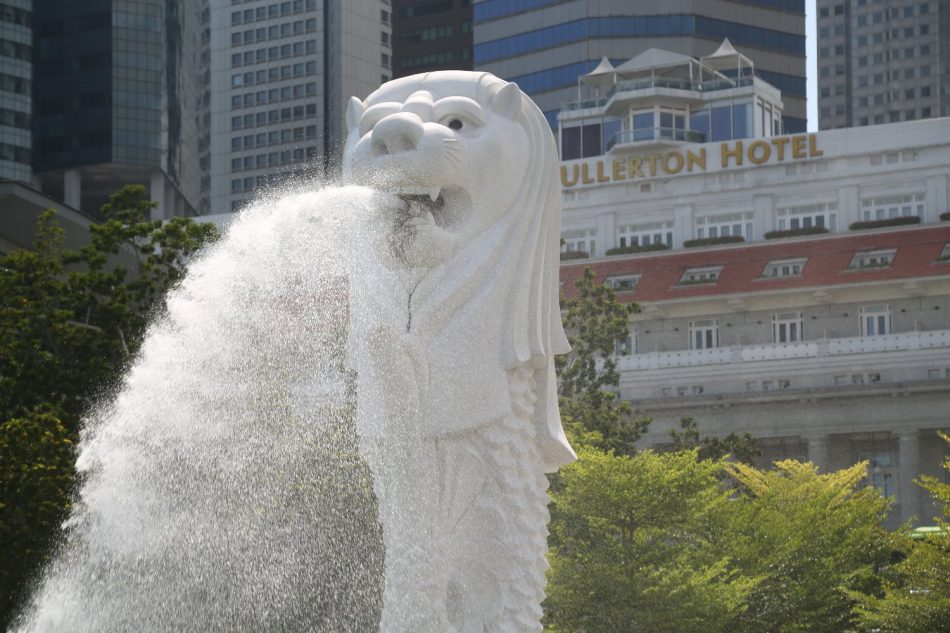 Quays – Clarke Quay and Boat Quay (pronounced "key") are located within about 10 minutes walking distance from each other. These are essentially touristy type restaurants and bars located along the Singapore River. Clarke Quay is definitely much more touristy than Boat Quay and the prices are a bit more as well. For budget travelers alcohol is generally not cheap in Singapore and its no different along these two quays. These quays tend to be fairly empty during the day, but once darkness fall it is a different story.
A variety of overpriced Southeast Asia touristy food is served with free or cheap drinks for women used as a hook to get women or travelers with women to sit down in the restaurants. Also of note is the huge "reverse" bungy seat that flings people high in the air at speeds up to 60mph. Scream as you fly into the air and all your shouting is recorded by microphone through speakers for those watching far below! Visit: www.clarkequay.com.sg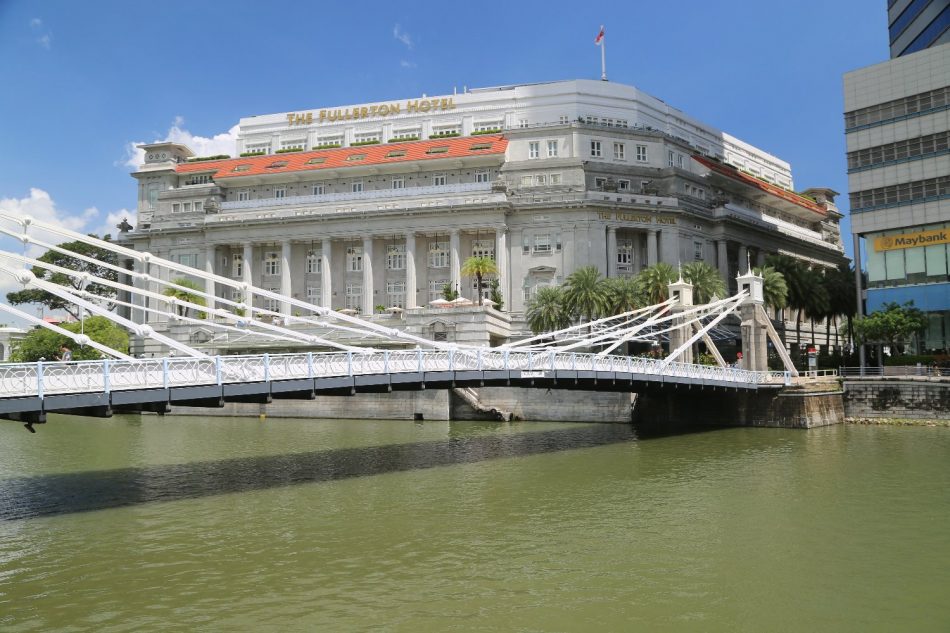 Sentosa Island is both a major tourist and local destination. Lookout, on holiday weekends as when we were here, it can be extremely crowded. It is easy and cheap to get to the island using the metro which ends at the NE1 Harbor Front stop on the purple line. From there one can walk through part of the major VivoCity shopping mall to catch either a more expensive Tram Car to the island or the very reasonably priced 4 stop short metro called the Sentosa Express.
A bridge connects to the island for vehicular traffic – a small entry fee is charged. At the mall where the metro leaves for the island, one can buy a variety of bundled tickets to the island attractions, however if there are long lines here, we do not recommend buying your tickets here. Rather wait until you get on the island. As you exit any of the metro stops you can purchase your tickets here and the lines usually tend to be much shorter than at the actual mall. Also note that you can buy individual tickets on site of any paid attraction on the island.
In 2011, Universal Studios built a massive entertainment complex on Sentosa Island. This was South East Asia's first project for Universal Studios. This is the first metro stop on the island (there are currently 2 others (Imbiah Lookout and the Beach stop). Imbiah lookout contains an excellent view looking back at Singapore framed by all the cranes and other industrial machinery. A movable viewing platform (called the Carlsberg Sky Tower) rises into the air about 50 stories. A huge Merlion statue is located near the metro stop and one can walk up inside for additional views overlooking the island and Singapore on the mainland. Multiple escalators help whisk visitors to the top of Imbiah hill.
A variety of hauled-in sand beaches are within walking distance of the final stop on the Sentosa Express metro. Visitors can also take a trolley which makes several stops along the beach path. On crowded weekends, there may not be any seats available on the trolley stops. Besides the beach and swimming, highlights include Underwater World, a glass covered see through tunnel that is surrounded by underwater life, a Dolphin Lagoon and a nearby fort. Note the giant sea turtles that swim outside the entrance to Underwater World. Visit: www.sentosa.com.sg
Singapore Flyer is a large Ferris Wheel synonymous with Singapore. One will pass this one your way from the airport to the city center and it is easily seen from the Merlion across the water. It is 165 meters (more than 500 feet tall).
Singapore Zoo can be accessed from Orchard Street (big shopping area in the heart of Singapore) via the red line to stop NS4; take bus number 927 for about 10 minutes to the actual Zoo. It will take about an hour to get to the zoo from the main Orchard Street shopping district. Once you arrive you can purchase a standard zoo pass, or for a few extra Singapore dollars, a tram pass which includes a drive through of the zoo along with guided interpretations.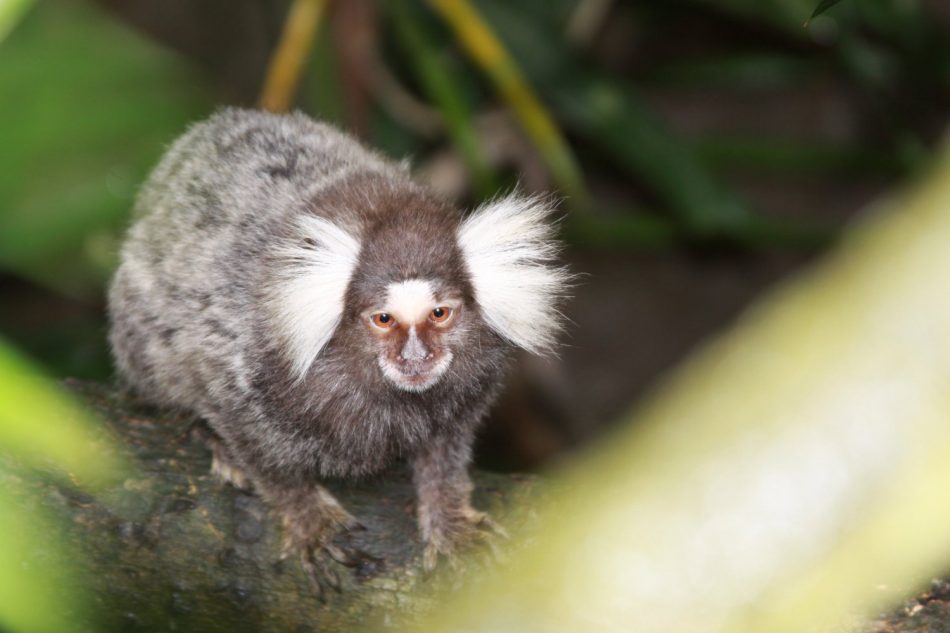 This is large zoo and to see most of the exhibits at a healthy pace visitors will need at least 3-4 hours. Some of the highlights are the world's largest free range Orangutan Exhibit, reptiles and the endangered White Tigers (no longer found in the wild). Feeding times for a number of the animals usually occur between 12pm and 3pm. Regions of the world are separated by exhibit (Africa, Australia etc). Vendors sell snacks and drinks near some of the exhibits. However as expected these are more expensive than outside vendors. The best place to pick up some cheap eats are at the hawkers located at metro stop NS4 where one exits the bus to reach the zoo. This zoo also contains a tropical fruit, plant and vegetable garden overlooking a surrounding water way. Visit: www.zoo.com.sg
Shopping
Singapore is an exciting shopping destination. Huge malls, the latest fashions and name brand merchandise are readily available. We met several tourists from neighboring countries who came specifically to Singapore for shopping. While Singapore is definitely not as cheap as other South East Asian countries, the selection of items are very good. It is only fair that you shop to your heart's content without having to worry about dragging your bags in tow.
Highlights include parts of Orchard Street that surround the Paragon Shopping Center which contain name brand luxury items as well as a number of malls and VivoCity which is located at Harbor Front (NE1 stop on the Purple Line). Billed as the "largest lifestyle destination in Singapore" it delivers small and large retail outlets, dining, and name brand shopping. Did you think airlines are the only service industry that offers business class? Think again, the huge multiplex at the mall boasts 15 screens including a Business Class Cinema. More info – visit: www.vivocity.com.sg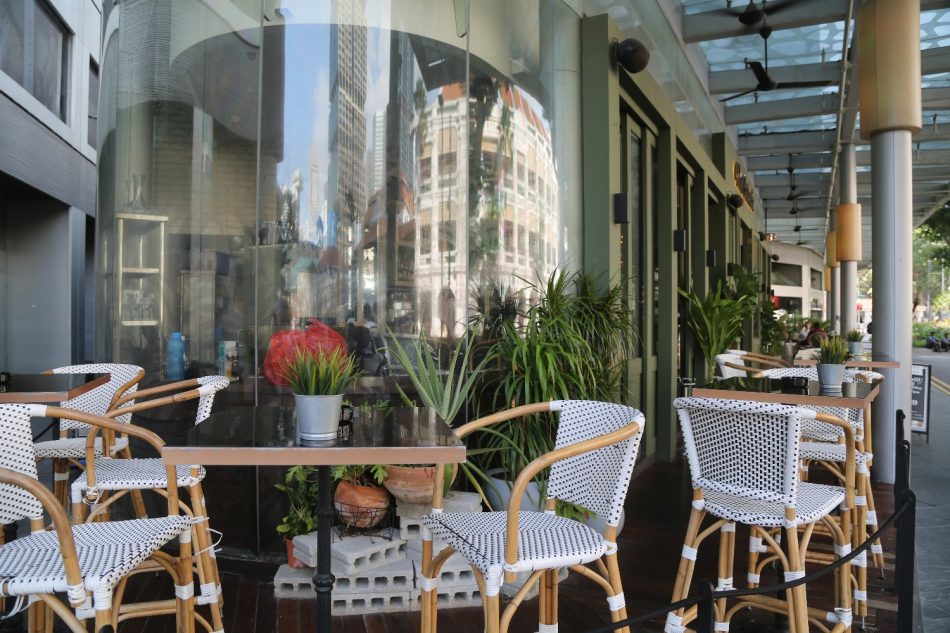 Wall Climbing
Several malls offer climbing including Kallang Wave Mall which features a number of climbing walls inside the Climb Central Sports Hub. No reservations are needed and we just walked in – first time visitors pay a small fee and receive a small climbing card and must go through a 15-minute basic safety orientation including how to belay (control the rope for your climbing partner). Solo travelers have fewer options then those with partners but there are several self-belay climbing walls. Showers and a water station are located on site.
Each climbing wall has several routes indicated by the color of the foot and hand holds. Each route is rated based on difficulty with a charge indicating slices of a pie, the fewer slices depicted, the easier the route. Climbing is great family fun for many ages – and is certainly a workout for both legs and upper body. A smaller section is for bouldering where after the climb one simple drops off the wall and lands on a cushioned mat. Visit, www.climbcentral.sg for more details.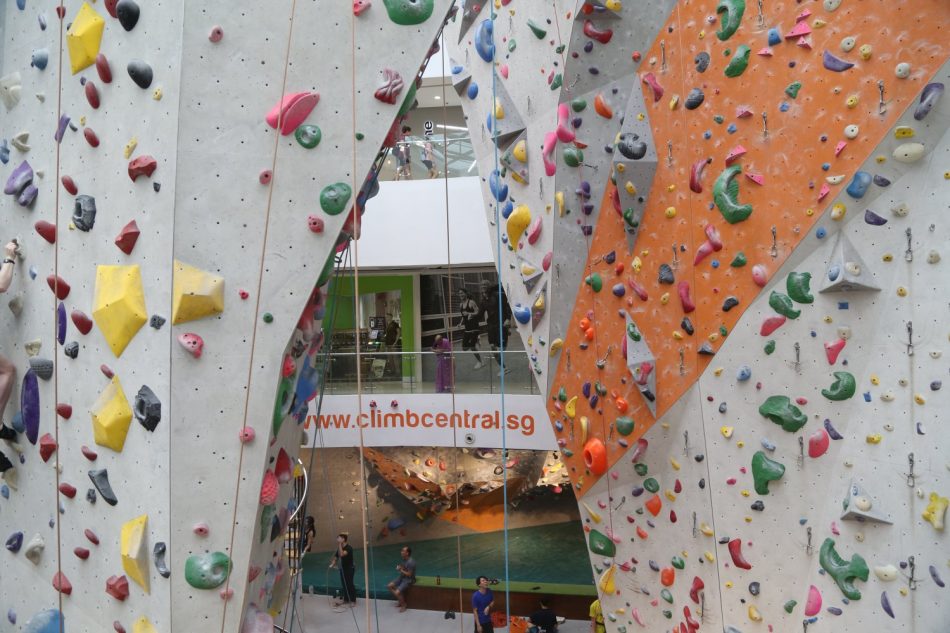 OTHER NOTES
Looking for budget travel to nearby countries either via bus/ferry or airplane. Try Pen Travel & Tours located at 304 Orchard Street, #03-75 Lucky Plaza. Phone: (65) 6737-9231
Banks – ATM's and banks are readily available all over Singapore.
Budget Accommodation is at a premium in Singapore as it is a fairly expensive city for backpackers (at least compared to most of South East Asia). Some hostels close their reservation desk after 11pm or midnight so if you are arriving late night or in the wee hours of the morning be sure to confirm with the hostel their check in policy and hours.
We stayed at Fernloft Hostel (there several located throughout Singapore). We stayed at the 301 River Valley location which is about a 20-25 minute walk to Chinatown and about 15 minutes walk to the big shopping areas along nearby Orchard Street. The bus stop is located right across the street and its merely minutes to the main part of town. Their reservation desk is open 24/7, very friendly and helpful staff – a variety of rooms ranging from private, to 4 beds (bunk style) to larger rooms.
Slightly more upscale – great for solo travelers is one of the Red DoorZ locations – multi level hotels. We stayed at the Aljunied location – only about a 6-7 minute walk to the closest metro station (Aljunied).
Luxury Accommodation. Numerous 5-star hotels are located throughout the city. Some of of the highlights are the Marina Bay Sands one of Singapore's most distinctive buildings featuring three buildings supporting a ship like structure on the top which boasts the world's largest infinity pool. Other top choices include what is arguably the most historic iconic hotel in Singapore, The Raffles (original home of the Singapore Sling drink) and other top stays including The Fairmont, the Mandarin Oriental and The Fullerton.
One of the more reasonably priced 5-star hotels in town is One Farrer Hotel, located within a very short walk of the Farrer Park metro stop. This property is known for several exemplary features – one is their giant pool with views of the Singapore skyline and the other is their world-class spa. Close to Little India and plenty of other restaurants within a 10 minute walk or less.
Food – budget food is usually found in covered roof centers contain what are called "hawkers" or movable stalls. One can often find meals for 4 to 8 Singaporean dollars. Want to really splurge on seafood? Try one of the several Jumbo Seafood locations for extremely tasty and fresh seafood. Lobster Sashimi is a local delicacy in which the lobster is still moving as you eat it. Hong Kong style. A couple of other favorite dishes we tried were the Black Pepper Crab and the delicious scallop s. Visit: www.jumboseafood.com.sg
Metro / Bus – serves greater Singapore, is affordable, efficient and easy to get around. One can easily spend an hour on the metro as it is extensive and runs for a long distance. Ticket machines are located next to the metro gates at each stop. Touch screens make this a fairly easy purchasing experience. Touch the desired metro stop on the screen and the price will pop up.
Coins or paper money are accepted. Paper cards are given to each passenger once a ticket is purchased. When you leave the metro for good, be sure to return the card to the machine for small refund. The metro operates from 530am to 12pm daily. You can also purchase a stored money card called Ez-link which is also good on the buses.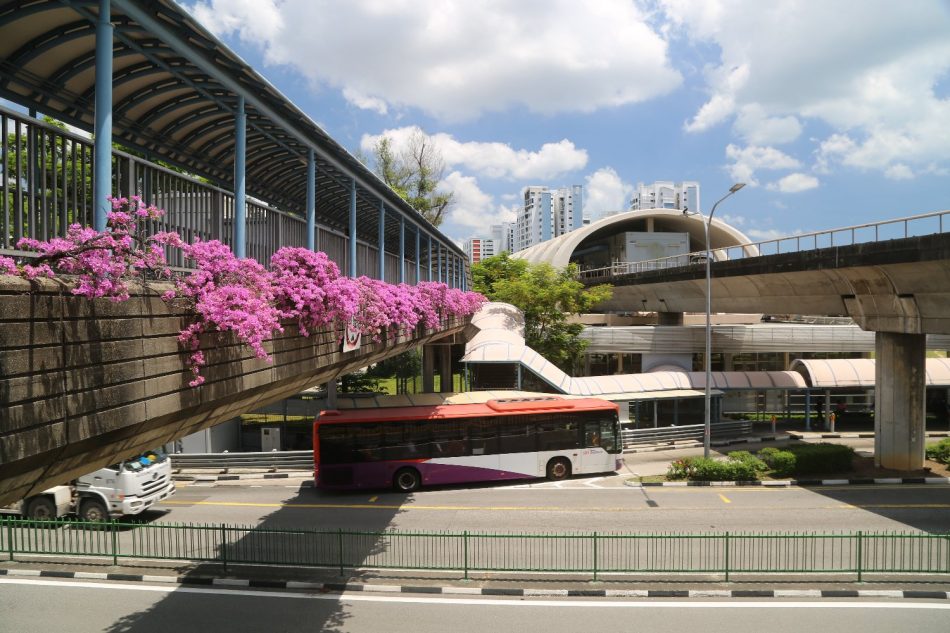 The weather is warm/hot, humid and tropical year round (with little temperature variation) with the rainy months from November through January. Even in the rainy months it does not rain all day; the skies can be grey but showers are more the norm especially in the afternoon/evening hours.
Tipping is already included at most hotels and restaurants as a "service charge" and is not expected. In fact, tipping is illegal at the airport. Tipping is also not necessary at the hawker food stalls.