If I were a philosopher, my motto would be "I eat, therefore I travel." My first step towards understanding a culture is through food. Taste is the silent thread that binds me to fellow gastronomes around the globe. This is especially true when I visit a country where I know not a soul nor a single word of the native language, my exact situation during my recent visit to Suzhou, China. As alien as I felt upon arrival, I correctly suspected that just as soon as I was slurping noodles around a Lazy Susan with locals, I'd be feeling right at home. On your mark, get set, get your chopsticks ready for a most delectable visit to Suzhou.
China Vs. Italy, A Food Smackdown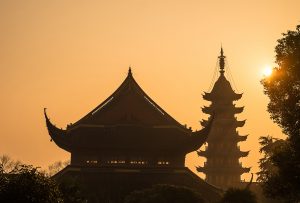 China holds a special place in the culinary geek's heart. It is a bona fide gastronomic powerhouse and one of the world's most food-obsessed countries. For many years I lived in Italy, another country with an abundance of food-crazed citizens. Initially, I found the Italian emphasis on food bewildering. I remember feeling perplexed when I picked my child up from her first day of Roman pre-school. I asked the teacher how the day went and she gave me a comprehensive list of what my daughter did and didn't eat for lunch, with not the slightest mention of her emotional or educational experience. That my daughter refused to eat tomatoes gained even the headmaster's attention. But I quickly converted and became just as preoccupied as my neighbors with finding the freshest spring artichoke, the foamiest morning cappuccino and the smokiest guanciale for my bucatini all'Amatriciana.
In Suzhou, I was a stranger in a strange land, yet I found great comfort knowing I was among like-minded foodie folk who start thinking about their dinner menu before lunch. Though we didn't share a single word of vocabulary, I felt an instant kinship.
Suzhou is China's Most Elegant City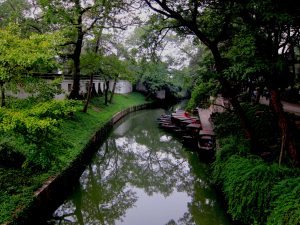 Suzhou is located along a series of scenic canals, earning it the moniker the Venice of the East. Its reputation as China's most sophisticated city is 100% justified and this extends to its dining table. Presentation, as composed as a portrait, is essential. Flavor is key, but so are the nuances of texture. Suzhou offers a varied menu but a faint sweetness is a signature characteristic that enhances many dishes.
Suzhou Is A Culinary Supernova
If China is a culinary planet, Suzhou is a supernova. Located 60 miles from Shanghai (a snappy 30 minutes via high-speed train), there is a considerable commonality between the foodways of these two cities, as well as significant differences. As delicious as Shanghai's cuisine is, Suzhou's kitchen presents more delicate flavors and benefits from a more refined presentation. Think poetry on a plate. Suzhou is surrounded by lakes and rivers flush with fish. The aquatic bounty translates directly onto the plate with freshwater tastes and artful seafood presentations.
Squirrel Fish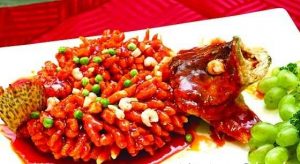 Squirrel Fish, a deep-fried whimsical wonder, steals the spotlight. Its mild, sweet and sour flavor is sublime, but the playful presentation and evolved aesthetic is what makes it so memorable. Served whole on a platter, it looks remarkably like a squirrel; some diners claim you can hear a squirrel-like chirping noise when you bite into the hot, crispy exterior. The snowy interior is delicately textured, the perfect foil for the crunchy crust. The payoff for this rigorous technique is a photo-worthy visual that instantly explains why it is often served at holidays, important celebrations and formal banquets.
Squirrel Fish is served at many of Suzhou's fine restaurants. I dug in at trendy Meimei, located in the sleek new part of the city known as SIP.
Hairy Crab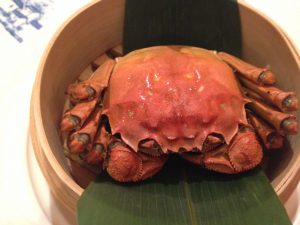 Confirmed shellfish lovers should time their visit with hairy crab season. These dainty crustaceans take center stage in early October with their farewell bow coming in December. My visit coincided with this autumn delicacy. Eating it reminded me of eating Maine lobster: it was a lot of work for very little flesh, but the payoff in flavor was so worth it. Hairy crabs are best appreciated simply steamed without additional flavors to corrupt their natural goodness. The succulent orange-hued roe has a distinct taste, as luxurious and complex as fine French foie gras. The crab's legs are sweet, lively bites of juicy meat. I was presented with numerous utensils to help me crack and consume, but in the end informality won: be prepared to use your hands and get messy. I nibbled, gnawed and sucked to not miss a single drop of goodness. The luxurious Shangri-La Hotel is a mecca for hungry tourists craving authentic dining experiences. I indulged in a bounty of hairy crabs at the hotel's glamorous restaurant, Shang Palace. The hotel serves a heavyweight breakfast too, so staying here is a round-the-clock epicurean fantasy.
Noodles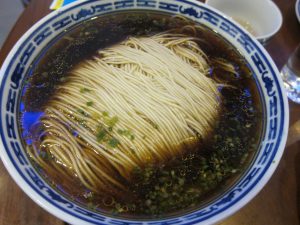 Visiting this city without dining at a noodle shop is a culinary sin on par with skipping pizza in Naples. You will find a range of noodles in Suzhou, from very fine strands as thin as embroidery thread to those of substantial girth. Besides being delicious, a weekend lunch at a noodle shop provides a window into Chinese family life. You will see multi-generational families seated around large tables, consuming vast quantities of noodles. Fengzhen noodles are a specialty. Thin but not too thin, these chewy delights arrive in a big bowl of steamy broth.
Wherever I am in the world, broth is my culinary linchpin. The balanced broths I sampled in Suzhou did not disappoint. The nourishing liquid may be ordered with soy sauce already added or clear, with the broth served in its unadulterated state. You will find a large piece of streaky pork buried under the tangle of noodles, subtly flavoring the dish. The elements mesh to create a perfectly harmonious bowl of uncomplicated, mouth-watering goodness.
It would take work to find a bad noodle shop in Suzhou, but I devoured a huge bowl at Tongdexing, a popular eatery with a high-octane ambiance on bustling Pingjiang Road.
A Garden of Delights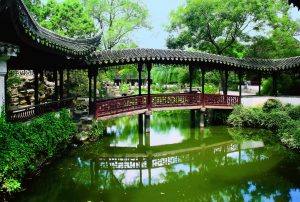 I live to eat, but woman does not live by hairy crab alone. Even if you don't give a darn about dining, this unforgettable city should be on your must-see list. Between meals, I indulged my other senses and visited Suzhou's worthy sites. It is not only a garden of culinary delights, it's packed with exquisite gardens, nine of which are UNESCO World Heritage Sites.
Of the many world-class gardens in Suzhou, my top pick is the Humble Administrator's Garden, built in 1509 during the Ming Dynasty. Water is featured throughout the garden with natural landscapes of small forests, hills and rock formations. Green grasses, dense bamboo, pine forests and winding streams are present alongside elegant manmade pavilions and courtyards.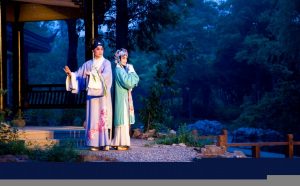 Also worthy of your time is the Master of the Nets Garden. A stroll here demonstrates Chinese garden designers' skill for synthesizing art, nature, and architecture to create metaphysical masterpieces. Visit in the evening and you'll be treated to nightly performances of the Kunqu-style of opera.