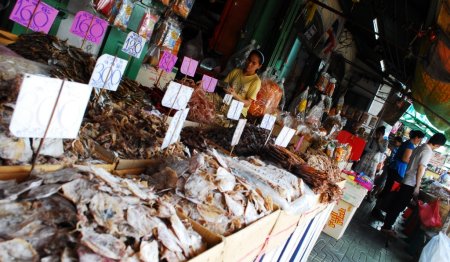 Dried fish at a Bangkok street market
I wake up at 5:30 a.m. on the 57th floor of the Lebua at State Tower, an upscale hotel in the thick of Bangkok, the Praya River snaking by below. I stand and listen, hearing a throaty growl seeming to gather steam in the distance and figure it has to be an airplane leaving the city from Suvarnabhumi Airport.
But how can that be? For one thing, the airport is 19 miles away. For another, the sound doesn't wane, but stagnates in a dull, steady roar. Then it hits me: It's not a plane at all, it's the city itself. Bangkok is never quiet, ever alive. The sound I'm hearing, and would every time I step onto my balcony, is the city's voice, a collective thrum from the 8 million souls who call it home and all the mechanized things that get them around converging in a steady, unending din.
Down on the Praya, barges slog through the dark water, and ferries and tour boats glisten in the gathering light. Soon, the roads to my left and right clog with vehicles, the honking horns and buzz of scooters working their way up to me as I stand watching the city, listen to it come to life. There is noise everywhere, none of it individually discernible from my perch, but rather blending into a ceaseless song that is Bangkok's chief sensual experience.
It is my first morning on my first visit to this most alluring of Southeast Asian cities and all around I find a city of sensory overload. I check out the legendary markets downtown, reveling in the rows of desiccated fish of all color and stripe, the sizzle of chicken from the inexhaustible supply of street vendors, the smell of bubbling who-knows-what filling my nostrils, the heaps of fruits and vegetables, some recognizable to my Western eye, most not, the cackle and chatter of the city's people engaging each other in a language totally incomprehensible to me in its nasally whine but just as beautiful, all at once. The store fronts are jammed, jewelry, clothing, pocketbooks, watches, electronic supplies. The river nearby is a dirty sluiceway of commerce.
A group of us walk around, helped immeasurably by Gary, our guide from the Trikaya Tour Co. ( www.trikayatours.com/ ), a native who sagely advises me to eat street food but avoid anything with bugs on it. Fresh food is mostly iced but pests abound as eager to chow down as I am. Later, I exact my insect revenge, chomping on fried grasshoppers, beetles and scorpions from vendors on Khao San Road.
We are here on a culinary adventure, learning to cook in a trio of notable Thai cooking schools, and first up is the Amita Cooking School ( www.amitathaicooking.com ), getting there by boat, shuttling past ramshackle homes leaning into the brackish water and nearly as many temples. A sign on one home reads "Long Live Our Beloved King," testimony to the country's reverence for its royal leader; later, I see it commercially offset in the form of the King's face on cheap clocks at the markets. Hey, they gotta earn a bhat, so why not?
Tam Piyawadi Jantrupon Amita – Cooking Class
Tam Piyawadi Jantrupon runs the Amita school (Amita, her daughter's name, means "eternity"), where a three-hour, four-course lesson costs $100. Tam is a former lawyer and fashion designer who opened the school three years ago when she came back to her ancestral home to care for her aging mother. It is a small, well-organized place, with a pair of chickens, Sesame and Soy, clucking about, their sound mixing with the occasional monotone drone of monks at a temple across the small, dirty canal on which the school sits.
Tam is a delight, showing us her small, herb-and-vegetable packed garden where she gets most of her ingredients, offering us flash-fried flowers such as yellow kradung-nga to start us off along with iced lemongrass tea. We gather in the open-air kitchen, cooking our way through pad Thai, khang keaw wan gai, super spicy tom yum goong, and tab tim krob, a colorful water-chestnut dessert in which she uses natural food coloring from her flowers. We sweat in the fabled Thai heat and humidity, welcoming more iced lemongrass tea later as we eat and chant "Chai yo!" three times, the Thai version of "salute."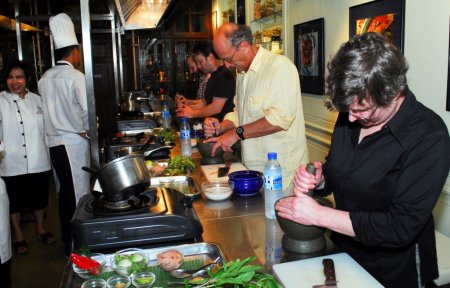 Blue Elephant Cooking School in Bangkok, note balding author in center of photo
The Blue Elephant Cooking School is next, above the famous Blue Elephant Restaurant, owned and run by one of the best female Thai chefs in the land, Nooror Somany Steppe. A half-day course at Blue Elephant ( www.blueelephant.com/school ) will run you $93, with seven of them costing $466, all of it worth it. The kitchen is spotless and exceptionally well appointed, and we learn to make stuffed chicken wings, crispy spicy duck salad and steamed fish.
Regular course takers here get a trip on the Sky Train as part of their learning, buying food at the markets and returning to learn food theory before getting down to creating incredible Thai food, hoping you'll remember it to dazzle your friends back home. They provide handouts, which helps, but nothing beats having a world-class chef watching and correcting your mistakes.
Venturing up north, we take classes at the Four Seasons Chiang Mai cooking school (, www.fourseasons.com/chiangmai/cooking_school/ $200 per class), located at possibly the most gorgeous resort I have ever seen, surrounding working rice paddies. Our chef is Pitak Srichai, an impassioned man who loves imparting some of his considerable culinary knowledge to his students, telling us he first learned at his mother's elbow, and later worked his way up through restaurants, from dishwasher to chef.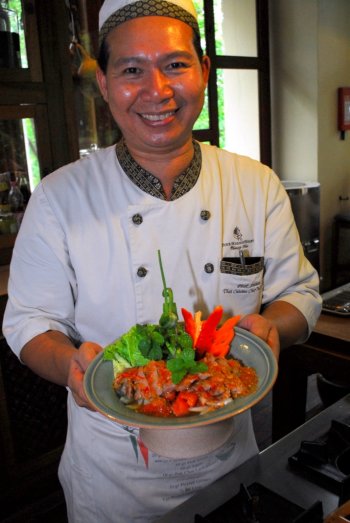 Chef Pitak Srichai – Four Seasons Resort, Chiang Mai
This master chef laughs loud and often as he chops, slices and dices his visual lessons about making spicy beef salad, green curry paste (trust me, it's the hottest), and curry noodle with chicken. That night, we dine at the chef's table in the massive, open-air cooking school, feasting on a 13-course offering that by number nine, makes the last four a huge, albeit tasty effort to complete.
The complete absorption of the Thailand sensory overload continues at places like the Damnoen Saduak Floating Market in the Ratchaburi province about two hours from Bangkok, a most interesting place overloaded with tourists but also teeming with massive amounts of food and clothing. Caught up in the retail fever of the moment, I buy a pair of gorgeous white-linen shirts for $30 and a couple packs of dried spices for $1 each.
One of the smelliest, and loveliest sensory experiences is The Thailand Elephant Conservation Center in Lampang, home to more than 50 elephants rescued from urban life, where they had been forced to make a living for their handlers after Thailand outlawed using elephants in the lumber trade.
These are huge, intelligent, beautiful – and smelly animals. You change into a blue mahout suit (Mahout means elephant handler) that as you ride the gentle beasts, does protect you from their bristly neck hairs, but not from the overpoweringly pungent elephant aroma. No matter, they are a delight, and mine most of all. He is Dor Ta Daeng (Red Eyes), a 34-year-old male of playful nature, they tell me, and sure enough we stop in a stream at one point and Old Red Eyes blasts me with a snout full of water, welcomingly cool on our tromp through the steamy jungle.
Without question, the most incredible part of an incredible journey is the Maeklong Railway Market in Samut Songkhram, about 50 miles southwest of Bangkok. Here, market vendors set up on and around the railroad tracks that cut through town, canopies draped over them, and seven times a day, seven days a week, a train runs right through it. Vendors feel the rumble of the ground or hear the train horn blast in the distance, wheel back their goods, peel back their canopies and this great, lumbering train thunders through, inches from where I stand, nearly brushing my shoulder as I cheat out a bit to take photos, the skirt of the train coasting inches over the trackside food below. It rumbles away, the carts and canopies return, and commerce resumes.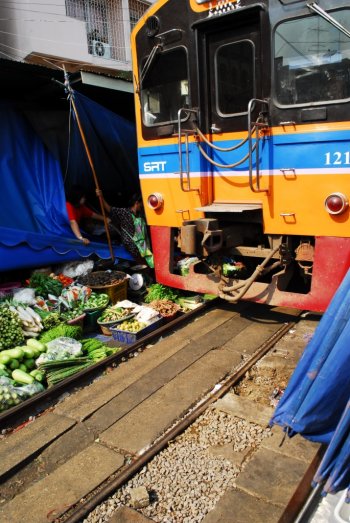 The Maeklong Railway Market
The cheapest dining to be had is at the Kalare Night Bazaar in Chiang Mai, where you buy coupons to use for food in a string of booths offering all manner of Asian fare. You buy food, have a seat in the food court and listen to music on a nearby stage, which this night includes a Thai folk singer doing "Freebird" to no one really listening, and later geisha girls spinning paper umbrellas. Later, I wander into the murky night to shop the street vendors selling Tiffany knock-offs (blue bags and all) for 10 bucks, allegedly silk pashminas for four bucks and Song Sam Thai whiskey for about $3.50, clearly the best real deal of the night. Bargains are to be had in this less-hectic-than-Bangkok retail haven in the relative calm night save for the Tuk-Tuk drivers chirping for your trade.
Thailand is a place of unending sights, sounds, smells and tastes, a land with a gentle, collective soul unlike any I have found elsewhere in the world. It is not to be missed, if you have the chance. One trip here, and you'll want to return again and again.
Bio:
Paul E. Kandarian is a freelance writer in Massachusetts who writes regularly for the Boston Globe, Rhode Island Monthly, Upscale Living Magazine and has written for a variety of other magazines and newspapers, including Yankee, Playboy, Banker and Tradesman, American History Magazine and others. Contact Paul: Paul E. Kandarian
Sorting hot chili peppers, Bangkok street market