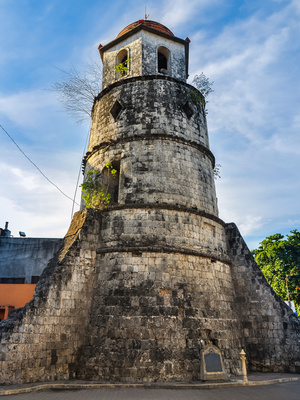 When you are in Oriental Negros, you will get to see and experience the beauty of nature up-close and personal. Whether you are snorkeling, or boating with the dolphins, or kayaking at the twin lakes, the province never run short of surprises for its visitors.
The provincial capital, Dumaguete City, is host to thousands of youngsters and adults pursuing a university life in an environment that is conducive to learning and relaxation. Silliman University covers a big chunk of the city's land area. Tree-lined walkways and a wide stretch of grassy ground is a picture of a rich avenue for intellectual discourse and educational learning.
Beyond the serenity and the simple way of life in this province are gems that are worth a trip down south of Manila. The tip of the sock-shaped island boasts of adventure and natural attractions that are much better than what any theme park can offer.
Apo Island, found at the southern part of the province, is only 72 hectares and sill a part of the town of Dauin. It has a rich marine sanctuary that has lured many divers. The small village in the island offers a glimpse of the tranquil life the locals live. The famous Baluarte Rocks, the rock formation which looked like a head of man, seem to guard the island from intruders.
At the marine sanctuary, one will find hundreds of clown fishes as well as thousands of colorful fishes like the Angel Fish, Tropical Fish, Butterfly Fish, as well as Sea Snakes. The Apo Island sanctuary is like a breathtaking paradise hidden underneath the sea.
If you want to stay afloat in the surface, then head off for some dolphin watching at Bais City. It was about an hour by land to the north of Dumaguete, passing through the towns of Sibulan and Tanjay.
The peak of Mt. Tanilis (Visayan for "pointed") is a welcome sight at the dolphin watching port. At Bais Bay and Taion Strait, which separates Negros from Cebu, the dolphins do a wonderful show swimming with boats and doing exhibitions while humans cheered for them. It's beautiful to watch how happy these animals are interacting with humans in their natural habitat.
From afar, the sand bar, submerged in the waters, gives a green glow in the blue sea while four villas on stilts slowly appear. Locals swim in the area and hold some picnic with families and friends.
As the sun starts to set towards the West, the tide slowly lowers and the sand bar emerges creating a beautiful park in the sea.
Oriental Negros is a beauty to behold especially that it is a place hidden from the chaotic city life. Nature comes alive and human beings can freely interact with them. The wisp of wind and the sound of waves are enough to lure you to Oriental Negros.
*****
Claire Marie Algarme writes about her travels at www.firsttimetravels.com
To contact her, you can email her through clairealgarme@gmail.com