Ever since I've heard someone refer to Cambodia as the Kingdom of Wonder, visiting this country – and experiencing its beauty firsthand – was pretty high on my bucket list.
If you're anything like me, and you're looking for a perfect combination of the old and the new, I promise Cambodia will leave you in awe.
So, let's take a look at the top five places to visit in Cambodia.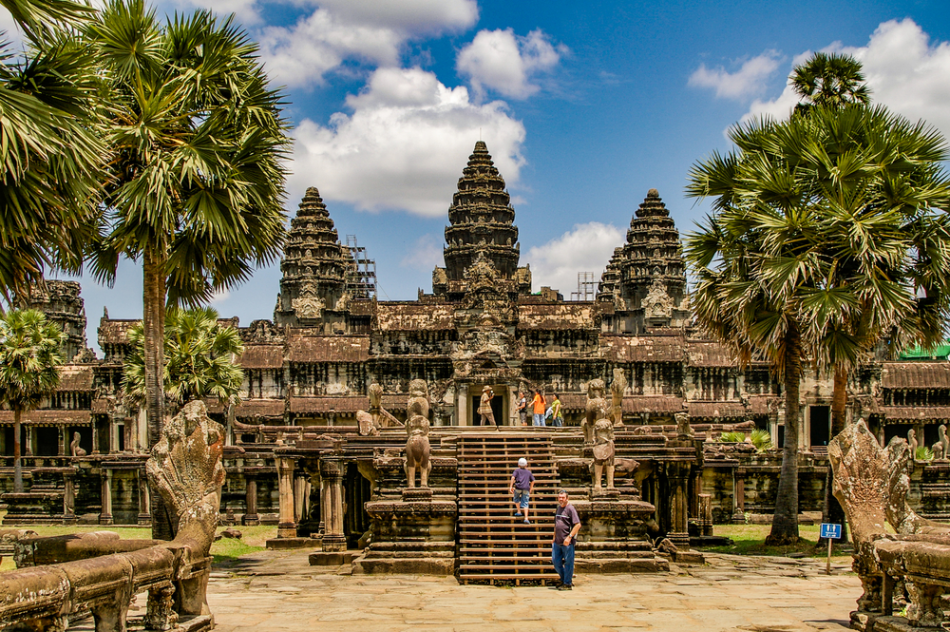 Discovering The Hidden Wonders: Top 5 Places To Visit In Cambodia
With nothing more than my standard backpacking equipment, and some clothes, I've embarked on an exceptional journey – take a look at the top five places to visit in Cambodia:
1. Angkor Wat: The Largest Religious Monument To Date
The best advice I could give you is to get a guide for the time being. Oh, and a bike – definitely a bike. No matter what shape you're in, a total of 25 miles will probably be a bit too much for you.
Ticket prices have gone up since I've last visited Cambodia; I recommend getting a three-day pass for about $60, but you can get a cheaper one-day pass if your budget is tight as it is.
You need to be prepared for the floods of tourists, though. Angkor Wat is the biggest religious monument on Earth – it's no wonder so many people are rushing to witness its centuries-long glory.
2. Koh Ker: The Pyramid Of Cambodia
Who says you have to go to Egypt to see the pyramids?
If you do decide on visiting Cambodia, Koh Ker should find a place on your list of destinations. Chances are you'll be staying in Siem Reap (or camping somewhere in the area) at one point during your stay in Cambodia, so make sure you find a driver that will take you there. It will set your budget back a bit, but it's not like you have plenty of other options.
There are 75 miles of the road lying between Siem Reap and Koh Ker, after all.
3. Sihanoukville: A Sandy Paradise For Beach Lovers
I didn't want my trip to Cambodia to turn into an endless stream of sightseeing, which is why I've decided to give the beaches of Sihanoukville a try. I needed a place to recharge my batteries on the white sand and swim a bit. If you think you may need a little break, as well, you should pinpoint Sihanoukville on your map.
The best thing about it is that the beaches are backpacker-friendly – if you're not interested in luxurious hotels (I'm with you on that), you can stay in one of the huts located right there on the beach. Sunsets with a fresh sea breeze and the sound of waves in the background are, to this day, one of the best things I've encountered – and you should, too.
4. Mondulkiri: Wildlife And Waterfalls In All Their Beauty
In the eastern area of the country lays a real gem of Cambodia's nature – waterfalls, tropical forests, hills, and valleys. And if you're lucky enough, you'll make some new friends, too. Mondulkiri is home to many Cambodia's endangered wildlife, so don't be surprised if, at some point during your hike, you encounter elephants or water buffalos.
Take your time, and interact with the elephants; feed them, groom them, and enjoy the precious moments you get to spend with these gentle giants – it will be one of the most memorable parts of your trip!
5. Preah Vihear: A Temple On The Edge Of The World
You probably think I'm just overly dramatic for calling Preah Vihear a temple on the edge of the world, but trust me, once you're there, you'll know what I'm talking about here. The entire temple complex is located on the cliff in the Dângrêk Mountains, and while the cliff isn't that tall – 1,722 ft – it will still leave you breathless for a second.
The most memorable part has to be the Nagaraj courtyard, which is located at the top of the stairs and marks the place where our world meets the world of gods, and the entrance to the first of the temple's five Gopuras.
Final Thoughts On Visiting The Kingdom Of Wonder
First of all, I have to admit that making a round-up of top 5 places to visit in Cambodia was, by far, one of the hardest lists I've ever made. Convincing myself to stop at five – and deciding which destinations made it on the list – was close to impossible.
I would suggest you take this list as nothing more than a brief outline of what this country has to offer. Start with these destinations, and let your journey guide you from there.
Wherever you end up, I can promise you one thing:
It will be nothing short of amazing.