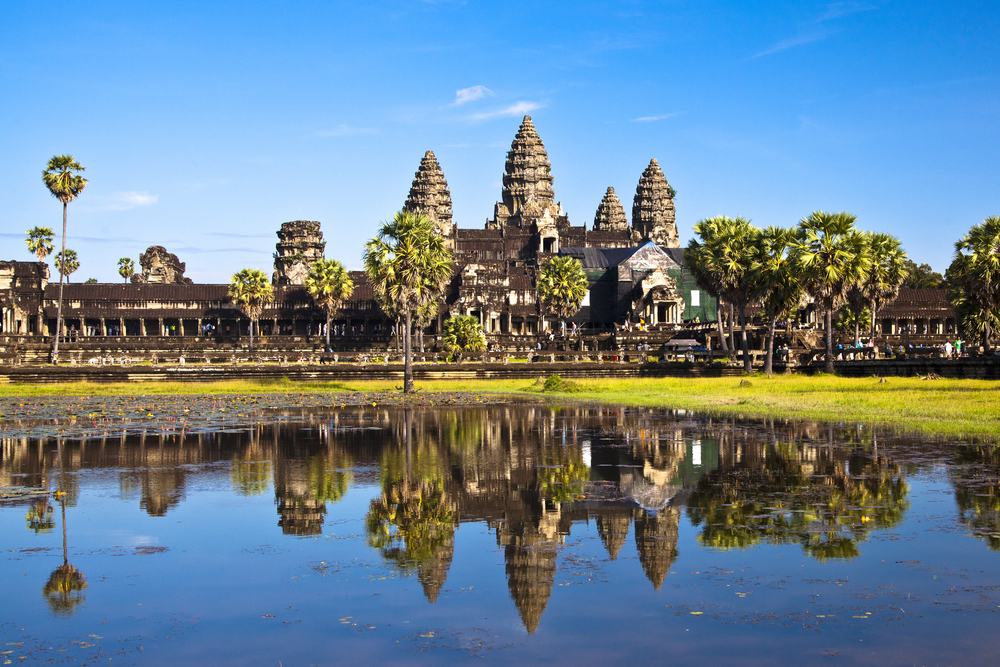 Cambodia immediately conjures up visions of the temples of Angkor Wat. OK, they are without argument, among the most awe-inspiring monuments ever built by man. But there are plenty of other things to see and experience in Cambodia.  There is so much more to this beautiful country. While Angkor Wat should be on your checklist of must-see places, let's get off the main tourist track and take a look at 10 other amazing sites.
This country has some best-kept and captivating secrets. First though, we'll ease into this virtual tour by heading to a popular backpacker destination at Sihanoukville, Cambodia's main port. Its beaches, nightlife, restaurants and an easy-going atmosphere make this place the country's third-most-popular tourist destination. But as our main aim is to take you away from the touristy spots we'll move on out…
…to Kampot, a river town, with its run-down French-era buildings and mellow spirit. This is the ideal starting point for Bokor National Park and the creepy Bokor Hill Station, a crumbling ghost town with its ruined casino, dating from the French colonial period.
Koh Kong Province, near the Thai frontier, is breathtakingly beautiful. It was almost inaccessible until the completion of Highway 48 just a few years ago. Now, the old smugglers' port of Krong Koh Kong has become a center of ecotourism. The deserted beaches of Koh Kong Island are a main attraction, together with the mangrove forests lining the coastline. If you're the adventurous type, you can head upriver to remote Chi Phat, the center of a pioneering ecotourism initiative. The really daring can hire a guide for a trek deep into the Cardamom Mountains, one of Southeast Asia's last great wildernesses.
If it's "wild" you're looking for, you can also travel to Cambodia's far-off Ratanakiri Province. The red-earth town of Ban Lung is an excellent place from which to trek to nearby "hill tribe" villages or to Virachey National Park, home to endangered elephants, gibbons and hornbills.
Kep is a small town in the Southeast corner of the country, where lush jungle borders the sea. It is also the gateway to laid-back Rabbit Island – where if you're into seafood, you can find Cambodia's best crab. It' cheap too: a plate of a dozen crabs costs about US$10 (by the way, the US$ is Cambodia's "de facto" currency).
The superb temples of Banteay Chhmar, the former Khmer Rouge stronghold of Anlong Veng, the spectacular cliff-top temple of Prasat Preah Vihear, and some of the more remote wildlife sanctuaries were hard to get to until a few years ago. They can now be reached with relative ease thanks to a network of new roads.
Get into the street and drive a Tuk-Tuk! Hire one for the day at a ridiculously low price. Drivers will often double as tour guides and give you a first-hand perspective of life before, during, and after the tragic '70s while getting you into the feel and swing of street life – literally: if you have the nerve, ask nicely if you can drive! Most drivers will let you – and it's a great experience.
If you want another fun and adrenalin-pumping ride, head to the bamboo train outside Battambang. These crude vehicles were created after the Khmer Rouge left the country in shambles and Cambodians lacked transport for people and goods. They placed bamboo pallets loosely on top of steel axles and powered the contraptions with old lawn mower engines. Be warned: this is not for the faint-of-heart but is something you will never forget…if you survive!
Into mountaineering? Climb the 1,813-meter high Phnom Aural for an experience completely outside the scope of most itineraries. You'll need a Khmer speaker to help you along the way. There are small villages around the mountain's base, but then you're on your own with only the wilderness. Make sure you bring a hammock, mosquito repellent and sturdy hiking gear. But don't attempt this trek in the wet season!
Unfortunately, one cannot – and should not – ignore Cambodia's turbulent recent history. You may feel somewhat apprehensive about visiting a place with such a horrifying past, but the Killing Fields at Choeung Ek, just outside the capital Phnom Penh, are something everybody ought to see. The peacefulness of the site today seems at odds with the horrors that took place here not that long ago. Visit the museum to get a full understanding of its significance.
OK – so let's finally get to (or near) Angkor Wat; but in the spirit of this virtual tour, we are going to give you a somewhat different perspective: There are hundreds of magnificent temples in the Angkor Wat temple complex outside Siem Reap, and each is worth exploring. But they are also crowded with tourists. There is however, an important temple that will take you away from all the crowds. Isolated Beng Mealea, is one of the larger Hindu temples of the Khmer empire. About an hour's drive outside Siem Reap, this 12th Century temple, has been left largely un-restored in the lush jungle. As it attracts very few people, you are free to roam the site with its intricate Hindu carvings in absolute peace. If you are looking for solitude in your temple-viewing, Beng Mealea is the place to go.
And that's only a small taste of this diverse and fascinating country. A highlight of Cambodia is its people. After years of living with genocide, civil war, and a corrupt, oppressive government, the Cambodians are friendly, open and optimistic. Don't be afraid to get into the street, visit the outdoor street markets, and rub elbows with the locals.
The best advice we can give you? Whether you are or simply going on a well-deserved vacation…be adventurous, be bold, be resolute, and reap the rewards of a totally exotic experience.