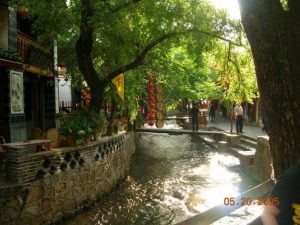 Entering through the gates of our destination, I stopped in my place. Through the gleam of nature in the dainty courtyard was a tiny old woman, approaching us. She was welcoming us but my heart wavered, quickening a beat or two.
An earlier encounter with an old Chinese woman was one I would not soon forget. It had been only days earlier when we were waiting at a bus stop, fully laden with our backpacks, moving onward. People were going about their daily routines. Men passed by with squawking chickens in hand, women danced by with bushy brooms sweeping the road and little kids ran past collecting empty bottles for refunds.
One mingled amongst the rest of the peddlers but could not be overlooked. When I first saw her I bit my lower lip. Against my will and downward glance, she came towards us. Her wicker basket was blooming with what looked like melting homemade marshmallows exposed to the sun. Her basket hung in the crook of her arm and half beneath her cloaks. She staggered towards us, shuffling her feet. At closer range, the picture didn't get any prettier. Judging from the condition of her few remaining teeth I guessed the anonymous white blobs were probably her staple food. Not willing to find out we all shook our heads and politely said, "No, no thank you. We don't need any," before trying to migrate away to avoid any more confrontation.
Though she could not understand our words the message was quite clear, yet she didn't walk away. She didn't simply slip back into the crowd as she should have.
With rough bark like skin, she was the wicked queen of Snow White carrying her poisoned apples but this was a fairytale of my own. Before I knew it her hand, knobby, rough and crow-like reached out for me. She grabbed and sunk her claws into my fragile arm. I was caught off guard and too shocked to even make a peep. It could have been my terror that blocked my air supply for ten seconds, but that was all it took. I wanted to run but my pack restricted my ability to do so. Had I pulled against her clutch I'd likely fall on my back like an awkward turtle, had she decided to release.
I tugged to show my resistance but she didn't budge. Why me? Why is it always me? I asked myself over and over. Any little conflicts were enough to push me overboard at this point, so early in my trial period. She clung there desperately. Her grip became stronger and her nails pinched deeper. I tugged again. Whatever happened to sticking up for each other? I thought furiously at my family, who were close by but failed to notice my dilemma, let alone rescue me. I tried to find them, tried to pivot on my toothpick legs. But I was trapped.
I didn't know what to do. It was only her and me hovering in a whirlpool as the rest of the world spun around us. Losing sight of escape, an inner strength came over me and I turned to face her. Looking my trepidation straight in the eye, adrenaline rushed in my blood. I could see she had had a rough life with her small hunch, weathered wrinkled face and rotted, gummy snarl. I knew nothing of her pain.
All I could do was give an angered yet terrified stare. We stood alone in time. She pealed back her cloak and came from the shadows of her ancient roots and revealed her inner core. Through a passageway in her eyes I saw a childhood, playful and innocent. I began to hear a story of her once shiny black hair and a grin boasting pearly whites.
What has this world done to her? She was screaming at me with her eyes and I stood and I listened. Only I could hear the words. It seemed an eternity but in an instant she was gone. Had I not looked down at the bloody scratch she'd left as proof, I would've thought it was a test of my own imagination.
So there she was, a second old lady, standing in the courtyard.
I cautiously stepped deeper into the garden of the Guest House. I was still shaken, recollecting the first, unable to grasp the significance of that experience. Sensing my hesitation Mom assured me, "Don't let past experiences effect your view of new people."
She nudged me along.
The woman, who had led us twenty-five agonizing minutes to our destination, reached out a hand to introduce, "This is Granny. She will take care of you."
Granny produced the biggest most cheerful, tooth filled smile. She didn't hesitate to gently take Mom's hand and lead us up the narrow, steep passage from the porch. The wooden stairs creaked and complained beneath our feet as we climbed to the peak. It was all made of wood, and the heavier our steps the more dust that fell from the cracks between the roof and the stairs. The cats started early on with their flirting routine. By night they'd be mating and scrambling in the shingles above our heads. There really is nothing like a cat in heat and the obnoxious moan of the male as he begs her for permission.
Squeezing awkwardly into our attic space with our extra weight we were able to unload ourselves at last. There were five beds in our dorm and already there was a plump unraveled backpack claiming one of them. Luckily it was separated in one corner of the room, three beds were side by side, almost touching but that was alright for the three girls. Ammon was in a corner, across from an anonymous traveler. He was happiest there, preferring to pretend he wasn't part of a group. Nobody believed it when he told them he had three girls tagging along anyway.
Granny was waiting for us when we came back down. The lady had vanished, most likely returned to the station, leaving us alone with little old Granny who spoke not a word of English. That is generally the case with the older generations, the younger the person the more chance we had of a few words in common. In Granny's day, there wouldn't have been anything other than Mandarin. In recent years the tourism industry had grown and some Celine Dion songs played in city streets, but even then it was rare.
This language barrier didn't prevent us in any way from having a good chat with her. There were a lot more skills involved in this communication but it made for an exciting, mind expanding game. Before I knew it and against my prior judgment, I was in a fit of laughter. She was nothing less than worn herself and she had thick wrinkly dimples. She was like an animated mole pinching its face in the sun. The tones, emotions and actions put into our charades quite possibly explained more than simple dialogue ever could have.
It gave a more intimate connection between us.
When it came time for us to explore the world outside her garden, Granny was more than confident that she was capable of giving us the directions. She didn't know where we were headed but then, neither did we, so her directions would have to do. Leaning out the door she took Mom by the hand and showed her the way with left and right pointing. We watched intently at her waving arm and down the road imagining the path ahead. Turning, Mom put her hand on the woman's and nodded thankfully. As a last note, Granny let us know "eating", her hand raising and lowering to her mouth in a shoveling motion, was at 7 o'clock. Having shed about 35lbs each by leaving our Big Packs behind, our physical ailments were far less burdensome.
~~~~~~~~~~~~~~~~
Her collection of motions had led us to the town centre. Twinkling canals alongside the brick pathways twisted throughout thatch roofed homes. The streets were nearly empty aside from the few local shoppers along the way and a little crowd formed in the main square. Local women danced around in blue aprons and white vested costumes doing a concerted spin, linked arm in arm. Onlookers joined in, raising and kicking their legs as the giant circle rotated. Everyone was smiling and cheerful.
Lijiang's 's major attractions are its large double waterwheels and the 15km away Jade Dragon Snow Mountain, part of the southernmost glacier in the northern hemisphere. The view of the mountain from the centre was clear, where domestic tourists huddled with their cameras. On our ride to Lijiang the bus driver had announced the first glimpse of the mountain as its snow caps appeared in the distance. Straining our necks to see what all of the ooohs and aahs were about we were shocked by their reaction to a mountain. Though lovely in themselves, these attractions were not the purpose of our excursion to Lijiang.
It was neither the Jade Dragon nor the waterwheels we walked miles to see that made my eyes pop but rather the enchanting beauty of the village itself. Hanging plants and vines wrapped themselves up and dressed the shingled roofs and passageways. Wood planks were used as bridges across narrow waterways from shop to shop. It was the everyday normality and the silent beauty that made this town memorable. There were no signs of shopping carts, automatic doors or escalators to be seen. My own personal normality had completely disappeared. It was all authentic and so simple. The peacefulness there made it what it was. The streets were dripping with red from bubbly paper lanterns one atop the other. The bold oriental lettering and designs on the lanterns added character and spice to the stone alleyways.
A temple with its many curved pointed tops each leveled with extending roofs, stood spiritually. The mountain's image was crystal clear on the pond. Hanging branches of willows touched the still water. Dainty arched bridges made full circles with their reflection. Ducks peddled carelessly as hundreds of colorful Koi, splotched and fat, surfaced with gaping mouths begging for food. Stairs led down to brick canal ways and stone carved dragons drank from the winding waters. It appears I had to conquer my first "villain" to reach this fairyland. I thought, thinking back on the first old woman.
This sauntering walk led us through the solitude within residential areas. We found ourselves at one of many local watering holes which consisted of a three tiered system. They were square cement pools placed in a small courtyard. The upper level was crystal clear pouring with fresh water that people would collect for cooking and drinking. The water that flowed from there into a second lower pool was slightly murky and used for the washing of vegetables. The third and last, was a pale soapy blue, to wash their laundry on hands and knees.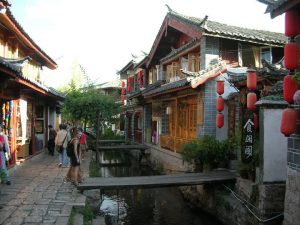 As it seemed to provide the rawest cultural feel, we sat around at a cement table beside the wells and pulled out our deck of cards.
One of our biggest past times while on or waiting for transport, was our ongoing game of "Daifugō".
Nearby, men and women hunched forward wearing large baskets of produce or encased woven baby carriers on their backs for youngsters to comfortably sit or stand in. Both kinds of baskets were strapped with thick fabric crisscrossed across the carrier's chest for support. Many had baggy topped hats with hard bills in a variety of colors, the same as Granny wore. The one thing that consistently stood out to me was China's apparent passion for camouflage patterns. It was everywhere, from shirts to shoes, pants to hats, cars to suitcases and soldiers to little kids in uniform.
What started as a couple of locals casually doing their wash and daily chores formed into a group of men squatting like ducks along the walls around us. Others would stop for a peek as they passed by. Cards never failed to catch the eye of the Chinese men, I quickly learned. Before long we'd attract an entire flock who'd watch intensely.
"Oh no, what are those guys doing," Mom said, noticing a small group of domestic tourists, most likely from the city, dipping their hands in the uppermost well. "Don't they drink from there?" she asked Ammon.
"Ya, that's supposed to be for drinking. That's gotta make the locals angry," he said.
And as if we'd called it, one of our squatting friends got up to shoo them away, with arms waving up from his sides. As we predicted, they did not appreciate salty finger oils spreading in their drinking water.
Huddling together our audience continued to watch and discuss amongst themselves trying to figure out how our game worked. The physical switching of positions and trading cards depending on your ranking was what always threw off on-lookers and made it hard for them to learn the game. Getting braver and inching closer, one would come to help us and point without words, "This, this card," glancing back and forth between my deck, the rest of the cards on the table and lastly my face to see if he was right.
"No, that one doesn't work," I smiled joyfully, shaking my head.
He'd sit back with his fist under his chin pondering. It was back to their drawing board.
The next try resulted in an encouraging, "Ya, ya. Good choice," from Ammon as he threw down the suggested two fives.
Just when they thought they'd figured us out we'd get up and change our seats again. Perplexed, they'd sit back on their heels returning to square one.
"Hey, what time is it? We better get back for Granny!" Mom said, glancing at her wrist watch.
With a hurried adieu to the crowd, we rushed back for our 7 o'clock meal.
Savannah Grace – Author of "Sihpromatum – I Grew My Boobs in China"
Amazon | Facebook | FB Page | Twitter | Blog