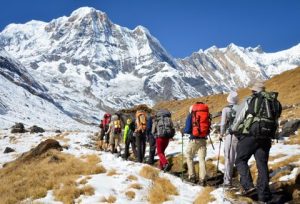 I'd always fancied myself as a bit of an outdoors-type, and what better way to prove it than a trek through the Himalayas. "Why would I want to walk for that long?" said a startled friend when I asked if he wanted to come along. Obviously he hadn't pictured it in his mind like I had. There it was; snow-capped peaks looming over pine-forests, twinkling stars dancing across the dark Northern skies, Tibetan prayer flags fluttering in the wind, stone cairns marking the trail to my side, and the rich culture of the Nepalese people. And so I left, by myself, on a nineteen-day trek through the Annapurna circuit. It was everything I'd imagined, and more.
Securing my permit into the national park from the ACAP (Annapurna Conservation Area Project) authorities I found myself, alongside a Pole, a Frenchman, and a Canadian, at Behi Sahar-the starting point of the Annapurna circuit.
Armed with my backpack (not too heavy-but heavy enough), iodine to purify my two litres worth of water containers, and an arsenal of snickers bars to give me energy, I began the trek confident that I would soon be an intrepid mountain man; as sure footed as a mountain goat and as hardy as a yeti.
My new trekking mates and I ascended, in shorts and t-shirts, up the plateaus of wheat-buck that for centuries had cut into the hillsides of the steep valley. I watched the farmers leading the buffaloes up the trail to cultivate their fields and I thought of my uncle's new tractor back home. We spent that first night, as we did every night, in one of the villages' small guesthouses that run along the Annapurna circuit.
Tired by the day's walk we greedily ate the offered Dal Bhat, a curried lentil dinner that is the staple of Nepalese people. It was a dish that was to become painfully familiar. I was woken by the crowing of a rooster and French curses from David next to me-pronounced Dav-eed, not David, he continually reminded us. Forsaking a shower in the cold early morning we set off with high spirits, but with what seemed like, heavier bags than yesterday.
Walking at daybreak seemed difficult, but by the end of day two I had embraced the rhythm of the trek and let my mind freely wander as my feet did the walking. Leaving the green valleys below us, we climbed to higher ground, meandering along the Kali Granda river and up to its' mountain source.
'It looked so small from far away, but it;s at least ten story's high', shouted Dave (the Canadian) at one of the waterfalls that fell on day six. Pointing to a rock pool away from the deafening roar of the water he told me to undress, we we're going in. My already pale body was reluctant to turn an even paler shade of blue, but urged on by my new mountain-man personal and grimy smell (I hadn't yet washed), I soon found myself struggling to catch my breath in the freezing waters that had earlier been a part of the glacier above us.
After my swim, or should I say bounce, we ate a granola bar and waited for the others. Not much was said between us, the silence filled up by our surroundings.
That night we slept in the medieval village of Upper Pisang. Before zipping myself into my familiar sleeping bag, I decided to take a walk through the little rural community. Struggling to navigate my way through the dirt footpaths and stone homes I heard shouts and jeers from around the corner. "This must lead somewhere" I thought to myself. I followed the sounds when, suddenly, an arrow zipped past my body. It landed on the ground beside me in a menacing 'thud'. Convinced that either Maoist guerrillas or ferocious Ghurkas were after me, I quickly scrambled for cover behind a donkey. Shouts of laughter filled the square. A local Nepalese woman came to my rescue and pointed out the makeshift bulls-eye target to my left. In broken English I worked out that I had managed to stumble across archery practice that was in preparation for the coming New Year's festival. Feeling silly, but safe, I retreated back to my room where Marius, the Pole, was loudly snoring; the result, I suspect, of the unforgiving local home-brew brandy that had been offered to us earlier.
By now David, Marius, and I, had replaced our t-shirts and shorts for the warmer pants, fleece, and beanie. Only the Canadian continued in his summer attire. Ego compelled me to attribute this to his Montreal background, and not to his more macho exterior, as we went up to the colder and windier heights.
On days seven and eight the smell of pine trees filled our noses, but by day nine the thick forest was thinning and had left us. In Manang (over 3000 metres) the weather is too cold, the ground too tough, and the air too thin for plant life to grow. It was the last we'd see it till we crossed over to the other side of the pass. The scenery was replaced by harsher rockier views, and patches of snow and ice against sheer cliffs. I felt sorry for the local porters who walked past us carrying their daily staples, and building materials. They were the villagers' saviours, lifelines between civilization below and their own subsistence villages. Though I dwarfed them in size they carried much heavier loads than me. My intrepid mountain-man image crumbled as quickly as they had managed to overtake my puny sized backpack and me.
It is recommended that after 3000 metres that you should ascend no more than 350 metres a day. My head was already swimming with the loss of oxygen and my appetite was less than it should have been. I now understand why it takes six weeks to climb Everest, a mental and physical test that I couldn't hope to understand.
Keen to have a rest and to prevent AMS (Acute Mountain Sickness) we passed an extra night in Manang. The sleep-in was much appreciated by all and, for the first time, I was not woken by any French curses. The following day I felt much better, but it was obvious that our pace was slower than it had been at lower altitudes. On night eleven, in anticipation of the day ahead, we decided to forsake our regular game of cards and fortified by, you guessed it-Dal Bhat, we climbed into our sleeping bags for a restless night of sleep. Most people find it difficult to sleep at high altitudes, unless accustomed to it. No one in our party got much sleep. We rose groggy and tired.
At five-thirty AM, with the moon's light barely visible over the peak above us, we left base camp wearing every article of clothing we had brought. My hands were so cold I wore socks over the top of my gloves. As I clapped them together to keep the blood flowing I cursed myself (surprisingly in French) for not bringing an outer mitten shell. Before long though, the sun had risen and the wind dropped. I peeled off all those layers that earlier had seemed so essential. Donning my sunglasses as protection against the snow's bright glare I made out vultures flying high up over my head and wondered what they might possibly eat so high up. Moments later they soared out of view. Never before had my pace seemed slow.
As I pushed on, each turn brought with it a new bend, and a new expectation of being at the top. With a newfound measured pace, however, I found myself at the top of Thorung La. At 5416 metres it is the highest walkable pass in the world, just as I imagined it. Tibetan prayer flags fluttered in the wind, other climbers took photos of each other, praising their efforts, and pleased with their own personal accomplishments.
The view was incredible. I knew that I still had a weeks' worth of walking ahead of me, with new landscapes, more locals to talk to, and more laughter with my new friends, but I somehow knew that this was the highlight of the trip. I've heard that it is not the destination, but the trip that is important. This meant nothing to me while standing at the top of the pass. At that instant I was one of the highest people in the world.
I could see below me the craggy mountains, the forests and rivers, and I mentally charted the pocket-map that I had followed against the life-sized version below. I remembered days before turning a prayer wheel and casting my wishes off into the winds, wondering what lay ahead.
Standing here, days later, I looked out, not below, but above, at all the other peaks that were above me, and understood what it was that made climbers, mountaineers, and simple holiday-makers, return again and again to the Himalayan Mountain range.
Traveler's Checks
The Annapurna circuit begins in the town of Besi Sahar, accessible by buses from both Pokhara (6 hours) and Kathmandu (3 hours). The trail exits from either Naya Pul or Beni.
Permits for the Annapurna circuit are obtainable in ACAP offices in Kathmandu and Pokhara for 2000 ruppees. Be sure to pick one up because hefty fines are enforced if caught.
Bring your own sleeping bag, warm clothing, and sunglasses or, alternatively, rent/buy them from either Pokhara or Kathmandu-both of which have many shops.
The best time for trekking in Nepal is from March-July.
The Annapurna circuit generally takes between 16 and 21 days to complete