A tourist information office is conventionally known as a resource where visitors can learn about the local region. Generally, these are nondescript locales that seldom merit a mention. However, during my vacation in New Zealand, the local tourist information office took on a whole new meaning for me.
Owned and managed by Tourism New Zealand, i-SITE Visitor Information Centers not only offer the best information to help tourists navigate, they have much-extended functionalities beyond what one normally expects from a conventional tourist office.
For a small fee, visitor's can take a refreshing shower and then relax before journeying to your next destination. What's more, these centers are usually conveniently located close to the main bus terminals.
Book a tour and sometimes … help is on the way in times of unexpected circumstances
Once can also use a i-SITE Visitor Information Center to book a tour for a variety of attractions or experiences (at the same cost if you book direct). Booking here, saves the hassle of going to one travel agent after another trying to snag the best deal or spending time trying to create an itinerary. I booked a tour to the Hell's Gate Geothermal Reserve through i-SITE when I was in Rotorua – it was a last-minute booking, but the friendly staff at the counter efficiently signed me up with just a phone call and a few clicks. Within minutes, my ride pulled up directly in front of i-SITE!
i-SITE is also useful during disruptions in travel plans. For example, I once missed my ferry to the North Island due to a bus delay. The driver pointed me to a nearby i-SITE to have my ticket changed to a later ferry. If it were not for i-SITE, I would probably not have been able to complete my trip as planned.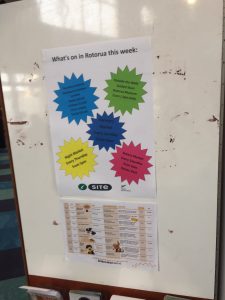 A selection of travel brochures for your reference … and they are printed in multi-languages
The display racks are adequately stocked with travel brochures, public transportation information, event schedules and other useful information for travelers. All of these are available in multiple languages.
Feeling lost about how you should spend your day? A stop at i-SITE will provide a number of inspirational ideas.


Free internet and … a place to juice up your electronic devices
When you are in need of an internet connection, head to the nearest i-SITE to get yourself plugged in to the cyber world. Each i-SITE provides a number of charging stations for your various devices.
A friend of mine told me that some i-SITES even allow tourists to leave luggage with them for certain periods of time (ideal if you have a short stay between flights)..
Do you know any other services and functions provided by I-SITE? Or do you have any out-of-the-box ideas for a tourist office to offer? Please share in the comments section below.