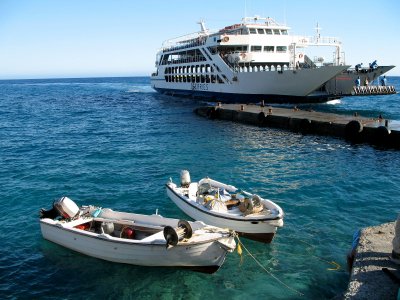 "It is more a mission or a passion. Much more than just a job or a profession." With those words Captain Vito Giacalone of Carnival Cruise Lines began our interview recently while aboard the "Imagination" sailing in the blue Caribbean waters.
"Having a tuna fisherman for a father and living by the sea all of my life, it was a very natural fit for me to want to become a captain of a ship," he continued.
"But how does it all come about? How do you go from a simple beginning on the Italian shore to commanding a 70,000 ton cruise ship filled with 2400 passengers?" I was very interested in this commanding looking individual with the overall appearance of an extremely content Italian male. He had a tanned complexion, sharply trimmed moustache/goatee, and slightly long black hair that was held in place on top by a pair of expensive looking sunglasses.
He then explained that throughout his education everything was geared toward involvement with the sea. "Five years of grade school, eight years of high school, and six years of university. All of this was leading me to a master's certificate or license to operate a ship."
After the schooling (and often while on vacation breaks) Giacalone worked on vessels of all types. This background (all the way from part time as a busboy on a Costa cruse ship at age 14) was building the necessary expertise leading to his ultimate dream.
"Then it was time in the chairs which sometime seemed so long and uncomfortable that you felt it would never end." These chairs were those of deck officers who not only serve the captain of the vessel but also provide training for those who do manage to make it to the Captain's spot.
"But much of that has changed in the last decade or so due to the changes in ship technology. The computer with its internet makes the overall responsibility much lesser than it was once."
Grinning, he leaned forward and added, "Now many of my decisions are combined decisions that come not only from my crew members but even from the Carnival home office.
But never forget the ultimate control of the ship is always the captain. This is International Law."
We discussed various aspects of commanding a ship. As an example most of the steering is done automatically today. Changing courses, weather conditions, or pulling into port are the times that it is necessary to have a person at the helm.
"Are you in charge of the makeup of your crew," I asked.
"No not entirely. Of course I have some leeway in picking some of the upper members of the staff. However there are few problems as I am able to get along with most anyone and after sailing together most crews are very adaptable to getting along with each other. We are together for a minimum of four months and then some of us take off for two months of vacation before coming back aboard."
"I have had two wives but living with a ship's captain is not easy. Schooling for children and just being apart for so long makes family life very difficult. I am still on friendly terms with both of my ex's and see my children as often as possible. As a matter of fact one of the children was with me on our cruise last week. So it is all back to, I suppose, my passion is indeed the sea. Because of that, perhaps I have to give up some other things. I am, if you will, married to the sea and my ship."
When I asked about the current trend of passengers jumping overboard he looked directly at me and quickly said, "I am so happy to hear you use the word "jumping" because as you know it is almost impossible to fall overboard but yet some stories seem to give the impression that a fall occurred. It is sad but some people for whatever reason think that it is thing to do. They do not realize how easy and how quickly the ship moves away from where they have jumped in. It becomes quite difficult to find them and it doesn't always happen."
"Why they do it? I wish I knew. We had a gentleman who said he did it because he wanted to end his life. But he jumped overboard WITH A LIFE JACKET ON!" The captain's eyes rolled as he made that comment.
As he looked around the library where we were talking I sensed that he had other duties to perform and so I asked my final question.
"How long do you think that you will continue to sail as the captain of a cruise ship?"
Rubbing his hand across his goatee, he smiled and answered, "I do not know. Retirement can come at 65 but some have continued to past 70. I have quite a way to go to reach that age. And for me because of loving to travel and my long love affair with the sea, I doubt seriously if I will be ready to retire at 65. As long as my company is happy with me and my passenger-guests are enjoying what we do I hope to continue."
As we stood and shook hands he said, "I have enjoyed our talk, please send me a copy of the published article or better yet bring it with you on your next visit to my home!"
Captain Vito Giacalone, a gentleman of the sea.