Situated in the refreshing trade wind breezes of the Leeward Island chain in the West Indies, Nevis remains authentically Caribbean eschewing the homogenization that has befallen so many other island destinations. This means absolutely no strip development, fast food chains, casinos, or stoplights and only one international brand resort on this 36 square mile island. Nevis's 12,000 residents live in villages where no buildings exceed the height of a palm tree and locally grown and prepared foods dominate the markets, roadside stands, and most notably, the kitchens of inns and hotels.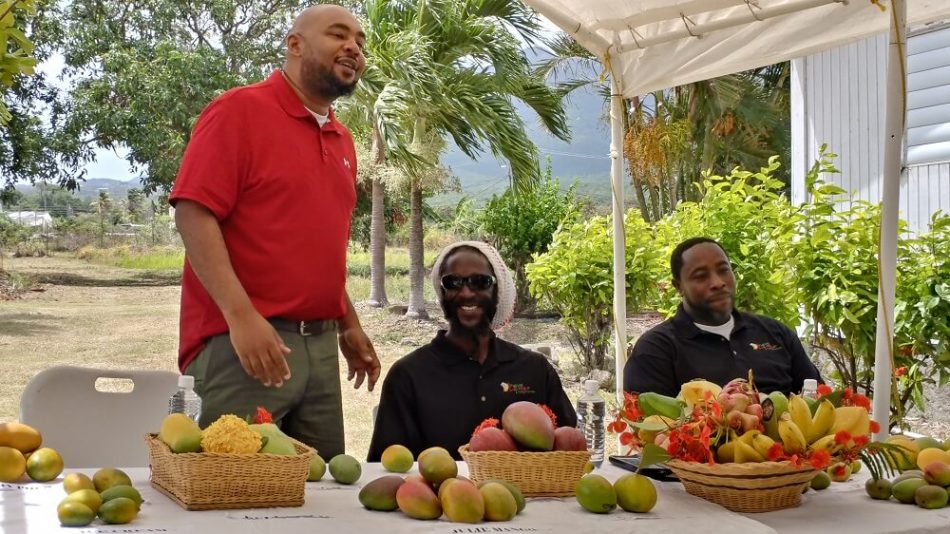 Nevisians have long raised their own goats and pigs and tended extensive backyard gardens supplying their tables with year round fresh produce but it wasn't until 25 years ago that the island's bounty began making its way to tourists' plates when Cades Bay Agriculture Farm was established. Unreliable growing practices impacting supply chain stability made it difficult for hospitality and restaurant establishments to consistently source local ingredients like mangos ripening on the trees outside and bountiful seafood just off shore.
Established in partnership with Taiwanese agricultural consultants, Cades Bay worked with local farmers to rectify these issues increasing output from an original 4-acre plot to 198 acres today generating nearly $1 million annually. Sweet potato yields are now exponentially higher and new crops like star fruit and watermelon are thriving. Best of all, the livelihood of island farmers has improved and the need for imports has steadily decreased.
Nevis's Mango & Food Festival is a crowning achievement of this success. Mango harvest is now celebrated several days each July showcasing the nearly 44 varieties growing on Nevis alone. Opportunities exist to sample a hand full of varieties side by side experiencing the distinct differences in flavor and texture to helping you envision how each may be best suited for different uses in recipes ranging from gazpachos, salads, spicy sauces, glazes & marinades, and desserts like homemade ice cream and cakes.
Highlighting the festival for several years now, Master chefs like UK Iron Chef/restaurateur Judy Joo and chef/owner Seamus Mullen of NYC's Tertulia and El Colmado showcase their signature twists on mango infused island dishes. Joo's signature mango-infused Korean barbecue takes center stage while Mullen has been leading master cooking classes preparing pan seared mahi-mahi with mango and fresh vegetable salsa. Other chefs local to the Caribbean and Nevis have included mixologist David Barker from Barbados preparing a smoked mango rum punch and Four Seasons' Chef and Nevis native Llewellyn Clarke, creator of his own signature hot pepper sauces, jams, and salad dressings.
The following restaurants, inns, and hotels showcase the best of what Nevis has to offer not only as a vacation escape but as an immersion into the foodways of the Nevisian community.
Riviere House
A renovated and reconfigured historic home with an open air covered veranda, Riviere House is a mix of community center, art gallery, restaurant, and soon-to-include residential cottage ownership opportunities next door. Two rooms inside the house are converted into a small cinema used by school children to watch educational movies examining wildlife conservation fostering a greater appreciation of the island's ecosystem and inspiring a new generation of environmental stewardship.
An art gallery on the first floor showcases local paintings and sketchings while to the back, an outdoor covered full bar and dining room present the perfect opportunity to sip a drink and sample everyday islander dishes like goat water soup, conch chowder, and salt fish cakes.
Golden Rock Inn
Ensconced in the foothills leading to Mount Nevis, what is now Golden Rock Inn dates back to an early 1800s sugar plantation and refinery. Many of the original gray stone structures are still standing and retrofitted into 11 unique villas and standalone cottages surrounded by meticulously planted grounds making it the perfect place to check out from the world for a while. Restored and expanded by artists Helen and Brice Marden and designed by architect Raymond Jungles, Golden Rock's landscape is defined by an array of hand selected tropical plantings, winding pathways, and a series of reflecting ponds punctuated with vibrant outdoor flourishes like scarlet-colored gates, shutters, and art gallery worthy seating.
All but four rooms don't have air-conditioning, phones, or TVs but reliable complimentary property wide WiFi and the trade winds' cooling effect more than make up for it inviting you to kick back and keep it real island time. A 2-story conical Sugar Mill with spiral staircase is the inn's largest room with an oversized king bed upstairs overlooking Windward Beach in the distance while 2 twin beds and a full bath occupy the downstairs. The property's refreshingly non heated spring fed pool flanked by a bougainvillea and hibiscus encrusted pergola to one side with towering palms overhead is just steps away.
Freestanding cottages like Paradise, a pink duplex perched higher above with better views and Dar, a private retreat with screened in back porch that opens into a private garden surrounded by stacked stone walls, are as far as you can get from a cookie cutter hotel experience. The main house containing a bar and lounge has been painstakingly restored to its original stone-hewn grandeur enhanced with colorful wooden panels and contemporary art pieces.
Dining at onsite 'The Rocks" restaurant is alfresco on terraces surrounded by intimate gardens and koi ponds while their bar situated under stone vaulted ceilings serves signature cocktails like the Mount St. Helena. A la carte breakfast options include Nevisian-style egg white omelettes, Caribbean French toast, and an ultra healthy fruit and yoghurt parfait.
Four Seasons: The Island's 5-Star Resort
Originally opened in 1991, 196 room Four Seasons Nevis is the largest and only branded hotel chain on the island. A $120 million renovation in 2010 after major hurricane damage fully revived the property with a new beach side restaurant, four private beach cabanas with butler service, and added a third infinity-edge pool. Further enhancements underway include a multi phase renovation of all rooms and and complete reconfiguration of the common areas. One thing that won't change is having walk out access to the best swimming opportunities on the island.
You can also book one of 46 private residence villas available in a neighborhood setting overlooking the resort's Robert Trent Jones II 18-hole championship golf course overshadowed with a full view of Mount Nevis. Their Catch It and Cook It packages take you out in a boat with a local dive master and a Four Seasons Chef to catch some Caribbean spiny lobster and bring it back to include in a barbecue lunch on the beach.
Sunshine's Beach Bar & Grill
Just a quick walk down Pinney's Beach from Four Seasons, Sunshine's Beach Bar & Grill presents the perfect spot for relaxing on the patio or chilling on the beach with access to lunch and dinner menus featuring BBQ in many forms and fresh salads along with their island famous Killer Bee rum punch. You may get lucky and meet Sunshine, the proprietor and unofficial island ambassador himself. Seemingly every inch of the restaurant's interior is covered with Sharpie messages, posters, photos of celebrities who visited at one time or another, and clusters of errant license plates on the walls.  Fresh squeezed locally prepared juices of all kinds at the bar await mixing.
Montpelier Plantation
Constructed around one of the island's many original 18th-century sugar plantations, Relais and Chateaux Montpelier Plantation & Beach is situated on over 64 acres in the foothills of Nevis Peak with an entrance defined by a large weeping fig tree nearly obscuring the front of the Great House. Princess Diana and her sons stayed here for a stretch following her separation from Prince Charles.
Today, Montpelier's 300-year-old sugar mill has been converted into Mill Privée, a special-occasion restaurant for private candlelit dinners where advance reservations get you a 5 course-tasting menu prepared by Executive Chef Dimitris A. Zouka. Super fresh eclectic dishes still good enough for royalty are also served at onsite Restaurant 750 featuring regional artwork on the walls and a wraparound veranda perfect for savoring specialties like oak smoked duck breast, jerk seasoned lamb, and a mean orange syrup sponge cake.
The 1687 inn's 19 air-conditioned rooms and plantation cottages have been reinvented as guest suites while ancient sugar-mill machinery such as iron wheels now serve as garden decor.  The perks of staying here also include shuttle access to their own private beach 6 miles away and a bicycle to use whenever you want it.
The Hermitage
Surrounded by colorful gingerbread cottages perched on a hillside with Nevis Peak looming large in the background, The Hermitage's circa 1670 Main House is commemorated as being the oldest surviving wooden house and first hotel on the island still standing thanks to being constructed from lignum vitae (ironwood) that's extremely impervious to rot.
The Hermitage hosts a classic West Indian buffet each Friday in the Main House parlor that takes all day to prepare. A whole pig is rubbed with herbs and roasted on a spit for 7 hours over Acacia coals.  Mango chutney and hot sauce both pair perfectly with the cracklings and delectably juicy cuts of meat. Other main dish contenders include either line caught Mahi Mahi, Wahoo, Grouper, or Snapper served with a brandied creole sauce or beef short ribs and BBQ chicken slathered in sauces with with rum, brown sugar, rosemary, and honey as base ingredients.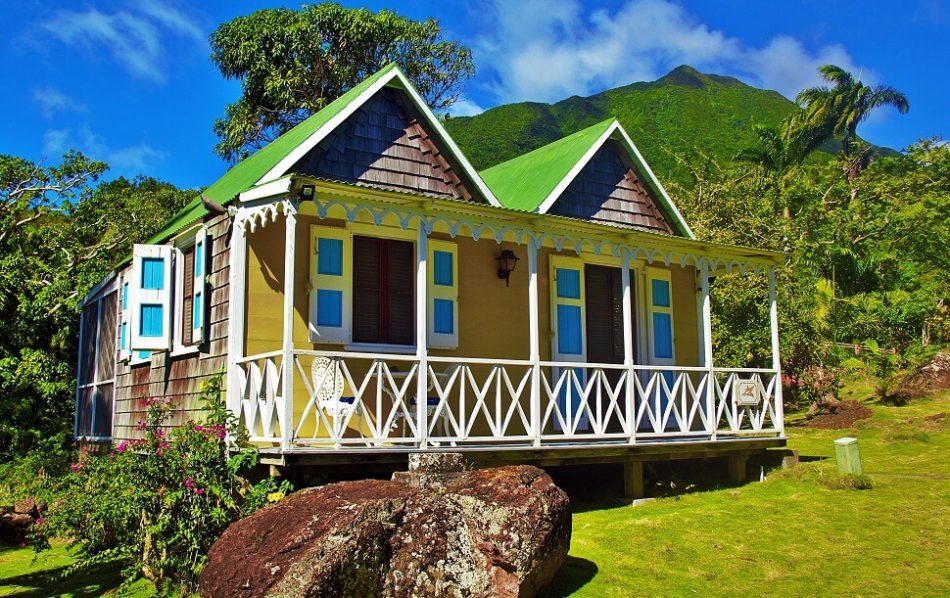 Most dishes are served in traditional clay serving trays and bowls made from Nevisian clay including an endless parade of side dishes like red beets marinated in orange juice with feta cheese crumbled on top, Gingerland-slaw made from red and white cabbage shredded with a ginger vinaigrette, stuffed local pumpkin mixed with herbs, spices, & black beans, or fritters made from tannia, a local root typically shredded, battered, and deep fried. Rounding off the feast is either breadfruit soufflé, mango crumble, or a decadent rum soaked bread pudding.
All this good eating may have you booking a room here for the night. Your options range from gingerbread cottages to an entire yellow manor house all to yourself.
Nisbet Plantation
Dating back to 1778 and transformed into a hotel in 1949, Nisbet Plantation on Nevis' north coast uniquely boasts a direct beachfront setting accessible via a palm-lined path known as the Avenue of Palms leading from the property's Great House. Thirteen cottages and six suites accommodating 36 guests, none more than a minute's walk to the white sand beach, are spread across 30 acres.
"Ting with a Sting", the rum punch here, is concocted with a bottle of the island's signature grapefruit-flavored soft drink and a small bottle of CSR, a cane sugar rum produced on St. Kitts. Dining here either alfresco at Coconuts or in the plantation-style dining room connects you with Executive Chef Tony's creations like grilled mahi mahi with peas and rice or same day caught Caribbean lobster on a menu that changes daily.
Photos courtesy of Steve Mirsky, Nisbet Plantation, The Hermitage, Montpelier Plantation, Four Seasons Nevis, & Golden Rock Inn.  Coverage made possible by participating in a sponsored visit.