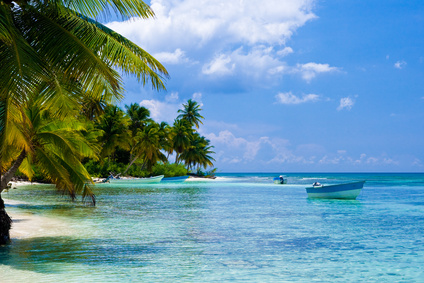 The Caribbean is one of the world's most popular places for those in search of pearly beaches, lush foliage, high-end hotels, world-class hospitality, rich and traditional cuisine, great diving spots and water sports. There's as much opportunity to party as to relax. You can find all these things and more on the tropical island paradise that is the Dominican Republic. Read on to gain a greater idea of what you can expect and experience in this magical, palm-fringed place.

With its rugged mountain ranges, cays, mangroves, white sandy beaches, spangled ocean waters, sugar plantations and savannahs, the Dominican Republic's landscape is diverse and beauteous. Outside the capital of Santo Domingo, with its examples of romantic Colonial architecture, the vast majority of the island is rural. It's the place that gave the world sweet potatoes, guava, pineapple and even tobacco. Beyond the cities and the little fishing villages that make up a chain around the island's coast, there are vast, luxurious resorts, attracting huge numbers of tourists every year and boosting the island's economy considerably.
A luxurious place to stay
Club Med's huge resort at Punta Cana is perfect for families; a secluded paradisiacal resort located on Hispaniola Island, it sits on its own private 600-metre long beach, overlooked by a coconut grove that leads down to the turquoise waters of the lagoon.
You'll find a five-trident luxury space with 32 candy-coloured bungalow suites, each with their own sea-view terrace. Family suites have a communal lounge and bathrooms for both you and your family.
Additional luxuries in your suite include: mini bar, Wi-Fi, concierge, room service and a continental daily breakfast. Staying here means you'll have exclusive access to a private infinity pool and lounge, too. There is also a wellness centre where you can receive treatments and massages, to ensure you're as relaxed as your surroundings.
The activities
While many people come here for the ultimate in relaxation, there are just as many ways to work up your adrenaline in the Dominican Republic, whether on water or on land – and you can find both on a grand scale at Puta Cana.
Just a few of the activities available include: kayaking, sailing, tennis, windsurfing, golf and even a flying trapeze circus academy, for those who want something a little different. There are groups and lessons for people of all ages and stages and even a circus school for children. Your offspring are well served and catered for in other areas, too. As well as having their own dedicated pool, there are various clubs catering to different age groups – from age 4 up to 17. Happy Nature Box will teach them all about the island's natural life and beauty and the unique Clean Art Planet seeks to raise their environmental awareness through use of art and photography, which uses objects washed ashore.
The one activity that you really should take a shot at while in the Caribbean is diving. Puta Cana residents can visit diving spots outside the resort. Diving trips, which can be booked by your concierge, leaves from the beach and take you to one of three diving spots where you can partake in either 'anchor' or 'drift' diving.
At the Coral Garden you can take a drift dive of up to 55ft and witness the stunning reef formations and sponges up-close. Pepe and Veril Reefs allow you to swim with parrot fish and sea fans. But the most exciting and fascinating diving spot of all is the one which, at a depth of 60ft, you can swim around the magnificent sunken wreck of the Patricia, along with barracuda, angelfish and rays.
Elsewhere on the island, you can travel over the diverse terrain in a dune buggy, or enjoy the experience of whale watching.
The weather
Throughout the majority of the Dominican Republic, the temperatures are at a steady high throughout most of the seasons – you're likely to find yourself basking in highs of between 28 and 35 degrees. It might feel even hotter than that though, owing to the humidity that comes with being in the tropics. However, if you're staying at a coastal resort such as Puta Cana, the breezes blowing in off the spangled oceans will be a welcome coolant.
The food
Rich and flavoursome, the Dominican palette is dominated by Creole cuisine. Though it varies throughout the island, the staples are rice, meat, beans, fresh vegetables and seafood. The dishes are also influenced by Spanish, African and Taino cuisine.
Dishes not to miss include Mangu (boiled, mashed plantain with onion, cheeses, scrambled egg and salami), casaba (cake made from yucca) and La Bandera, which comprises of meat, rice and red beans. This dish is traditionally served with fried plantain.
The sumptuous restaurants at the Puta Cana resort offer local dishes as well as international fusion cuisine and fresh seafood – all served to you on sun-warmed terraces, shaded by palm trees.
This little piece of Caribbean paradise awaits you and your family – and with all the above reasons to go there, and more besides, what are you waiting for?