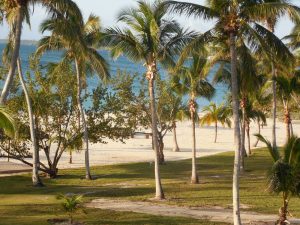 OK, so I went to the Bahamas once before, as part of a cruise, putting in at Nassau and instantly clouding my view of the Bahamas as a whole, perceiving a place of giant cruise ships, sweaty tourists, over-priced gift shops and sheer sensory overload.
Then most recently I visited Abaco Beach Resort and Boat Harbour Marina in Marsh Harbour on Great Abaco Island, a sedately unhurried resort, and was proven wrong. That, and having a Goombay Smash or two at Angler's Restaurant there. And OK, a Blaster at Pete's Pub in Little Harbour, a drink of rum, rum and more rum. Well, and the great Shotgun drink over at Cracker P's on Lubber's Quarters where its naked namesake once ran around. And most certainly the all-you-can-stuff Sunday pig roast at Nipper's on Great Guana Cay. Oh, and also watching Joe Albury's practiced, gnarled hands still crafting wooden boats on Man-O-War cay.
So I was wrong about the Bahamas. And couldn't feel more right about it.
The Abacos, a collection of islands along the Out Islands of the Bahamas, have that old Caribbean flair about them, simple little places that are popular but seemingly uncrowded, embraced by crystal waters, the ever-changing aquamarine tone of which I've not seen many other places.
We stayed at Abaco Beach Resort, the largest hotel in Marsh Harbour on Great Abaco Island, but spread along a gorgeous beach enough to never feel cluttered. The food there at Angler's Restaurant was typically tropical and downright delicious, such as the macadamia crusted grouper, and my favorite, the whopping half-pound grilled Bahamian lobster tail. They also have regular musical entertainment, which while we were there consisted of the crooning of a local musician, Esten Sawyer. There is also regular music at the resort pool bar. In the marina, one of the Bahamas biggest, are boats small and massive; during our stay, the yacht of the owner of the Jacksonville Jaguars was moored. The resort also runs a wide range of fishing tournaments.
Visit: www.abacobeachresort.com
The resort is also a perfect hopping off point to hit the other islands by boat, including Little Harbor, where at Pete's Pub, a low-slung, totally atmospheric sand-floored bar and restaurant, you can get terrific mahi mahi, grab a Monster (made with four rums and other less consequential stuff) and sit on the beach deck watching things like a Hemingwayesque fisherman pull up, grab a beer, and put back to sea, with his loyal dog hopping back aboard. Another drink, one I didn't try, was the Gregormeister, made in a giant glass jar loaded with all sorts of local brush swimming in gold rum. It looked scary enough to try another time.
Visit: www.petespubandgallery.com
Over at Cracker P's, a giant, multilevel structure with huge corner bar, amazing views and terrific Shotguns (a tequila bloody Mary spiked with house hot sauce), you can nosh on sweet-fried mahi mahi or amazing fish dip and then pull up a beach chair to relax it off. The place is named after Paul John Simmons, aka Cracker Pinder, Spanish-American War vet who, legend has it, killed a Georgia sheriff in 1915 and fled to the Bahamas. Legend also has it he didn't fancy clothes and was the first naked person many locals had seen.
Nipper's on Great Guana Cay is a must-do Sunday affair, an unremarkable pig roast made more tasty by the setting high on a bluff overlooking the ocean, with a packed bar and patio jammed with dancing people and a terrific party place to be. It was the most crowded place I'd seen in my four days roaming the Abacos, people crowding the dance floor below, and sunning on the deck above, where the stunning ocean views are best had. It's also a place where twice a year, Barefoot Man appears (real name George Nowak) who has become a musical fixture on the Cayman Islands. What's not to love about a guy who records songs like "Thong Gone Wrong" and "Big Black Dick." Keep it clean, the latter is also known as "The Ballad of Richard Le Noir."
Visit: www.nippersbar.com
Bring plenty of disk space on your camera when you hit Hope Town on Elbow Cay, one of the most picturesque places I've seen, with tiny streets to walk through and by gorgeous, Caribbean-style homes, past the gloriously yellow St. James Methodist Church on the way to sprawling Tilloo Beach. Grab a Kalik, a Bahamian beer, pull up a towel and sit, sip and slip away from the world.
My favorite place was a throwback, a visit to Albury & Sons on Man-O-War, where native Joe Albury, 68, still builds 14-foot dinghies with hands calloused, worn and practiced, usually using ancient tools handed down through the generations, and using Madeira wood he still cuts himself. He talks quietly and proudly of his craft, saying he quit school at 14 to do this and started helping out "since I was old enough to hold a saw," days when as a youth he'd turn a wood grinder "until it felt like my arm would fall off." In the picture-perfect harbor outside, the water was dotted with pastel-colored crafts created by Albury's skilled hands. Check out his studio where you can buy his handmade wooden boat models, then wander down to Albury Sail Shop, where upon the introduction of synthetic sails, four generations of Albury women kept the shop going to handcraft a variety of items.
All of that and much more is pretty close, with Marsh Harbour less than 170 miles off the coast of Florida. And all of it is pretty unrushed. Which is, after all, the best way to enjoy a Goombay Smash, Shotgun, Blaster…