All inclusive Caribbean vacations are a popular choice, renowned for the sparkling sandy beaches, friendly locals and rich island history. But did you know that these famous isles are also the number one choice for many couples' weddings and honeymoons? It's easy to see why – we've compiled a list of the unique elements that make the Caribbean an ideal destination for two people in love: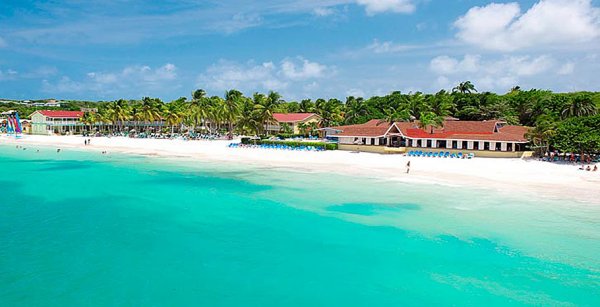 1. Romance and Luxury
The Caribbean is one of the most romantic destinations on Earth, making it an ideal fit for weddings and honeymoons. The breathtaking scenery of the sparkling Caribbean Sea lapping the pristine beaches creates a soothing, romantic ambience. With a variety of all inclusive luxury resorts to choose from, couples can enjoy luxuries like a private candlelit dinner in a lavish honeymoon suite – the perfect way to unwind from all the months of wedding planning.
2. Island Hopping
There are thousands of islands throughout the Caribbean Sea, each with their own unique personality and attractions. Whether couples are seeking a calm and secluded honeymoon, or an unforgettable cultural adventure, there is an island that will have exactly what they've been searching for. For example, Jamaica offers a colorful nightlife and a variety of attractions, while some of the beaches in Antigua are among the most peaceful, quiet Caribbean destinations.
3. Beaches and Water Sports
Whether you're walking Negril's famous 7-mile beach hand-in-hand, or just basking in the salty sea breeze while watching the sunset, the Caribbean island beaches offer some of the best scenery around that can be enjoyed from the pristine, sandy shores, or from the deck of a peaceful catamaran cruise. Additionally, couples may choose from a wide array of water sports, many of which are offered during all inclusive Caribbean vacations, including paddleboards, snorkeling, glass bottom boat rides, aquatrikes, scuba diving and waterskiing.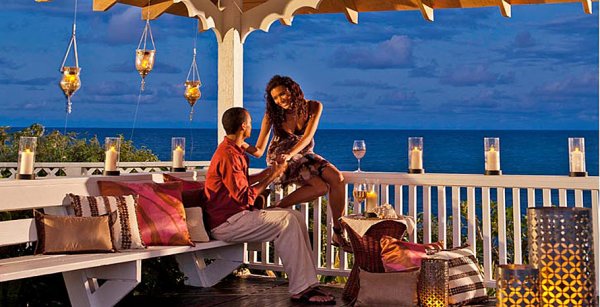 4. Adventurous Tours and Attractions
For couples searching for the perfect balance of laid-back relaxation and jaw-dropping adventure, the Caribbean islands offer an exceptional blend. Possible honeymoon excursions include zip-lining and off-roading through the rainforest, canopy tours, mountain biking, volcano explorations, catamaran sailing, deep-sea fishing and swimming or snorkeling with dolphins. Additionally, there are a variety of sprawling parks with breathtaking mountains and waterfalls just waiting to be explored.
5. Room to Get Away
There are a multitude of romantic excursions to choose from as well. Couples can wander along undisturbed beaches and marvel in the beauty of the islands. There are even "Castaway Tours," where couples are left alone on an uninhabited island for a few hours with a well-packed picnic basket and a bottle of wine.
6. Tropical Weather
Planning a wedding or a honeymoon can be a stressful venture, even without the added concern of the weather conditions. That's one of the aspects of the Caribbean that is so attractive to couples: it's warm year-round – which is greatly appreciated by couples from northern states or by those planning winter weddings. On the off-chance the weather does not cooperate, the wedding party can often be easily accommodated by changing locations to a gorgeous indoor setting.
7. Picture-Perfect
Couples often dream of the perfect background to complement their exchange of vows. When your wedding is in the Caribbean, it almost doesn't matter where you stand because there are so many picturesque locations. Couples can choose from garden or beach settings for their ceremonies, creating excellent backdrops for photographs and memories that will last a lifetime.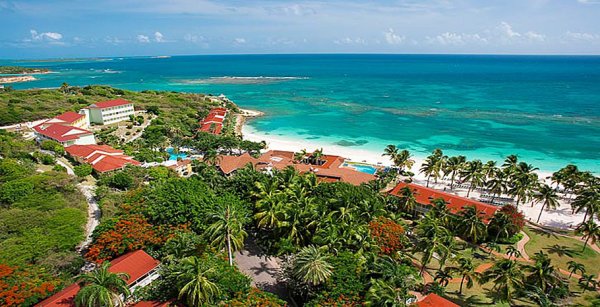 8. Combining Weddings and Honeymoons
Celebrating weddings and honeymoons together doesn't just save money – it also makes the entire planning process easier and less stressful. Weddings held at Caribbean family beach resorts are also vacations for the guests, not to mention that the happy couple will be at their honeymoon destination immediately after the ceremony! Instead of agonizing over themes and menus, couples can choose activities, decor and food – all prepared by the all inclusive resort of choice. This leaves time for the happy newlyweds to actually enjoy the ceremony and their time together. There are even some Caribbean and Antigua vacation packages that will provide a free standard ceremony after the bride and groom book a specific number of nights at the hotel. Additionally, some all inclusive resorts may provide a wedding planner to sort out any of the other details of the big day, ensuring that it all runs smoothly.
9. Customization
Although many Caribbean resorts offer all inclusive wedding packages, there is still the option for customization – upgrades and à la cart items are often available for couples to use. This makes planning the ceremony even easier because most of the work is already done. Depending on the type of wedding you're hoping for, you can customize your day to be either as elaborate or as simple as you would like.
10. Affordability
Even though spending time in the Caribbean is sure to be a luxurious adventure, in comparison with the average cost of an American wedding, it is surprisingly affordable. Many all inclusive resorts often offer travel deals for wedding parties or seasonal discounts that couples may take advantage of when booking the trip.
The Caribbean is the most popular destination for weddings and honeymoons, and it's easy to see why. There are endless activities and adventures to embark upon, and scenic views abound. Whether you're planning a destination wedding or honeymoon (or both!), you'll find the picturesque tropical setting you've been dreaming of in the Caribbean.
About the Author
As International Social Media Manager for Grand Pineapple Beach Resorts (Unique Vacation, Ltd.), Tiffany Mullins leads a team that creates new strategies for global, multi-brand social media. In addition to managing Grand Pineapple Beach Resorts' online community, she also oversees the direction of Sandals and Beaches social media, including the Sandals Wedding Blog, which brings brides and inspiration together to truly create "Your Wedding. Your Style." Tiffany now resides on Paradise Island in The Bahamas.