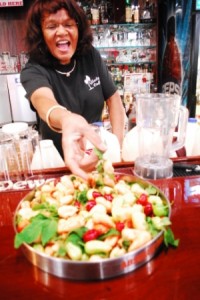 If you've ever tripped along Main Street in Charlotte Amalie, the bustling capital city of St. Thomas in the Caribbean, you know how crowded it can be in season, especially when cruise ships berth, spilling thousands of tourists into the narrow streets seeking deals.
At times like that it's best to cut down some side streets and find places like the Royal Dane Mall, off jewelry store-centric Main, a sun-starved warren of ancient brick buildings and narrow alleys with little stores tucked inside, such as Carson Co. Antiques, a place of old jewelry, books, knick knacks and such.
And here you'll find Gladys' Café, one of the best places to eat on the island for the food and bubbly charm of long-time owner, Gladys Isles, a delightful woman who's run the place for decades. It's a long-narrow, hole-in-the-wall kind of place, with all manner of art on its exposed-brick walls, and a signed, framed Rolling Stone magazine cover of President Obama, which Gladys said she got from a friend who met the president, and is holding it for her friend while he's off island, figuring a perch on the wall is a pretty good place for it.
The food is superb, and if you want local, this is the place, with entrees like curry goat with rice and peas, sautéed oxtail, or fungi, the latter a sweet mash of okra and corn meal. Whatever you get, best to spice it up with Gladys's homemade hot sauce (you can buy a variety of the stuff to take home), from pretty hot to scorching, all of it made onsite by the proprietor using peppers she grows, including scotch bonnet and habanero and others that will set your mouth on fire.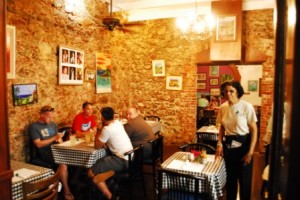 Gladys is more than happy to show off her various Trip Advisor and other awards she's won, and articles written about her place, and tell you about her life. She worked in one local restaurant at the Anchorage Hotel for many years and after her kids finished college in the Boston area, figured why not open a place of her own. It's gone great ever since, and the place exudes such a down-home atmosphere, warm and friendly, it's easy to fall in love with the place, and waitresses like Pauline. And in a neat little touch of a small world getting smaller thanks to social media, I posted on Facebook about the restaurant and got posts back from people who love the place as well, even mentioning Pauline, who's apparently been there forever.
If you're comfortable hitting crowded places on jammed streets, stick to the main drags. But if you want a truer sense and flavor of the Caribbean, duck down a tiny alley. You never know what you might find and how tasty it will be.
Check it out at www.gladyscafe.com
Photos by Paul E. Kandarian, top photo, Gladys Isles with peppers she grows, bottom photo inside of Gladys' Cafe