You think hockey, you think cold.
You think St. John in the Caribbean, you think hot.
When you combine the two, what do you get? If you're very lucky, a Boston Bruins Stanley Cup championship.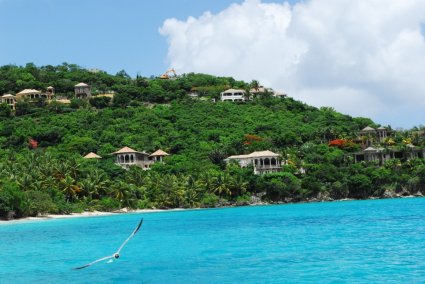 That improbable confluence happened for me when I was staying at Kismet on St. John, a gorgeous, five-bedroom villa of Moroccan design high atop Maria's Bluff, between Cruz Bay and Chocolate Hole. I'm a hockey nut in general, and about my Boston Bruins in particular, and when I got to Kismet my first night and found out the nationally televised game might not be carried on the dish network at Kismet, I went into panic mode.
I needn't have. Up stepped Adrian, Kismet's resident property manager, along with wife, Michelle, and their uber-cute little daughter, Haven, a man who was always there when we needed him and I needed him big time that night. He arranged for the channel to be beamed to the villa and come puck drop, I was happily and more than comfortably ensconced in the villa's state-of-the-art home theater, with its rich, dark trim and ceiling, six reclining chairs, huge library of new and old movies and most importantly, its 55-inch, LED, high-def TV with Dolby Digital Surround Sound. When the B's won the game and hoisted the cup in triumph, so did I, albeit with a salsa-slathered nacho in one hand and an icy rum drink in the other.
There may be better places to be in life at historic moments, but not for me.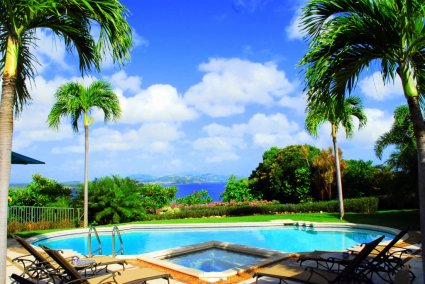 I'd never been to St. John, and Kismet and all its opulent glory aside, I found it to be a place of stunning beauty and enviable calm. It is one of three U.S. Virgin Islands, the other two being more party-centric St. Thomas and St. Croix. St. John, with two-thirds of its 19-square-miles set aside as protected national parks, is decidedly on the low key and environmentally pristine side, and I couldn't have enjoyed it more.
Kismet is a crazy-opulent place; high season rates approach $28,000 a week. But if you have enough folks with you to divvy it up, it's well worth it. For one thing, the location is incredible and in its tower above it all, with circular cushion bench seating and swirling column design, you get 360-degree views that are breathtaking, including nearby St. Thomas and on clear days, Puerto Rico in the far distance.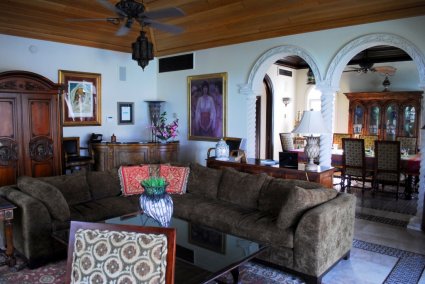 Every where you step, sit or lay at Kismet, you see evidence of the villa owners' love of the Moroccan; New York City residents Dr. Jerry and Liz Levy have created a veritable showcase of Moroccan elegance here, with hand-made tiles abounding all over, custom designed by Liz Levy and famous tile artist Muhammed Benslimane of Mosaic House in New York. Fun touches include a tiled hookah in the sprawling great room and a jewel-encrusted scimitar on the nearby dining room wall.
The five rooms are superb, all with killer views, even the smaller ones in one of the villa's three pavilions that surround the 37-foot pool, hot tub and huge sunbathing patio. I had the master suite, two rooms of impeccable design and grace and a bathroom as big as some small apartments. It's a beauty, with huge soaking tub under a Moroccan lamp and set on a tiled platform with huge windows affording the best bath tub view I have ever seen. The shower is massive, tiled and doubles as a steam room, and a vanity graces each wall, with a handsome heavy granite mug on each to drink from.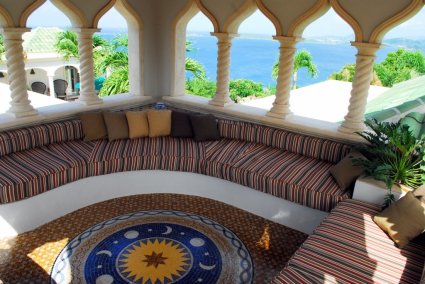 The kitchen is splendid, with high-end appliances, a cooking-freak's culinary dream come true. The property owners will set you up with whatever food you want to make meals, but if you're smart, you'll eat out a lot or avail yourself of the services of a local caterer to come cook for you. We had Leanna of Passion Fruit Chefs, who created the most amazing breakfasts for us, including one of Leanna's hand-carved watermelons in the shape of a peacock and brimming with fresh-cut island fruit.
Even the grounds here are gorgeous, outfitted with stepping-stone-and-grass paths framed by all manner of flowers and buzzing with banana kwits and king birds flitting between the trees. There are strategically place wrought-iron benches for watching boats sail the azure Caribbean waters, a gazebo and even a hammock swaying in the pleasant shade.
And speaking of opulence, another high-end resort is Eco Serendib Villa and Spa, the brainchild of native Sri Lanka and Philadelphia entrepreneur Harith Wickrema, an award-winning event producer who created this stunning villa to showcase elegance and show how to help the environment with a level of eco-friendly ultra-luxurious elegance. The resort, which opened in June 2011, is on Point Rendezvous Estate, with sweeping views of the Caribbean and the island's south coast, and has eight individually designed and elegantly appointed suites incorporating energy-saving elements.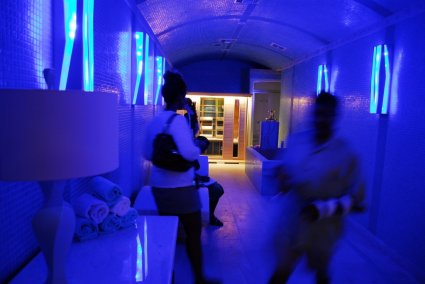 Wickrema is a gracious host, showing folks around and eagerly pointing out the on-site garden and encouraging us to pick stuff off the vine and stuff it into our mouths. He is adamant about his mission at a place that when the opening-rate special is over in winter, will skyrocket to about $50,000 a week, the highest on the island.
"It is also our mission to offer our influential guests an opportunity to experience the benefits of spending time at a destination designed with the Earth in mind," he said, adding that the villa's goal is not necessarily to be "a 100-percent ecologically pure resort, but rather show the discerning traveler how luxury and ecologically sensitive products and designs can co-exist in total harmony."
"We seek to redefine luxury," he said, "so that it becomes less about self-indulgence and more about self-awareness in the world we all share."
Lofty stuff, but Wickrema's wish is that guests take home some hint of how to best serve that world we share and do something about it back home. All that aside, it's a terrific place, with state-of-the-art kitchen (which will host cooking classes for guests that will be filmed for them to take home), a drop-dead stunning on-site spa lit a dark, moody blue with sparking tile walls made of recycled car windshields, three 20,009-gallon cisterns to capture rain water, and 69 unobtrusive solar panels to reduce the villa's carbon footprint.
There are a lot of reasons to just hang at places like Eco Serendib and Kismet but even more to get out and see things. A huge part of St. John's pristine allure is the Virgin Islands National Park, a gift of Laurence Rockefeller in 1956, and which is now comprised of some 12,500 acres featuring beaches, hiking trails, guided tours, snorkeling trips and even donkey rides (donkeys abound here and have the right of way on St. John's legendary hilly, windy and crazy roads).
Among must-see sites are the ruins of the Annaberg Plantation, a colonial-style sugar plantation, and Reef Bay, a hiking trail dotted with sugar-mill ruins and petroglyphs dating to the island's pre-Columbian period.
Diving is huge here, and perhaps the best known dive and snorkel site in the three-island chain is the Buck Island Reef National Monument in nearby St. Croix, considered one of the most spectacular in the Caribbean and one of only two underwater national monuments in America and the only one occurring naturally.
Voted the top destination by snorkeling by readers of Caribbean Travel & Leisure, St. John has an incredible assortment of snorkeling sites, such as the Trunk Bay Snorkel Trail, and Cinnamon Bay and Watermelon Cay at Leinster Bay.

One the best ways to do it is aboard a boat from Magic Moments Luxury Excursions out of St. Thomas. We went one day with Capt. Ryan and Suzanne, two terrific guides who took us to great snorkeling spots like Cinnamon Bay, which included swimming to the beach where the ill-fated Kenny Chesney-Renee Zellwegger union took place. And they served us one helluva lunch on board to boot (the captain and Suzanne, not Kenny and Renee).
With all that activity, you will work up an appetite, and two terrific places to slake your hunger and thirst are Asolare, which has been on St. John since 1994, and the Fatty Crab, a new kid on the island's culinary block, opened in January 2011.
Asolare is located atop Caneel Hill just outside Cruz Bay and besides the amazing food, sunset views here are nothing short of jaw-dropping. It is a big stone building first built as a private home in the 1950s and one that played host to the rich and famous, including Laurence Rockefeller. In 1994, entrepreneur Winston Bennett converted it into Asolare, which in Italian loosely translates to "The purposeless, agreeable and leisurely passing of time." We couldn't agree more.
The food is crazy good, and if you go, do the pairing menu which gets you exquisite drinks like the Brown Nut Monkey Head (coconut rum, coconut water and lime, to die for) paired with smaller-portion entrees, still bountiful in their own right. We went with the five-course pairings and enjoyed things like scallion rangoons, chicken spring roll, flank steak la Plancha, Caribbean snapper and chocolate eclairs.
The Fatty Crab has a fun, funky feel and flavor, also located on Cruz Bay but with only the view of a busy street out front. No matter, the food and drink rule here, a place that's wide open and airy with no front wall, porch and inside dining and overall party atmosphere.
This Fatty Crab is the newest in the restaurant's small chain; there are others in New York City. The fare here is decidedly Asian, and paired with an admirable wine selection, helped along by the suggestions of general manager David Segarra.
The food is fresh and hot, thermally and in terms of spice, such as the salt and pepper squid, served with house sriracha and kecap manis and crispy fingerling taters, made with curry, aioli and chili sauce. The pulled pork sliders, made with pickled daikon, are a sloppy, fun mess to eat, and the soft-shell crab fry, a turmeric tempura dish with crab curry and green chili, had us diving for liquid delights like the "Foreplay Cocktail" of Aperol, yuzu, sparkling wine and grapefruit juice or a "Drewish Princess" of vodka, Lillet, lemon and sparkling wine.
For a tiny island, St. John has a lot to offer. Including the best place ever to see the Boston Bruins clinch the Stanley Cup. If they make a run again next year, I just may have to come back. For luck, of course.
To check out places mentioned in the story, visit:
Kismet: www.kismetsj.com
Eco Serendib: www.ecoserendib.com
Yacht Magic Moments: www.yachtmagicmoments.com/
Asolare: www.asolarestjohn.com/
Annaberg Plantation: http://www.vinow.com/stjohn/nationalpark/annaberg_plantation.php
Virgin Islands National Park: www.vinow.com/stjohn/nationalpark