Jamaica's one of those places that gets a mixed response when you tell people you're going. It's either, "Man, I love Jamaica, it's gorgeous" or "No way I'd go to Jamaica, it's too dangerous." Funny how that is.
I've run into tons of gorgeous in Jamaica and never any danger. Granted, you can find danger wherever you are, or it finds you, but by and large, be careful, don't be stupid and put yourself in known places of danger, you'll be fine.
Most recently, I was more than fine up in Negril, one of my favorite Jamaican haunts, notably so at Moon Dance Cliffs, built in 2008. We went in early April and oddly had virtually the whole place to ourselves. Why? They do weddings a lot there, and were between events, said Hassan, our affable barkeep at the swim-up watering hole at one of the pools.
"Next week," he said, creating a marvelously deceptive rum drink, "this place will be hoppin', mon, got a weddin' comin' in."
I've long loved Negril, tucked away in northwestern corner of the island, about an hour and a half drive from Sangster International Airport in Montego Bay, and found another reason at Moon Dance Cliffs. For one thing, there are the impeccably groomed grounds dotted by palm trees and alive with bougainvillea, hyacinth and other Caribbean flowers, and at for another, at its center, curling pools with bridges and lagoons. On the cliffs is a wedding gazebo where nuptials take place, overlooking the ocean and Negril's fabled sunsets.
There is no beach here, nor at many of Negril resorts, owing to the abundance of coral cliffs, But here there is a perfect patio section plunked in the middle of all that coral, a great place to take lunch by the sea. The adventurous can leap off the cliffs into the churning azure water, and bob in a natural grotto nearby. There is a small ladder for easy return to land, but it's an adventure best reserved for the at least marginally physically fit.
We had a deluxe room with Jacuzzi on the balcony, a serenely bubbly way to watch the sunset, drinks in hand. The room was huge, with queen bed, his-and-her granite vanity bath, glass shower and ample closet space with safe. There was a small work station, decent free, a sometimes wonky WiFi connection, with pastel walls adorned by local art.
There are just two restaurants here, Annie's and the sports bar, and we took all our meals at Annie's, a wood-shingled, open-air eatery by the sea wall where a giant almond tree twinkled at  night with white lights, and those sunsets burn brilliantly on the horizon as you have dinner.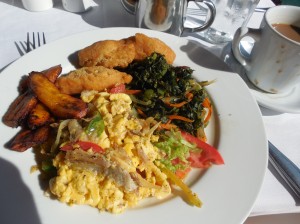 The food was very good, including breakfast, which is largely American but also offering a Jamaican staple, salt fish and ackee, a must have, the ackee sweet and warm and looking like scrambled eggs infused with hunks of salty fish, and served with callaloo, a wonderful mix of green leafy callaloo, onions and peppers, along with festival, delicious fried fritters of cassava and cornmeal.
The dinner menu was the same every night, but the variety kept us sated, from lobster fettuccini, to curried chicken with scotch bonnet peppers and curry and coconut cream sauce, to my favorite, goat stew, with thick bony chunks of goat in a spectacularly spicy sauce.
A word of warning to the coffee addicted: This is the Caribbean, island-time rules. If you get up hankering for coffee early in the morning, forget it, you won't find any until at least 7 a.m.; the rooms have no coffee makers, but soon will, assistant hotel manager Richard Gordon told me.
But it is worth the wait: Here they serve Jamaica's own, Blue Mountain Coffee, arguably the world's best. You can have it at the restaurant, or call to have a steaming pot delivered to your room.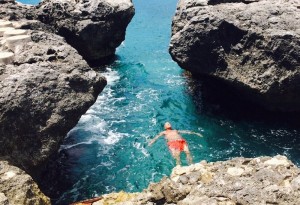 The place is fairly luxurious and well appointed, and more than affordable. Off-season room rates in 2014 started at $125 a night. Even if you add another $125 for all-inclusive status, it's a bargain.
If it's sand you desire, cab over to nearby Seven Mile Beach, where Moon Dance has a villa property, now closed and up for sale, but maintains a private section of beach. That privacy does not mean you won't be accosted by Jamaica's famous beach vendors, selling just about everything, but if you're firm in your resolve, they'll hustle away in search of an easier mark.
We took to that beach one day (it's close to Margaritaville, a Jimmy Buffet chain of restaurants with decent food and drink), and after being approached by various vendors, I improvised a tactic with one, telling him that I was an insurance salesman back home and that if he bought a policy from me, I'd buy the bananas he was peddling.
He roared with laughter, and his buddy with him, toting a burning fat joint in one dark hand, fist bumped me his approval as they sauntered away.
It's always good to get out and see things. We did on two occasions, once with Antonio Johnson, of Antonio Tours, an affable retired Jamaica cop, and on another with an equally friendly cabbie, Dean, both who know their island well. A must-see is the Negril Craft Market, a ramshackle place of tin-roofed shops jammed with colorful Jamaican things, from masks to jewelry to clothing, marijuana pipes, art and more.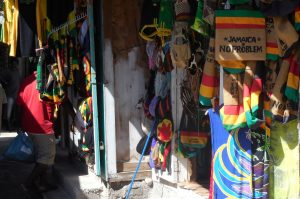 And all of it is the best and cheapest, so say the relentlessly pushy shop owners exhorting you to come into their stores. It's a place that turns off many shoppers, but it's not without its charms, once you get used to the cajolery, and not a bad place for deals: I got a cool infant Rasta hat for $12, a green-and-yellow bathing suit for myself for $18, and my lady some wonderfully gaudy jewelry for less than $20. Did we get taken? Possibly, but the experience was worth it.
Another day we drove through Orange Hill in Negril, which Dean told us was the place to buy pot for many years, the best on island, one run by a local "businessman" who got quite rich in the process, even having his own airstrip to fly out product.
It's a lovely island to tour, and where you'll learn about "capture," which enables residents to just grab a chunk of government-owned land, put up a dwelling and live, tax and rent free – until the government decides to do something with the land, offering the squatters first right to buy, or just leave.
It's also a place where you'll see things like the "Scrub A'Dub Car Wash," where you can get your car washed by day and visit the site's strip club by night. All very unique, all wonderfully Jamaican.
But it's the resort you'll want to stay at most and at Moon Dance Cliffs, the staff is a major reason for its success. From front desk to landscapers, all are smiling, happy and helpful, always ready to assist.
 Of them all, our favorites were Hassan and Trevor, dubbed Johnny Walker, both young men with electric, contagious energy, style and personality, both with young children of whom they are immensely proud and doting, and quite happy to share pictures of. They told us about their family history, their lives, opening up a personal portal between us that made us feel connected with workers  in a way we'd seldom felt at other, larger resorts.
One day, as we walked about the resort, Hassan came with us, proudly pointing out the highlights and telling us he'd like to open his own place someday, which I've no doubt he will. He and Johnny Walker, he said, and the others, view their work at Moon Dance Cliffs not as a job, but a calling, putting all they have into it.
"This is beautiful, mon," he told us standing on the wave-pounded cliffs that day. "This is the best resort in Jamaica."
Was he stretching the truth? Probably. Did he mean it? Most assuredly. And this day, with a marvelous resort pretty much to ourselves, in a safe area of a beautiful island, we realized he was quite right.
For all info, visit www.moondanceresorts.com/cliffs