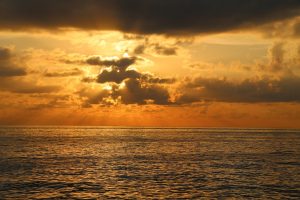 In between our two ports of call, Havana and Santiago de Cuba, we had another day at sea. This is a great opportunity for passengers to relax and reinvigorate for the next port.  We participated in an Introduction to Santiago de Cuba seminar.  While I didn't learn that much about the city, I realized there would be plenty of that the following day in Santiago de Cuba, and instead we simply got an overview of what to expect from the day ahead.  The cruise hosted a BBQ for lunch.  The food was excellent, and felt a little more authentic than the other meals we had on board.
Upon docking in Santiago de Cuba we got off the ship and were greeted by the best guide we had all trip. His name was Osma.  He was informative, engaging, captivating and spoke excellent English.  Our first stop was the Cemetario St. Ifigenia (a local cemetery).  I find it quite interesting that the first stop in both cities were to cemeteries!  We approached the grave of Jose Marti, a Cuban national hero, in time to observe the changing of the guard over his grave.
Other notable stops in the cemetery included Bacardi's grave (yes, Bacardi, the rum!) and tombs of Cuban soldiers.  The soldiers' tombs are unmarked.  They are only numbered to maintain anonymity.
Next we drove by the Plaza de la Revolucion and San Juan Hill before stopping at El Marro, a beautiful castle/ fortress overlooking the sea. We walked around and took in break taking views of the Cuban coast line.  We also stopped to listen to a female madrigal chorus.  Their voices were beautiful and the acoustics in the castle created a harmonious sound.  Lunch was at a restaurant at El Marro called Palmares.  Fortunately, we got the tables by the edge of the restaurant that overlooked the water so our beautiful views of the water and Cuban coastline continued through lunch.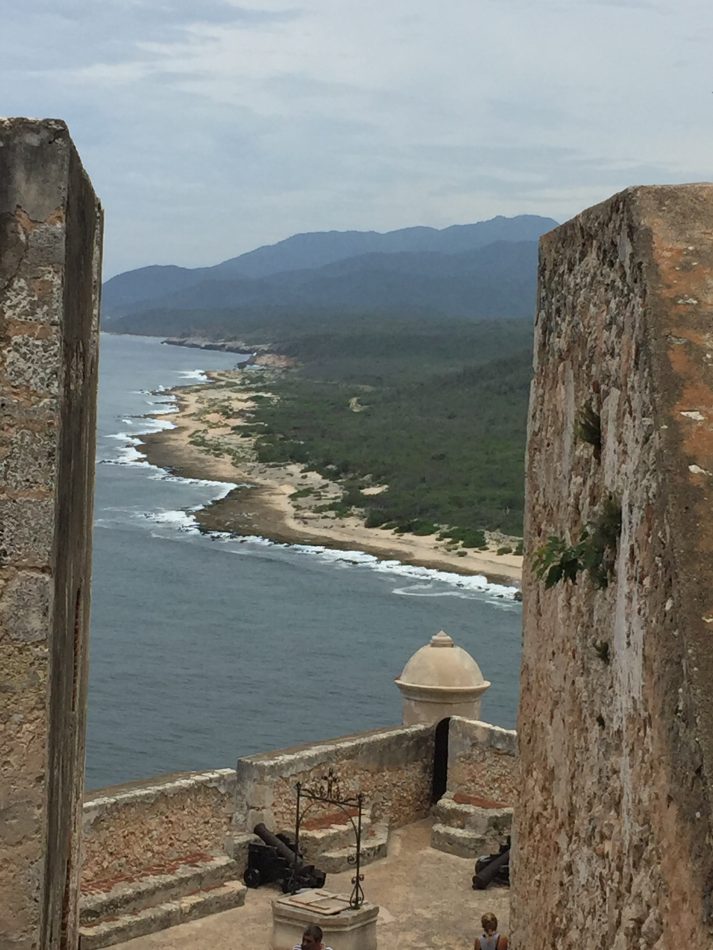 Our next stop of the tour took us the Parque Cespedes. By this time it was unbearably hot, so instead of walking around the square, my family took an elevator to the top floor of the Hotel Casa Granda for a 360 degree view of Santiago de Cuba and delicious mojitos.  The panoramic view reminded me of a favela (slum) in Rio de Janiero, Brazil.  It was brightly colored, but looked quite run down.  Nonetheless, the scenery of Cuba is quite exquisite.
After this break we walked to a nearby location where we heard a national acapella singing group of Cuba.  They were quite good and fun to listen to.  After talking to them, we learned that this was their profession.  They are paid to sing and compete in singing competitions.  The Cuban culture includes a lot of music, singing and dancing.  This acapella group was a great and unique example of enjoyable Cuban music!
We made our way back to the bus through lots of beggars. This was the first and only time I felt a little uncomfortable in Cuba.  They had no boundaries and would not take no for an answer, however they seemed no different than beggars on any other Caribbean island.
As we sailed away, through the straight, I absolutely loved seeing all the Cuban people lining the streets and shoreline waving goodbye to the boat. We were only the 3rd trip to Cuba for the ship, and we heard that when the 1st trip got to Cuba the Cubans lined the streets waving American flags!  Other than the beggars, the Cuban people make American visitors feel extremely welcomed to their country.   Although we said goodbye to this amazing country as we set sail for Miami, Florida, the small taste of Cuba we were given left a large impression on us.  I feel connected to a country I have never felt before.  It has always been so nearby, yet so far away, and now it does not feel far away anymore.  I cannot wait to go back to Cuba and continue to connect with the people and see how this magnificent country changes and improves.  I cannot wait until the day when Cuba becomes simply another nearby destination for us to visit!
I enjoyed this trip with Fathom Impact + Travel.