Dominica is ideal for the independent traveler looking to getaway from crowds, to bond with nature, and to explore the country on his or her own. Aptly called "the nature isle" when one visits the country, one soon understands this description. First of all, there are not a lot of people who live in the country, some 72,000 by the last count, so it never feels crowded, the island is full of rivers, waterfalls, some freshwater lakes and dense at times tropical rain forest. The largest indigenous population in the Caribbean, the Kalinago people live in the upper reaches of the mountains on Dominica's eastern coast. People are welcoming and friendly.
Stay
An ideal place to stay for independent travelers is this property not far from the Melville Hall Airport (they can pick you up from the airport). Single, doubles or apartments available. We used it as our 'home base' for our stay in Dominica. Valarie is an extremely hospitable host (helping plan our trip) – a hot breakfast was included in the morning, they rent cars on site and they are located only a few minutes from a nearby golden sand beach.
Select Outdoor Attractions
Some of the more popular attractions charge an admission fee – which can be purchased on site. If you are in Dominica for a few days and plan to visit multiple natural attractions, consider purchasing the week pass – it is valid for seven days and provides unlimited access to any of the listed attractions.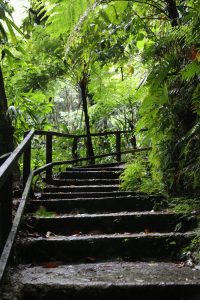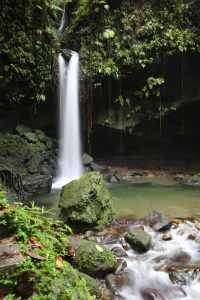 Emerald Pool is accessible via a short hike through the rain forest. When one thinks of a rain forest, one does not have to look much further then the thick vegetation surrounding this trail, dense, dark, green and mossy – as you hike towards the pool it feels you are entering another world. Course this is one of Dominica's most visited attractions and if you are here with plenty of other people, that feeling is not as strong. Best times to visit, early morning and late afternoon.
Gorgeous in it's array of colors, the emerald green pool sits at the base of the some 40-foot falls. If here alone, this is a quiet and calming place to relax. If not, it can be busy especially with passengers from cruise ships on certain days.
Freshwater & Boeri Lake are two picturesque Caribbean attractions that should not be missed. A road leads directly to Freshwater Lake (yes, that is actually it's name) – from the parking lot it is a short hike to the edge of the lake where there is a floating dive platform. Sometimes when you are in the Caribbean it is just nice to take a freshwater swim (are rare we might add).
Further up the road is the trailhead to Boeri Lake. But before you reach the trailhead – luke-warm water runs out of a pipe on the side of the road – this makes for a refreshing stop after you have returned from your sweaty hike to Boeri Lake. The trail is listed as taking about 45 minutes one way – we made the hike in 24 minutes.
Nearby Trafalgar Falls are accessible by a 15 minute hike. These twin falls can be photographed from the viewing platform.
Chaudiere Pool is located along the Hampstead River, about a 30 minute drive from the town of Calibishie. Once you exit off of the main road plan for slow, at times challenging driving. The road is steep, narrow and passes by a number of homes as you climb into the mountains. Eventually the road becomes dirt, with a number of potholes – stay to the right, if lost, ask locals who you will invariably see walking on the road or near the road.
The road finally reaches a farm on a hillside with a dirt road leading down to your left. It is advisable to park here and walk down this steep often slippery road to the Hampstead River and the pool.
Calibishie
is a small town on the north east coast of the country. Features a small center of town with a tiny gas station, an information center, several good restaurants including the delicious SandBar. Several wooden tables are located in the sand slightly up from the beach – very intimate location and great place to be just before sunset. Excellent seafood, also a very nice goat curry – start your meal with their local drink (passion fruit with ginger).
Destiny's Salon – sometimes you need a haircut when traveling. Destiny maintains her salon on the outskirts of Calibishie, she is fairly well traveled and certainly proficient in hair styling, you will be happy with the conversation and the haircut!
Kalinago Barana Auté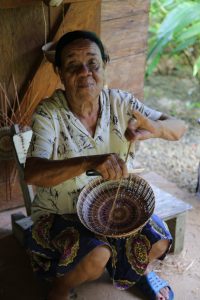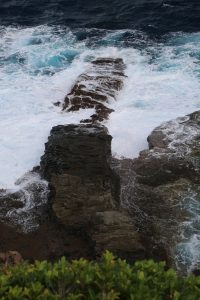 is a cultural center promoting the culture and traditions of the Kalinago people. It is located near the sea at the end of a very steep paved road. The Kalinago are the largest of the indigenous people in the Caribbean to have survived the European settlements and development (although a very small number of their descendants live on a number of other Caribbean islands, and there are still ethnic Kalinago people living in parts of South America). Today they number around 3,000 and live in a territory on the island the encompasses some 3,700 acres.
A variety of activities are offered at the center including demonstrations on canoe building, cassava processing, basket weaving, calabash carving, and herb collection and preparation. During our visit we were treated to several dances (these cultural performances have to be arranged ahead of time).
Visitors can also arrange home stays with the option of locally prepared meals.
Nearby Touna Kalinago Heritage Village offers visitors the chance to experience their simple and traditional life and interact with those living in this small riverside community.
The tiny Isulukati Falls is located a short walk from the main visitor center – one can take a dip in the small pool above this river. L'Escalier Tête Chien is located within a short drive of the center (get good directions as the turnoff can be somewhat hard to spot) – a 10 minute walk leads one out to a wooden overlook of what looks like a snake's body perched on the edge of the water. Plays an important role in a Kalinago legend. Don't try to walk past the wooden overlook – the terrain becomes quite steep and the crashing waves can be dangerous here. The small but picturesque Madjini Pool (on the river of the same name) is a short walk from L'Escalier Tête Chien (refreshing spot to take a quick dip).
Continuing to drive towards the community of Castle Bruce you will eventually reach the Islet View Restaurant and Bar. Great place to stop for lunch with a beautiful view from the rain forest down to the small bay below. Also a very nice selection of drinks including their rum infused concoctions.
Driving
Driving is challenging. Often roads have a fairly deep ditch with a vertical drop off directly next to the pavement. Often this steep drop-off will be concealed in vegetation. Roads are often not striped in the center – imaging a video of two hands on the wheel constantly turning left and then right and back again. There, you have driving in Dominica. Roads are steep, narrow, curvy and often there will be vehicles parked on the road taking up half of the road. Distances may be linearly short from one another but because of the slow driving conditions, distances can take much longer then one would normally anticipate.
People are very generous with giving rides (one does not necessarily need a car although there is certainly more freedom in having one). Vans are quite common – driving the main roads picking up and dropping off passengers – but it is also common for locals and tourists to hitchhike (even young children) and if you have space in your car it is quite acceptable to pick up passengers (as an independent traveler, we benefited from doing so several times from locals who gave us tips on where to go – offering places we otherwise would not have heard about or been able to find on our own).
Douglas–Charles Airport
This tiny airport (the larger of the two airports on the island) is located in the countryside nowhere near the main city of Roussea or the second largest city of Portsmouth (an hour + drive from either of those cities). There aren't many areas that have flat land on the island and this is one of the primary locations. A number of Caribbean airlines serve the airport including Hummingbird, LIAT and Winair.
Getting Here
There are currently no nonstop flights to Dominica from Africa, Asia, Australia, Europe or North America. Travelers often connect through nearby Guadeloupe (a 30 minute flight to Dominica) or from Martinique.
More Information
Visit the official tourism site, www.dominica.dm
Kalinago Territory: www.kalinagoterritory.com