Many people travel to the Caribbean dreaming of pristine beaches and calm, endless turquoise waters. While you will certainly find both of those on your vacation, there's certainly much more to do than just lay on a beach towel and soak up the sun. Here is just a small sample of the experiences that will make your trip to the Caribbean absolutely unforgettable:
Watersports, Watersports Everywhere
If there's one thing the Caribbean has a lot of, it's water. You'll want to be sure to take advantage of the wide variety of ways to enjoy the calm Caribbean Sea while you're there. Unique outdoor adventure tours, such as swimming with the dolphins (or pigs in the Exumas) and snorkeling through reefs, give you the chance to truly experience the breathtaking beauty of the islands.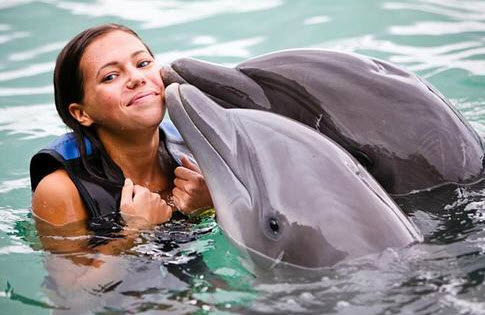 Lovely kisses from the dolphins
Cruises Galore
Embark on a one-day Caribbean cruise and experience the islands from a whole new perspective. Consider sightseeing along the coastline with stops for swimming and snorkeling on deserted beaches. If you're looking for a romantic option, book a Catamaran cruise at sunset. With these Caribbean island excursions, you'll create lasting memories and you'll be treated to some of the most breathtaking views the Caribbean has to offer.
Caribbean Adventure Tours
Watch your vacation come to life after you've immersed yourself in the rich culture of the Caribbean. Explore 18th century plantation life, frolic at the base of sparkling waterfalls, or drive through an active volcano. For more active adventurers, there are zip-lines, sky rides and safaris to explore the lush rainforest surroundings. And if you've always dreamt of deep sea sport fishing – treat yourself to a trip with a professional fisherman. Both seasoned anglers and beginners can try their hand at nabbing a blue marlin, dolphin, sailfish or tuna.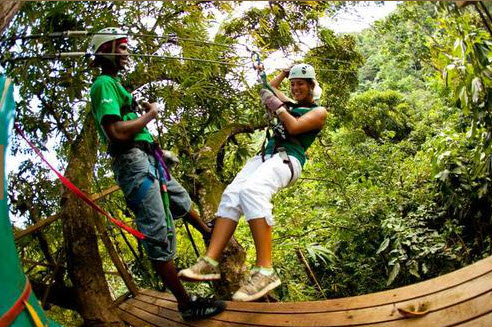 Memories for a Lifetime
Whether you prefer reef snorkeling, zip-lining through the rainforest or standing awestruck, admiring the natural scenery from Caribbean shore excursions – your perfect vacation can be found in the isles of the Caribbean. A Caribbean vacation is the time to explore the things you've always wanted to see and to create memories you'll never forget. And don't forget to spend some time on the beach, too!
About the Author
As International Social Media Manager for Island Routes (Unique Vacation, Ltd.), Tiffany Mullins leads a team that creates new strategies for global, multi-brand social media. In addition to managing Island Routes' online community, she also oversees the direction of Sandals and Beaches social media, including the Sandals Wedding Blog, which brings brides and inspiration together to truly create "Your Wedding. Your Style."