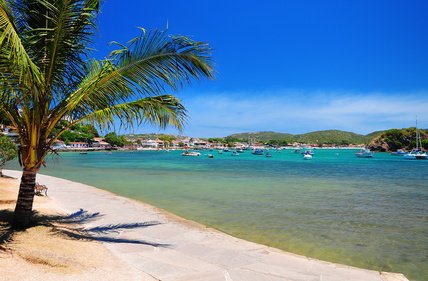 Brazil is world renowned for its beaches. With a coastline of 4,578 miles and beautiful weather nearly year-round, it's not surprising that the small town of Buzios near Rio de Janeiro is a phenomenal beachside destination. Buzios sits on a peninsula of twenty-two sparkling beaches where any day of the week you'll see beautiful people basking in the sun at popular spots or relaxing in the tranquil atmosphere at one of the peninsula's more secluded beaches.
Buzios started out as nothing more than a tiny fishing village on the Atlantic coast. Public curiosity increased in 1960 with the visit of French femme fatale actress Brigitte Bardot, who chose Buzios as a peaceful getaway. Since then, Buzios has made quite a splash on the international tourism circuit. Buzios continues to attract the elite Hollywood crowd today.
Despite its growing sophistication, Buzios still maintains the right amount of its fishing village roots, which lends itself a quaint, old world charm. The various dining and lodgings in the village create an atmosphere that is very special.
In Buzios, the best places to stay are called pousadas. A pousada is a type of bed-and-breakfast inn that is a refreshing accommodation option. The best pousadas are on the shores of the beautiful bay and are either located near the town center or right on the shore of one of its many alluring beaches.
The dining options in Buzios are plentiful. Authentic Brazilian restaurants are just the beginning of the South American cuisine experience. American, Asian, Mexican and French restaurants are widely available in the center of town, on the Rua de Pedras. Many beaches offer little cabanas serving up refreshing cocktails and tasty regional and Brazilian food. Try the seafood maceca, a delicious broth with rice and shrimp.
To cap off all the attractions of Buzios, the village offers world-class art galleries, clubs, and of course, shopping. Fine boutiques offer the latest fashions from the world over.
Buzios can be enjoyed year-round, with the most popular time to visit being between September and April, during the Brazilian summer. From May to July, there are numerous beautiful sunny days, but the temperature is a bit cooler and there is a bit of a higher chance of rain. The busiest time in Buzios is around the New Year holiday and of course, Carnival. Carnival, one of the world's biggest and most colorful festivals celebrated every February/March in nearby Rio de Janeiro.
Overall, Buzios is a special destination and should be considered on every Brazilian tour circuit. Along with enjoying all the highlights of Rio de Janeiro, and some far-away Amazon or Pantanal jungle, Buzios will provide the repose that completes a full Brazilian visit.
You can find further information about Buzios
Web http://www.braziltravelinformation.com/brazil_riodejaneiro_buzios.htm here