I mean really, where did this crowd come from?
We are at White Beach on privately owned Guana Island in the British Virgin Islands, a blindingly bright half-mile stretch of sand that Caribbean Travel and Leisure once dubbed one of the BVI's best beaches.
Besides us, there are five people here, two to our right in lounge chairs, two at a small beach bar, and one swaying in a rope hammock beneath a giant tree. To our left – nothing but sand, and before us, the clearest turquoise waters we have ever seen, the hump of Tortola beyond that.
Seriously, at high season in the Caribbean on one of the most luxurious lush landscapes in the entire area, this constitutes a crowd.
But hey, we'll take it. And if not there are six more beaches to go to that will most definitely be less "jammed."
Guana is one of the best-kept secrets in the Caribbean, not on most people's radar and price likely has something to do with it, with lodging ranging from $695 to $8,100 a night. But because of that, and the fact that by design, the island will never house more than 32 people at a time over its sweeping, rolling 850 acres, it is absolutely never, ever crowded here. The place ensures privacy and relative isolation on an island where it's already in abundance.
Doing nothing is the best option here, but if you want to be active, you can be. There's tennis, water sports such as snorkeling and boating, and hiking. Honestly, though, it's the best place to unwind, recharge and relax; rooms don't have TV or phone, and it was only recently Guana ceded to the 21st century by installing Internet service
Guana, named for the iguana-shape of one of its promontories, is a private island with a service tradition of old-world, low-key luxury created over the past 75-plus years of family stewardship, starting with Louis and Beth Bigelow of Massachusetts in 1935, and continuing with Henry and Gloria Jarecki of New York since 1975.
There are no marinas or public facilities. You get here by shuttle boat from Beef Island Airport on Tortola, ride a golf cart to check in at the main house high on a hill, and you're good to go, to do as much as you want, or nothing at all.
Sea-view cottages comprise the main room category here, 15 in all, sprinkled along the island's mountainous spine, florally shrouded, white-washed affairs furnished in a style borne of the island's history (it was once a sugarcane plantation owned by American Quakers) with stone architecture and warm, wooden furnishings and louvered doors.
These are the cheapest digs, starting at $695 a night in low season and $1,550 in prime time. No matter the room category, all boast spectacular views as far away as St. Thomas in the American Virgin Islands. Amenities and space ramp up with price but all accommodations include at least meals, wine with lunch and dinner, afternoon tea, snacks and WiFi.
Villas round out the rest of the room offerings, and topping them is the Jost House Villa, with rates of $4,386-$8,100 per night, a 10,000-square-foot, three-bedroom beauty with heated infinity pool winding around the house, a patio with Atlantic and Caribbean views, a chef's kitchen and dining area, whole-house music and its own staff. These digs are popular for large groups of people, weddings chief among them as Guana is a popular spot to tie the knot.
If you've got the money, or enough friends to spread out the cost, you can rent the entire island for nightly rates of $22,000-$33,975. British singer Joss Stone performed here in 2011 at a private island rental. Though island officials play celebrity visits pretty close to the vest, they said Jimmy Fallon and his bride were guests on Guana in 2007 before marrying on Richard Branson's Necker Island, and a few years ago, I spotted Philadelphia Flyer hockey legend Bobby Clarke here.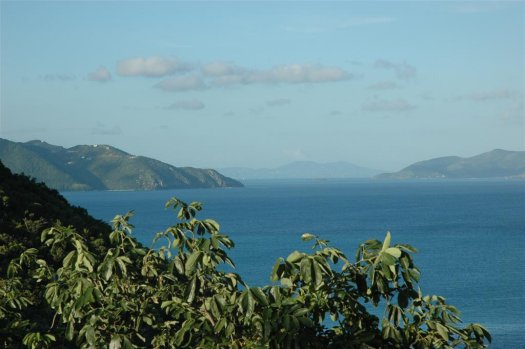 Guana's most romantic spot has to be the North Beach Villa, the only house on the island's isolated north side, one with living room, bedroom and kitchen. It provides exceptional privacy; feel free to run au naturel down the private 1,000-foot-long beach. There is a constant cooling sea breeze here negating the need for air conditioning, and the crashing cadence of waves is the most effective natural sleep aid ever.
The one-story house rises on stilts amid sea grape trees, and boardwalks bring you to a saltwater pool on one side, a spacious deck on the other. Here, it's an absolute must to rise early, make a cup of coffee, sit on the deck and witness jaw-dropping Caribbean sunrises in a sky from which pelicans drop and seamlessly slice into the sea in search of their own morning nourishment.
Unless you opt to eat in your own villa, meals are taken in the one restaurant in the Great House, with arguably the best dining views in the Caribbean, including from the Queen's Terrace, so named for the Queen Mother's 1964 visit, and White Bay Terrace, overlooking bougainvillea-bursting hillsides and White Bay far below.
You can also eat in nearby cutouts on walkways near the restaurant, as we did one morning, bathed in sunlight and inhaling scents of sweet jasmine and other nearby flowers, where we were also the subject of stares by some rather large but totally harmless iguanas.
All meals are a culinary adventure, from breakfast's mango crepes with mascarpone cream to lunch's conch fritters to dinner's sprawling repast that could include crunchy duck, pan-fried flounder with spicy pineapple salsa and explosively red sunsets that stop you in mid-bite to enjoy them. You can dine by candlelight at private tables or at social tables to mingle with other guests. Beach barbecues with live music are held weekly, and the occasional crab race as well.
Eat all you want, you can walk it off on Guana's 12 miles of marked trails that crisscross hills and dip into valleys. There are bat caves to check out and the most taxing trek is the one to Sugarloaf Mountain's 806-foot peak. One clear morning, we did a one-and-a-half hour jaunt to the top of Iguana Head, with eye-popping views of the Caribbean and Guana itself, Muskmelon Bay below us and a huge salt pond in its middle.
There is exceptional science done here as well, and in late summer, Guana shuts down to guests and opens up to researchers. Programs here have brought back locally extinct species such as the stout rock iguana. Other species restored or protected here are the red-legged tortoise, bridled quail dove, Caribbean roseate flamingo (they love posing for you by the salt pond), the Eggers' mallow tree and a unique bromeliad found nowhere else on Earth, all of it making Guana, as the website boasts, "the only wildlife sanctuary in the world with a cocktail hour."

The good Doctor Liao
If you go, visit the orchard, where much of the fruits and veggies you eat are grown, lovingly lorded over by Dr. Liao, a delightful elderly Chinese gentleman who sings songs of his own poetic creation to his produce and flowers. Drop in and he'll hack open a coconut for you to sip from as he sings you his "Papaya Song."
Then head back to a beach, quaff a drink, sit down and do nothing in high style, on one of the Caribbean's best places to do it.
(Paul E. Kandarian can be reached at pkandarian@aol.com)
Photo credit: All taken by Paul Kandarian