Lisbon is a city of colour that feels very relaxed and welcoming for a European capital. It's quickly becoming a tourist must-see for anyone travelling the continent and a trip to Portugal wouldn't be complete without it. After spending a full week in this vibrant corner of the country, we've assembled 41 Lisbon travel tips to help you plan an epic city break. We cover everything from getting around to the top nightlife spots and some insider tips for seeing the top attractions.
Getting to and from the airport
1.  The most convenient and a low-cost way to get from Lisbon Airport to the city centre is by Uber. Order your Uber on the app when you leave the terminal and head to the pick up point, which is currently next to the car rental stations to the side of the terminal. Avoid expensive official airport taxis, which will cost you €20, paying only €6 – 10 with Uber.
2.  Another affordable way to get to the city centre is by bus. This is particularly good if you're by yourself on a budget, otherwise an Uber is more affordable for 2+ people. Bus tickets are €4 per person and the journey to the city centre takes 45 minutes.
3.  An even cheaper way to get to the city is by Metro, at only ~€1.50 per ticket. Although you'll have to switch metros to get to your destination, the journey only takes around 35 minutes.
Getting around in Lisbon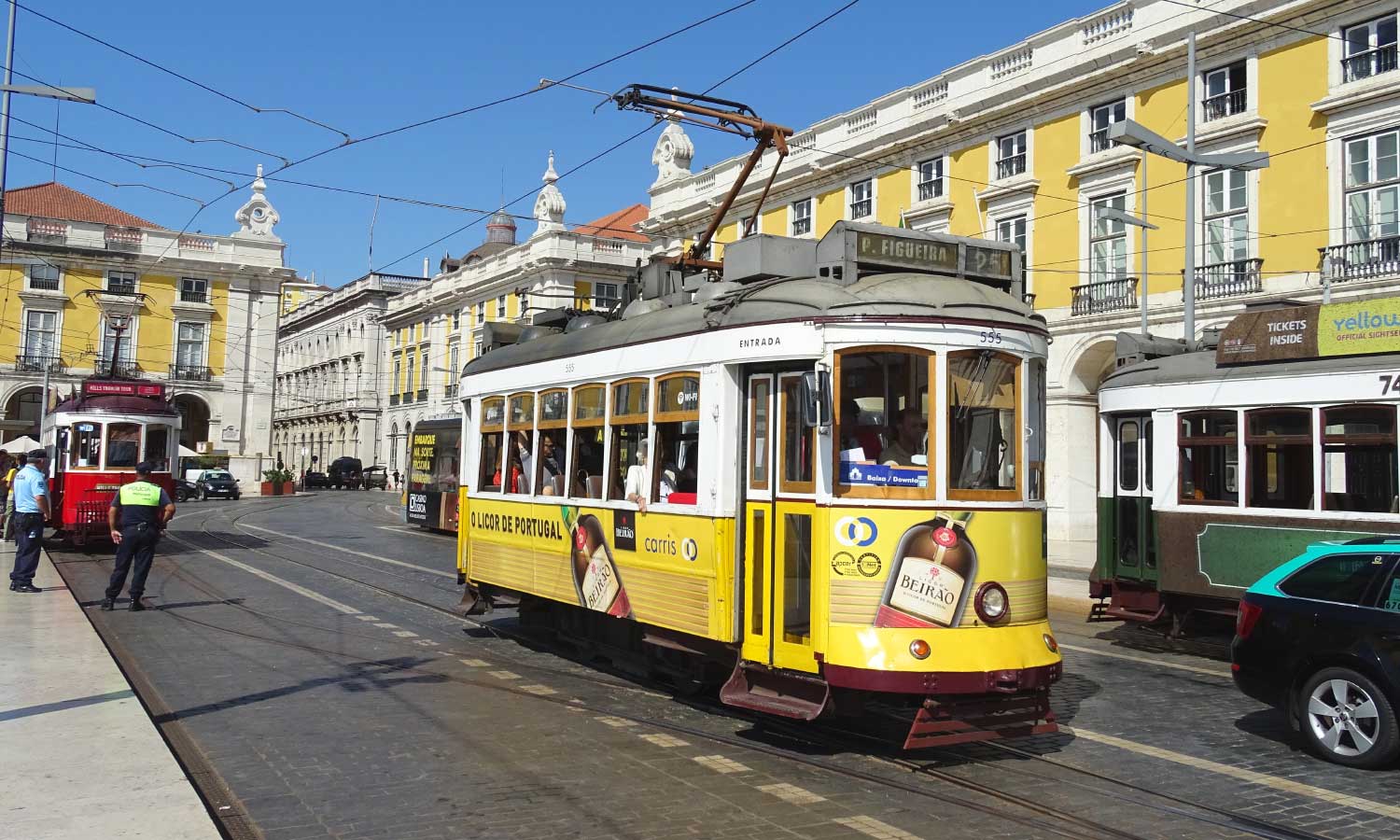 4.  The most affordable and convenient way to get around in Lisbon is using public transport. Buy a transport card in any metro station and top up with €10 or so. You can then use it to board the tram, buses and metro anywhere you want to go in the Lisbon area, including Sintra and nearby towns. Journeys cost as little as €1.50!
5.  Be sure to take the traditional tram service at least once during your trip. Lisbon is famous for its trams and it's a great way to see the city. It's also a much cooler and comfortable mode of transport compared to buses.
6.  You may have heard of the famous 'number 28' tram route. This super popular tourist attraction is quite crowded and we recommend opting for the less-frequented 'Red Tram' route instead. It's just as good! If you do wish to check out tram route 28, arrive early morning for less queuing.
7.  For the ultimate convenience or when travelling late at night, use your Uber app. It's cheaper and safer than the city's local taxi service.
8.  Download the Google Maps app onto your smartphone (if you don't have it already) and use its handy 'directions' feature to find your way around Lisbon. It's linked to live public transport timetables so you'll always know how to get from A to B with perfect timing. Whilst one of our Lisbon travel tips, this applies to almost any city you visit!
9.  If you want to travel outside of Lisbon to cities such as Sintra, Cascais and Nazaré, the fastest and most efficient way is to take a train, which you can board at major cities throughout Lisbon, including Rossio and Oriente. We even recommend the train over renting a car or taking a cab! Check the best train route to your day trip destination using Google Maps.
10.  No matter where you stay, you'll likely be doing a lot of walking up and down hills. They're everywhere! Pack good footwear and some blister relief just in case.
Sightseeing in Lisbon
11.  The city's main sights are divided into different areas. Aim to explore each place at different times and group attractions together so you won't waste time getting around. We recommend splitting your sightseeing into the following areas – Alfama, Baixa city centre, Bairro Alto/Chiado and Belem.
12.  Lisbon's surrounding area is waiting to explored and there are plenty of day-trip opportunities for longer stays. Explore the enchanting castles of Sintra, go gift shopping and enjoy the quaint beach of Cascais or venture further afield to Nazare, where you'll find some of the most impressive surfing waves on earth. Plan at least one excursion outside of Lisbon during your stay.
13.  Combine your Lisbon city break with some beach relaxation. Between April and October, the weather is hot and sunny with very little rain. The best beaches to visit are Praia da Mata, Praia de São Pedro do Estoril and Cascais.
14.  'Under the Stars' at Carmo Ruins Museum is an excellent evening show where the walls of the ruins are illuminated and you're told the story of Lisbon's history through song and dance as you sit on the floor looking up at the stars. This excellent show is missed by most tourists and is well worth checking out.
15.  Traditional Fado (local folk music) shows are advertised throughout the city. Some of these are a gimmick and not worth the visit so be sure to do your research and only attend an authentic show with good reviews. We personally recommend Mesa De Frades restaurant in the Alfama district.
16.  Explore off-the-beaten-track neighbourhoods such as Graça, Estrela and Principe Real. These less touristic areas give you a sample of what local life is like and are beautifully scenic and colourful.
17.  Museums, museums everywhere… Lisbon is filled with historic, niche and overall excellent museums; probably the best in the country in fact. If galleries and history is high on your agenda, be sure to do your research on what's available. Some of the top museums include Museu de Marinha, a museum dedicated to Lisbon's seafaring marine past. There's also the Carmo Archaeological Museum and the impressive National Museum of Ancient Art. Museu Colecao Berardo is the place to go if you prefer modern art.
18.  One of our favourite things to do in Lisbon is simply stopping by some of the most impressive view points and catching a glimpse of the cityscape, particularly at sunset. We recommend the turrets of Castelo de São Jorge, Miradouro das Portas do Sol in Alfama and Miradouro da Senhora do Monte for a nice view of the castle.
19.  There's almost always queues for the Santa Justa Elevator in Baixa, a popular attraction that gives you an aerial view of the city streets. Arrive early on a morning or queue up just before sunset to avoid the long lines.
Lisbon travel tips for making your money go further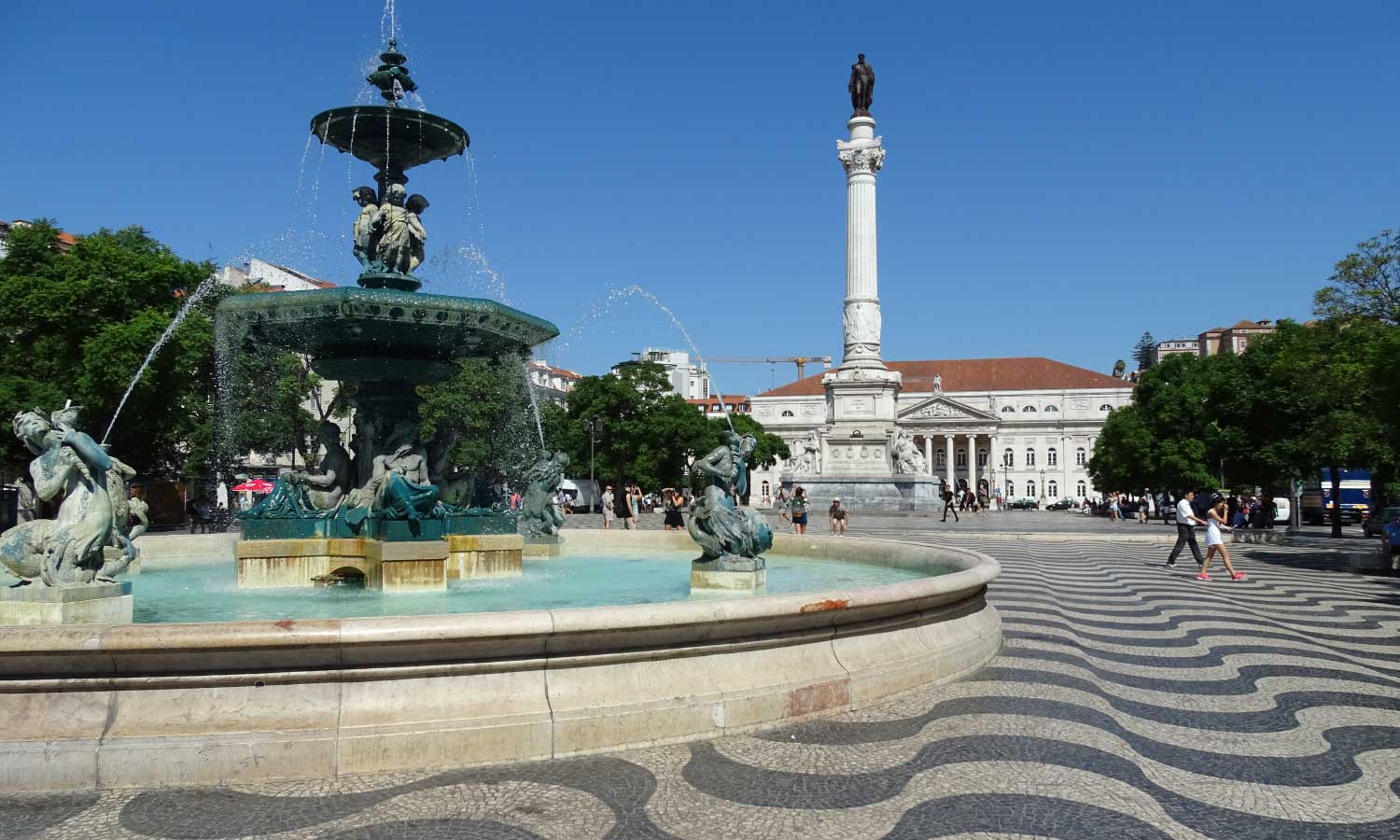 20.  Book accommodation, tours and attractions online before you arrive. Advance booking is usually cheaper and you can compare the best prices online.
21.  Take advantage of cheap café breakfasts throughout the city. It can actually be cheaper than making your own! Grab a coffee, pastry and fruit for only €3.
22.  Avoid gift shopping, eating and drinking in the main tourist areas. Food especially is usually poor and overpriced and doesn't represent the true flair of Portuguese cooking.
23.  Pre-dinner appetisers (also known as a 'couvert') isn't free. Politely reject any breads, olives and other snacks if you didn't order them and don't want to pay the cover charge.
24.  Take advantage of free walking tours and don't feel obliged to pay for entry for some attractions. The Belem Tower for example, has a much better exterior and isn't worth paying to go inside. Keep your money for the key things you want to see.
25.  One of our go-to Lisbon travel tips that applies to any city you visit is to take advantage of the many supermarkets; the larger the more affordable (in general). Cook your own meals at your apartment and buy snacks and drinks for later.
26.  Stay in a private apartment/AirBnb. You'll get more room space for your money as opposed to hotels, prices are usually cheaper and you can make your own meals.
Eating out in Lisbon
27.  Venture to different neighbourhoods of Lisbon to sample varied atmosphere, cuisines and top-rated restaurants. Some excellent areas for eating out are Rossio square, which is alive every evening with an excellent atmosphere. Avenida da Liberdade has lots of higher-end dining options, whilst Alfama and Graça have a more local, traditional and cheaper offering.
28.  The top foods to try during your visit to Lisbon are:
Feijoada – a rich and tasty pork and bean stew
Prego – meat filled sandwich rolls, perfect for lunch
Salted cod – the country's national dish that comes in all sorts of varieties
Caldo Verde – a famous kale and potato soup. Healthy and delicious!
The many sweets and pastries on offer, particularly Pasteis de Nata
29.  The bakeries are just as good as restaurants and the perfect place to enjoy a refreshing snack and drink after a busy day of sightseeing. Sample Portuguese custard tarts at your leisure; you'll fall in love with them!
30.  Timeout food market is probably already on your list but make sure you don't miss it. This central, trendy market is filled with food stalls inspired by local and global dishes. Order samples of everything that catches your eye and share with your friends.
Lisbon bars and nightlife tips
31.  We recommend starting your evening out in the colourful neighbourhood of Bairro Alto. Enjoy a beer with the locals and pay only €1.50 for a large pint! The scene here is to order a drink in one of the small corner bars and then stand outside, drinking and chatting with friends.
32.  For late night partying until the early hours and dance bars providing all types of music, from electronic to rock and reggae, aptly named 'Pink Street' is the place to go. The pavement of this street is painted entirely pink and is filled with vibrant bars and clubs.
33.  If you're visiting Lisbon in the summer, the hottest nightlife venue is Lust in Rio, an open-air club by the docks of Cais do Sobre.
34.  Lisbon is home to many rooftop bars where you can indulge in a cocktail with a nice view of the terracotta rooftops. Some of the best include the rooftop bar at Hotel Mundial, Sky Bar at the Tivoli Hotel and Limao at H10 Duque de Loule. They're also excellent date-night spots!
35.  Nightlife in Lisbon is notoriously low-cost compared to other European capital cities. If a good night out is important to you, make sure you explore everything Lisbon has to offer. Be careful though, those cheap drinks are a terrible ingredient for a hangover!
36.  To sample the best bars and clubs as part of a group and to make friends from around the world, join an organised pub crawls. Most hostels host plan their own, however there's also the top-rated 'Discover Lisbon' pub crawl that anyone can join. The crowd tends to be younger (under 35), however they're open to everyone.
Lisbon accommodation tips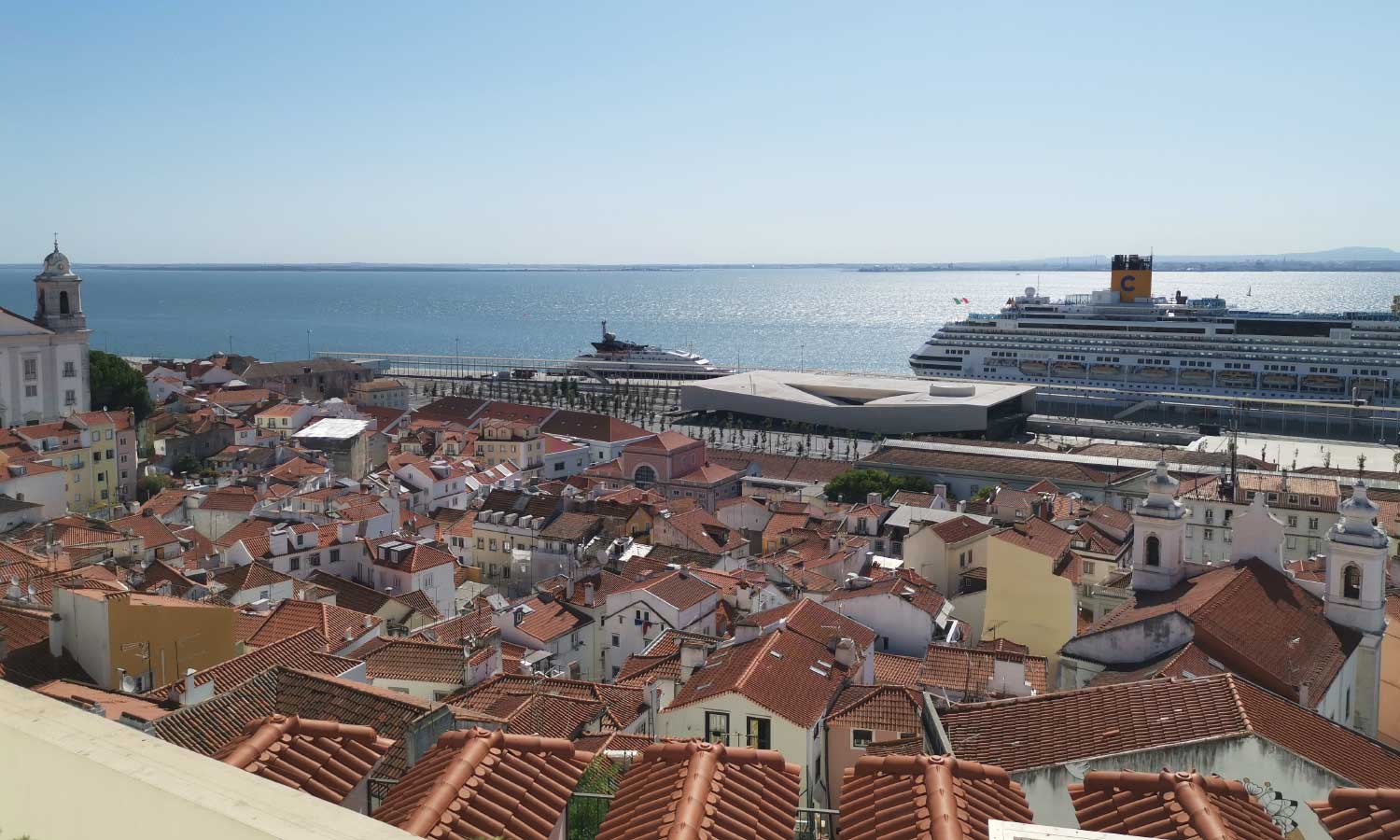 37.  Each neighbourhood has something unique to offer as a place to stay. For first timers, we recommend staying in the central districts of Baixa or Chiado. Alfama is great for those that want peace and quiet and Graça provides a local sample of Lisbon for those that want to see what it's like to live there. This is one of the most essential Lisbon travel tips – having a good base to stay makes a huge difference.
38.  Accommodation is varied and very affordable. You'll find some of the most luxurious city hotels in the world alongside low-cost but excellent hostels. Choose accommodation to fit your budget and always check reviews before booking.
39.  If you're travelling with a group of friends or large family, consider renting a private apartment. Your money will go further and you'll have much more living space and facilities over a hotel.
40.  If you're staying in Lisbon for 4+ days during the summer and want some relaxation time, book a hotel with a swimming pool. Swimming pools aren't a common thing in a big city such as Lisbon but there are still plenty to choose from.
41.  Many hostels offer organised activities during the day and big family dinners on an evening. They're the best place to stay for solo travellers or small groups of friends that want to meet other people.
That brings our list of Lisbon travel tips to and end. We hope we've helped inspire you to visit this beautiful city or to plan a break you've already booked. The most important thing to remember is to take your time and enjoy walking around marvelling at the pretty buildings and marbled footpaths, which is an attraction in itself. For more ideas on things to do in Lisbon and the best day trips, check out our Lisbon attractions guide on our website here.