Probably the most underrated destination in Eastern Europe, Romania has a lot more to offer than just the 'land of Dracula' tag it's so famous for. The country has a rich Game of Thrones-like history with many twists and turns which you can learn about by visiting the many medieval castles (including Bran Castle aka Bran Castle) and cities such as Brasov, Sibiu and Cluj-Napoca. And then you have the impressive Carpathian Mountains with their many natural attractions and the UNESCO Danube Delta reserve which will keep outdoor enthusiasts busy for a long time.
Locals are friendly and very hospitable, to the point where it can make you feel uncomfortable. But that's because community and having a good time is part of local culture. And all Romanians know how much tourist potential our country has – while most people around the world don't. 
So here's a short list of reasons why you should put Romania on your bucket list:
Visit famous medieval castles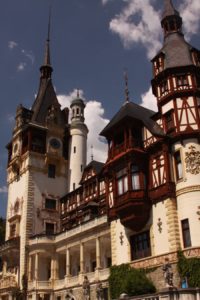 Romania is home to some of the most beautiful castles, bastions and fortifications in Europe. There's a wide variety of places you can visit if you're passionate about history, enjoy medieval architecture or want to see something different. 
When you set out to explore castles in Romania, it's best to make a plan before heading out. It's the only way to fit more landmarks in your schedule and ensure you explore them properly. Some of them are located close to popular tourist cities, while others are more inaccessible and in the mountains.
Let's start with the most popular one: Bran Castle, known for its association with Bram Stoker's "Dracula", is a landmark of Transylvania and also the #1 tourist attraction in Romania. However, if you expect to find a crumbling, derelict replica of the vampire-inhabited fortress featured in Stoker's novel, or even stories about vampires in this place – you're in for a surprise!
The castle serves as a museum displaying art and furniture collected by Queen Marie of Romania, while at the bottom of the hill on which the castle is perched, you can visit an open-air museum featuring traditional Romanian cottages and farms. Although the history of the castle goes as far back as 1212, it underwent extensive renovation in the 1920s and became one of the favorite homes of Queen Marie.
Corvin Castle is another emblematic castle not only for Romania but for the whole of Europe for its unique Gothic-Renaissance architecture. Initially built as a Gothic fortress in the 1440s under orders from Transylvanian voivode John Hunyadi, the castle underwent many extensions and improvements to reflect its growing importance. 
Corvin Castle is split into three main areas: The Knight's Hall, the circular stairway and the Diet Hall. The castle is one of the largest in Europe and features several large towers, an inner courtyard, bastions, balconies and stone carvings. Some towers were used as prisons, while others were built for defensive purposes.
As the years passed, the different masters of the castle changed it however they saw fit, turning it into a luxurious household despite being a military fortress. Many aesthetic improvements were undertaken in the 17th century, but the current look of the castle has been achieved as a result of restoration work following decades of neglect. And the castle has legends and stories more rooted in history and local folk than anything you will hear at Bran Castle!
Undoubtedly the best place to go if you want to travel back in medieval times is Sighisoara Citadel. It is one of the most popular tourist destinations in Romania due to the remarkably well-preserved and still inhabited citadel located in the city of Sighisoara. That's why it was designated a UNESCO World Heritage Site in 1999.
You can visit several towers in Sighisoara, such as the Clock Tower, built in the 13th century, and the Tinsmiths', Tailors', Ropemarkers', Tanners', Butchers' and Bootmakers' towers. Most houses are at least 300 years old, making them veritable monuments. The House on the Rock, the Venetian House, Vlad Dracul's House (where Vlad the Impaler was born) and the indoor Scholar's Stairs are examples of civil architecture that have maintained their original shape.
Finally, I want to mention Peles Castle Built between 1873 and 1914 at the base of Bucegi Mountains it was meant to be used as a Summer residence by the Romanian Royal family. So unlike the other defensive castles, this one is pure beauty and you'll recognise that from a distance.
It features almost 200 hundred rooms and houses large collections of paintings, furniture, gold, silver, stained glass, ivory and tapestries. The architectural design is similar to the Neuschwanstein Castle of Bavaria. There are also many auxiliary buildings, such as stables and hunting lodges. Peles was also the first palace in the world to be fully powered by electricity produced locally at its time. 
Admire impressive natural beauty 
The Carpathian Mountains occupy 45% of Romania's surface and offer lots of options for outdoor enthusiasts of all experience levels, interests and budgets. You can start by visiting one of the many national parks in our country. Piatra Craiului, Calimani, Buila-Vanturarita and Cozia are particularly known for their natural beauty.
One of the unique things you can do while hiking in Romania is to go on wildlife watching trips. You'll be surprised to hear that gray wolves, brown bears, boars, deer and chamois roam free the Romanian Carpathians. Mountain eagles, hawks and many smaller mammals too. And the European bison, which has been extinct since 1852 due to overhunting, has been gradually reintroduced in its natural habitat.
Besides wild animals, there are countless species of trees, shrubs and flowers you can admire. Make sure you don't damage them in any way during your hike, as many species are protected by law. Depending on the heights, the Carpathians feature high mountain pastures and pine, beech, fir, ash and juniper forests. The Bicaz region is well-known for its steep gorges, while the Domogled – Valea Cernei area is home to several cave systems and thermal springs. And Piatra Craiului Natural Park is known for its rich flora.
And if you want to hike Romania's highest mountains – dare to approach the mighty Fagaras Mountains. To get there you'll travel on the famous Transfagarasan Road. Fagaras Mts are known as the most difficult and wild in Romania, and home to the highest peak Moldoveanu at 2,545m. So this is where experienced hikers want to go most! 
Transfagarasan Road stretches for 141 km and reaches altitudes as high as 2,042 meters. With its sharp descents, S-shaped curves and hairpin turns offering spectacular views, you'll have a real adventure even if you're not planning to go hiking. 
Discover Romanian culture and UNESCO heritage sites
Of the many cultural attractions and UNESCO heritage sites in Romania, perhaps the most interesting one is the group of Wooden Churches in the Northern region of Maramures. Nearly one hundred Eastern Orthodox churches display several architectural styles depending on the time and area in which they were built. Most of them are made entirely of timber and wood logs 400 years old with tall but slim bell towers on the western end. 
The wooden churches are one of the most exceptional examples of rural architecture in Romania. Built between 17-19th centuries, they feature paintings of Biblical scenes and lots of folk decorations specific of the region, known as one of the most authentic in Romania.
The skills and construction methods used in building log constructions have been known since the Middle Ages, and the churches have served to create the regional character of Maramures. 
In a sense, they serve as representations of the local society and its traditional values, including modesty, loyalty, trust, respect for family and community and the importance of religion in daily life. Eight of the churches became World Heritage Sites in 1999, namely the Budesti, Desesti, Plopis, Ieud, Barsana, Surdesti, Rogoz and Poienile Izei wooden churches.
Experience traditional village life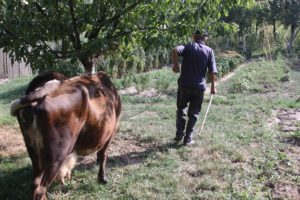 Romania is one of the countries that has maintained its villages and traditional way of life remarkably well. This is a source of pride for the locals and a source of wonder for foreign tourists eager to enter this world that seems frozen in time. 
Transylvanian villages are particularly renowned for their beautiful landscapes, making them look like something straight out of a novel. Viscri is one of the most popular tourist destinations in the area. It is home to a fortified church built in the 13th century. The houses are made in the traditional style, and there are local artisan shops you can visit.
Copsa Mare, located in the county of Sibiu, also hosts a fortified church, and the houses and streets have maintained their original form. You can find accommodation in some of the traditional homes built in the 1700s. You have the option to enjoy a picnic in the forest, go cycling or on a hike on the rolling hills surrounding the village, and visit the local craftsmen and purchase unique, locally-made goods.
When you're in the region, you can travel between the villages and enjoy the rural area and all it has to offer. The villages are also some of the best places to enjoy traditional dishes made with locally-sourced, seasoned ingredients. The villagers make fruit preserves, cheese and bread in their homes based on traditional recipes, which they sell for very affordable prices.
Shopping for organic produce in Romania is more accessible and affordable than in other European countries, as plenty of farmers' markets sell fruits and vegetables. The Romanian people will also welcome you in their own homes and seat you at a dinner table filled to the brim with hearty vegetable, meat and fish soups thickened with sour cream, pork, beef or lamb stews, roasts, pickles and a wide assortment of desserts using ingredients such as honey, walnuts and cinnamon.
Transylvania is also home to several vineyards where you can taste various high-quality wines. The Balla Geza Winery is a must-see if you're a wine-lover. You can have a taste of a wide assortment of Chardonnay, Cabernet Sauvignon and the Feteasca Neagra, made from grapes of the same name that are autochthonous in Romania. Crama Noastra offers a large variety of Romanian wines and a quaint atmosphere where you can have a relaxed conversation.
Enjoy nightlife in Bucharest 
If there's one thing that Romanians love, it is a good party, which is why the nightlife in Romania is vibrant, particularly in big cities like Bucharest. 
You'll find numerous bars and nightclubs open all through the night until 5 or even 6 AM. The staff is efficient, respectful, and ready to help you with any special requirements. Since most of them speak English, you don't have to worry about encountering a language barrier.
The nightclubs offer shows performed by DJs and other live acts, meaning no matter what type of music you enjoy, you can find a venue that'll suit your tastes. The most popular are the Face Club, the Kristal Glam, Mojo Music and Control club. 
Some places offer 50% off drinks on different days of the week, and a wide variety of cocktails are usually available. Since the clubs provide high-quality services, many have earned loyal clientele that visit regularly. Bucharest has a reputation as a party city, and if you want to enjoy the nightlife, you'll have to see more than a couple of bars and clubs.
Romania is a land of contrasts. While it has staunchly maintained its traditions, that doesn't mean the country has remained stuck in the past. When you travel to the region, you'll get to experience all of its beauty and complexity. It might even become one of your favorite holiday destinations.