Lonely Planet named Colombia 2nd best country to visit in 2017. I first visited Colombia a few years ago, when I set foot into the walled city of Cartagena. I had just finished reading Colombian author Gabriel Garcia Marquez' Love in the Time of Cholera, and as I moved through the old town in Cartagena, pages of his novel came to life, setting the tone for that trip. I discovered a colorful, romantic city where Latin music and dancing greeted me at every corner. I was in love with Colombia! Fast forward to present day where I decide it's time to visit a different side of the country, away from the coast. This time I travel to the region of Antioquia, within the Andes mountains. There lies the city of Medellin – my destination. A city that was once the most dangerous city but today is known as the City of the Eternal Spring, the capital of Antioquia and home to famous Colombian sculptor – Fernando Botero.
GETTING IN
I flew from San Francisco into Medellin with a stopover in Panama City for about an hour. I arrived into Medellin in the afternoon and opted for a taxi transfer from the hotel I was staying at. The one-way trip cost me $26.
GETTING AROUND
The best way to get around Medellin is the metro which is incredibly clean and cuts through the city from north to south. The metro cable connects you to the neighborhoods in the surrounding mountains, including the lovely Parque Arvi.
ACCOMMODATIONS
If there is one place I recommend staying in Medellin, it is the Hotel Charlee. Located in the Poblado area (considered the safest in Medellin) the hotel is right in front of the Lleras park and the Zona Rosa area. The Zona Rosa is a vibrant area full of restaurants and bars and is very conveniently located to the hotel. The Charlee is a five-star establishment with rooms that are spacious and include a separate living room area and large windows that overlook the city. The living room is like a tropical indoor courtyard with sofas and chairs and plenty of light that pours in from the oversized windows. Some rooms come with a Jacuzzi, but for those of us who cannot afford such a room, we simply take advantage of the hottest rooftop in the city, located right inside the hotel. The Envy rooftop is everything you could want on a warm afternoon or evening in Medellin. Divided into two levels, the top floor has plenty of seating and overlooks the DJ booth and panoramic city views. The bottom floor boasts a trendy vibe with the pool, bar, seating spaces and string lights that create a charming atmosphere.
The hotel'sLucia restaurant offers a buffet breakfast, lunch and dinner. The Envy rooftop also has small plates, and a Sunday brunch that I unfortunately wasn't able to take advantage of!  For those of us who like to stay active on vacations, the hotel boasts the Ultra Wellness Center consisting of training machines, classes and an outdoor Jacuzzi that fits close to 15 people! The hotel is really a lifestyle hotel where all your needs are met while on vacation or work.
How is the service you might ask. One word – exemplary. We needed allergy medication in the middle of the night and in fifteen minutes the front desk had someone delivering the meds to us from an outside pharmacy. That's the magic of Hotel Charlee.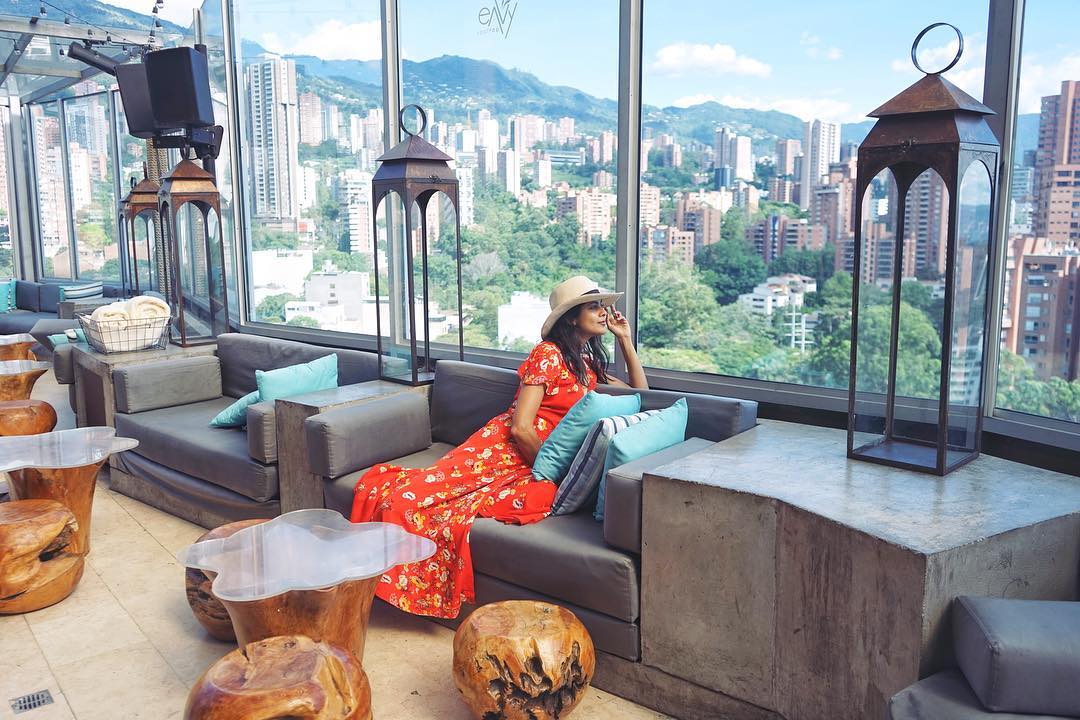 FOOD
Medellin is fast becoming one of Latin America's hottest food scenes. The most traditional dish of the Antioquia region is called the Bandeja Paisa which is a mix of rice, red beans, pork, beef, sausage, avocado, plantain, egg and arepa. With that said, if there is only one dining experience you opt for, let it be OCI.Mde.  Located in the Poblado area, it's a space built from industrial and recycled materials. "Long cooking times" is one of their specialties so don't miss the 12 hour braised ribs in lemon and chili caramel sauce. I will never forget their Moroccan bread with beef – cooked 12 hours – accompanied with cabbage jam, pickled beetroot, and burnt chili mayonnaise. My tongue was dancing in delight. The space is open, inviting and casual.
Sopa de Mondongo is a hearty soup dish made from diced tripe, slow cooked with vegetables. Sancocho is also a soup consisting mainly of chicken and potatoes.
Colombia is well known for street food and Arepas are a staple throughout the country. In addition to street food, the country is a mecca for tropical fruit, many of which have exotic names I had never heard of. All over Medellin you will find ladies with their carts serving fresh fruit in cups. And due to the abundance of fresh fruit on hand, those of you who love fruit juices are in luck. You won't have to go far to find a jugos. My addiction while in Medellin became the Limonada de Coco – coconut milk, lime and ice. I could drink two in a row, that's how good it was!
FIVE REASONS WHY MEDELLIN SHOULD BE YOUR NEXT DESTINATION
The City of Eternal Spring
Medellin is the second largest city in Colombia and is known as the capital of Antioquia. It is in the Aburra Valley, a central region in the Andes Mountains in South America. Can you imagine a city where the weather is warm year-around? Since Medellin is at 1,500m above sea level, it's not as hot as some other cities in the same latitude near the equator. Its average temperature is approximately 72F with temperatures slightly cooler in the surrounding mountains. This makes this city so attractive to visit at any time of the year. Evenings are the best for rooftop drinks with million dollar views and the Poblado area is filled with bars packed with people dancing to Salsa and Merengue well into the warm summer nights.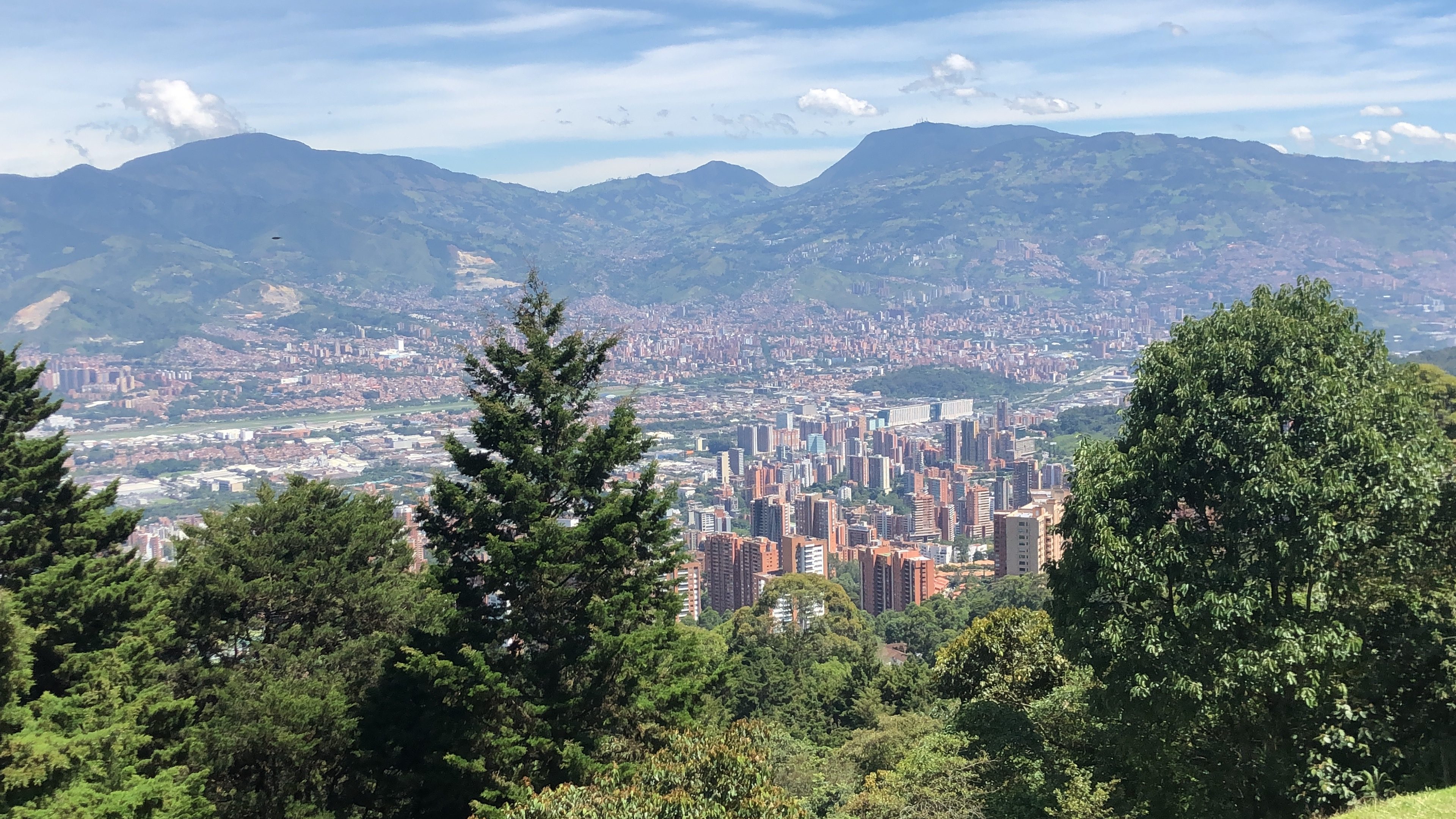 From most dangerous to most innovative city in the world
Time magazine listed Colombia as one of the most dangerous cities on earth twenty-five years ago. Drug lords galore ran rampant across the country fighting for power. Civilians disappeared overnight without a trace as the paramilitaries roamed neighborhoods. I remember reading about the 100-day kidnapping of some tourists on a trek to the Lost City some 10 years ago. Medellin was a city where several car bombs would explode in a day as the king of cocaine, Pablo Escobar, fought neighboring cartels, the state, the people and society in his quest for power. Kids were often offered money to kill the police, bodies were stashed in churches or a stream.
You have to see the Medellin of today to believe the transformation. Pablo Escobar no more roams the streets of Medellin, he rather just hangs out on your television screens (if you watch the television series "Narcos" based on his life). Medellin today has a sense of hope in the air. After the peace agreement between the government and FARC (Revolutionary Armed Forces of Colombia), a ceasefire of sorts is in place and the violence has died down. Instead, a quiet pride has developed within the people of Medellin. Take for example the development of the metrocable. The metrocable is a gondola lift system designed to reach some of the city's settlements in the steep hills. It's considered to be the first urban cable propelled transit system in all of South America. Many of Medellin's hills are home to often underdeveloped barrios and cannot not be reached by the metro. Before the implementation of the metrocable, the residents of the Santo Domingo barrio for example would often spend upwards of two and a half hours walking to work each way or relying on infrequently running buses. That's a solid five-hour round trip commute! In order to truly understand this topology, take a ride on this metrocable up to the Santo Domingo barrio and you will realize just how steep these hills are. Now imagine walking up these hills every day from the city after work. The lack of sufficient transport, and public services inhibited development and employment opportunities for the residents. This lack of opportunities and access to the labour market eventually led to the marginalization of the people living in these hillside neighborhoods, resulting in higher violence and crime.  People felt stuck and couldn't get to the center of town easily. The introduction of the metrocable changed that dramatically. The integration of this system with other forms of mass transit have helped connect low-income residents with the city, increasing their sense of value, and pride and in turn this has reduced the violence and crime in these areas. The metrocable is a brilliant example of social inclusion.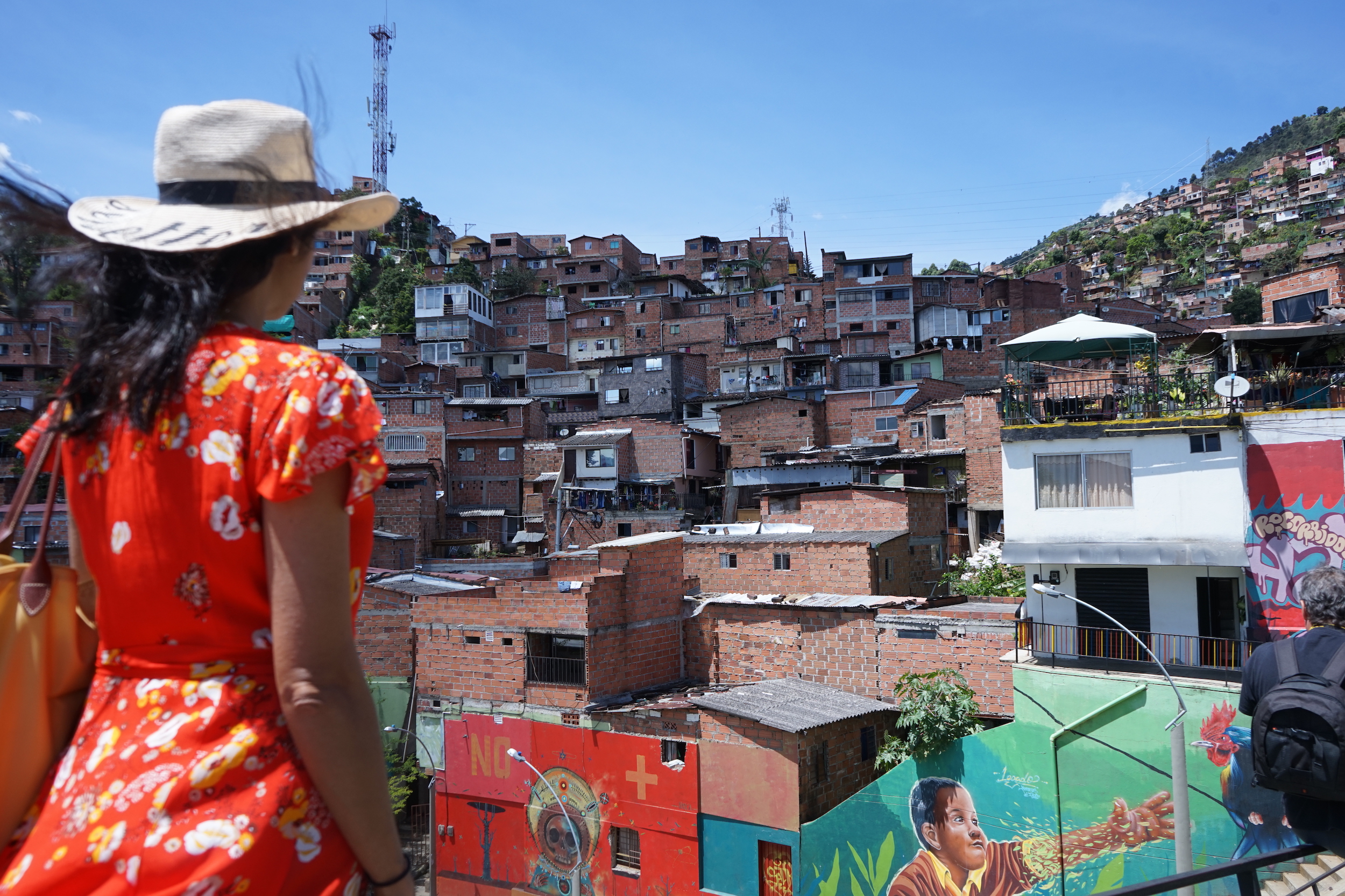 Go during the day and take the metrocable to the Santo Domingo stop. Get off here to admire the sweeping views of the city and then take the metrocable farther to Parque Arvi. This ride to the park will have your jaw dropping in awe at the vast forest land that encompasses this beautiful park. Once you get to the park plan to spend 2-3 hours to truly experience this tranquil environment. There is even a small market up there that sells beautiful local handicrafts. Tip: Using the metrocable, at the Acevedo station take the metrocable Line K to Santo Domingo and transfer to Line L. The park is open to the public from Tuesday to Sunday 9:00am-6:00pm. Wear comfortable walking shoes, bring a jacket and definitely some sunscreen.
Fascinating history, culture, and art
To really understand Medellin, I signed up for a free walking tour one morning with Julio Cesar Diaz, a local with Real City Tours.  Here are the key takeaways from this tour about Medellin:
The people of Medellin are referred to as Paisas. Known to be hardworking and with a strong entrepreneurial spirit, they often have a reputation for being good business people. In the 1800s and 1900s two groups of Spaniards came into Antioquia, the Basque and the Jews. After roughly 400 years of mixing together, we have what is now referred to as the Paisas. The mountain topography of Medellin also made it difficult to move around and the isolation made the Paisas feel unique and different from the rest of Colombia. With the creation of railways, the isolation was broken and gold and coffee were sold and opened doors for the technology revolution. Many of the biggest businesses then were founded by Paisas.
At the age of five, Julio remembers waking up to a huge bomb just four blocks away from his house. Apparently, this was a message from one drug cartel to another. He says some people don't know what to believe about the drug lord Pablo Escobar – he was either a Robin Hood or a terrorist. Some don't like to talk about him at all and prefer instead to look forward. Julio will walk you through the political and drug war that nearly destroyed Colombia in the 80's and the pillars of transformation today. One of the pillars is the "democratic architecture". Julio uses the term to define the transformation of once unsafe public spaces into safe meeting spots through the use of art installations, libraries and other cultural buildings. Take for example the Bosques de Luz (forest of light) in Cisneros Square – a square made up of 300 light masts that stand at over 22m tall. In the days of Pablo Escobar, the square was known as the "square of crime". But today it's a symbol of hope, where both kids and adults look at this space and feel motivated to hang out here. The buildings that used to house the terrorists years ago are now transformed into libraries that include programs for kids, retired people etc. Julio calls this "education with dignity".  The Santa Domingo neighborhood was also an unstable area after sunset. Until 2003, it had a 5pm curfew enforced. Today it is home to the Spain Library Park, designed by award winning architect Giancarlo Mazzanti.
Botero Plaza – This is a beautiful outdoor park that proudly displays 23 sculptures donated by renowned Colombian artist Fernando Botero. The park is surrounded by the Museum of Antioquia, and the Rafael Uribe Uribe Palace of Culture. Botero's statues can be referred to as "the language of volumes", which is an apt description of his style. This square is another example of "democratic architecture" and attracts many visitors and locals alike.
Easy day trips to coffee farms and laid-back sleepy towns
When in Medellin, a visit to a coffee farm or finca seems like a must. After all, who hasn't heard of Juan Valdez and the famous Colombian coffee! Being short on time I decided to instead take a trip to a small town called Guatape, just about an hour and a half outside of Medellin. I worked with Daniel Giraldo, who owns The Andes Adventure in Medellin and is a walking encyclopedia of Colombia. His passion for his country is obvious as we set out one early morning in his car to what is dubbed as the most colorful town outside of Medellin – Guatape.  This town is known for its houses decorated with colorful bas-reliefs. It's located by the lovely Penol-Guatape reservoir and the nearby Penol rock is therefore a must see for the view from the top. Right before you reach Guatape, Daniel stopped at a roadside shop for irresistible Pan De Quesos – cheese bread that is piping hot straight from the oven. Once we had had our fill, we drove onward to the Penol rock, a massive stone rising over 650 feet out of the flat ground. It's a 10 million-ton rock that took about 5 days to climb, back in the day. Today it maybe takes 20 minutes and 650 steps and the view is worth it.
Get your Salsa fix – the dancing kind
I love dancing. It's one of my passions and so we set off one night to explore the night life around Zona Rosa. The little bars are packed with people grooving to Latin beats, mostly Salsa and Merengue and a lot of Reggaeton as well. South Americans love to dance, young or old, music and dancing is in their blood. If you're not into dancing just sit at the bar, or an outdoor café and enjoy the nightlife spilling out into the streets as the music wafts over you. This is Colombia!
When the people of Medellin look back into the past, there are no sad memories according to Julio. He says the people have a remarkable memory switch, they just turn it off. They take small moments of happiness and transform them into massive reasons for celebration. The metro for example is more than a means of transportation – it's a transformation. You won't see graffiti or trash on the floor, inside the metro everyone behaves because of what it represents. Julio says "if we Colombians can be happy in spite of our own difficult circumstances, can't everyone else in the world be as well?"  He has a point! The perception of Colombia as a dangerous country may be a challenge to shake off, but I felt completely safe and incredibly welcome. As Daniel from The Andes Adventure would say, "don't give papaya", which is a translation of a Colombian saying which basically means don't let yourself be taken advantage of. So just like you would in any other city, be aware of your surroundings and don't venture into desolate alleys after dark. Colombia has its arms held wide open, don't be afraid to be enveloped by its authenticity.  If you're ever in Medellin, make sure to contact Daniel (theandesadventure) for an immersive look into Medellin. The journey will become more than just random sights and landmarks. Medellin and its history, culture, and people come alive with Daniel. His passion for his country is unmistakable. Colombia's resilience to transform itself is undeniable. And Medellin's reputation as most dangerous city to most innovative is indisputable.
For more information on this trip, please take a look at my posts on Instagram.