Ranging from leisurely to adventurous travellers, Vietnam has something in store for everyone. This country can be visited throughout the year. People with different tastes, preferences and age group can enjoy Vietnam. I travelled to this beautiful country back in 2017 with my husband and 6 year old daughter. From my experience here are the 10 top reasons to visit Vietnam.
1. Stunning natural beauty
Vietnam is one of the most beautiful places in South-East Asia. It is gorgeous. The varied landscape make it even more exotic. Vietnam is a land of lofty mountains, pristine beaches, spectacular rice fields, virgin islets, national parks and tropical forests. The rain forests in the country houses few of the most endangered species in the world. Basically, Vietnam will offer you a variety of options to choose from. You can plan and select places according to your preference.
Did you know? Vietnam is home to four UNESCO Biosphere Reserves.
2. Ha Long Bay
One of the most recognised and striking landscape of Vietnam is definitely the Ha Long Bay. The magnificent rock formations  attract millions of travellers year each. It is a UNESCO World Natural Heritage Site. Spread over 1,553 square kms, the region has almost 2,000 limestone islands and Karst in different shapes and sizes.
This creates a spectacular seascape of lofty uninhabited island. As a result, this exceptional scenic beauty of the Ha Long Bay is major tourism booster for Vietnam. In fact, it is considered as one of the top reasons to visit Vietnam.
Moreover, the Ha Long Bay holds an important position in the history and cultural landscape of Vietnam. It was an important naval defence base for the country. This bay has helped to prevent Chinese invasion into the northern Vietnam. In the 19th century, a group of French visitors made this region popular.
We booked the Ha Long Phoenix Cruiser (3 Days 2 Nights) at Ha Long Bay. The end to end service of cruise was praiseworthy. The friendly staff, awesome hospitality and mouth-watering food made our stay memorable.
Furthermore, it's worth mentioning that Ha Long Bay will give you an opportunity to enjoy one of the best sunsets of your life.
3. All season destination
Being a tropical country, Vietnam is primarily hot and humid throughout the year. Thus, Vietnam can be visited any time of the year. However, the best time to visit would be Spring (March to May) and Fall (September to November).
The average temperature ranges between 15 to 25 degrees. Due to Vietnam's elongated narrow shape, the country experiences the effects of both tropical and temperate climate. The wide range of latitudes results in a variety of climatic conditions in different parts of the country.
Summers are hot and humid. Winters are comparatively dry and less humid. It is best to avoid the rainy and typhoon season as the torrential rains may spoil all outdoor activities.
4. Vietnamese food
The country undoubtedly offered us some of the best food we had during our travels in South-East Asia. Definitely one of the primary reasons to visit Vietnam. Food is an important part of its culture. Vietnamese food has a perfect balance of greens, carbohydrates, protein and vegetables. Thus, it is stomach-filling yet light.
Thai delicacies may be a close contender. But Vietnamese food won our hearts. It is always colourful, fresh, balanced and healthy. From the most popular Pho soup to spring rolls, flavours galore. Each dish has a distinctive flavour and made with lots of love. Fish sauce, rice, herbs, colourful vegetables and shrimp paste are few of the most common ingredients used in Vietnamese cuisine.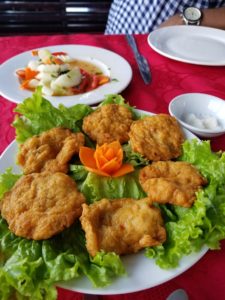 .     
.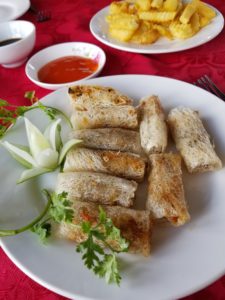 5. Relationship between Vietnam's colonial history and cuisine
Discovering the interesting relationship between the country's past colonial history and Vietnamese food was one of the highlights of my journey. The country survived 1000 years of Chinese domination followed by French and Japanese invasion.
In 1945, Ho Chi Minh took control and declared Vietnam independent. As a result, the Vietnamese cuisine is specifically influenced by the French.
The French colonial rulers brought many ingredients and flavours to Vietnam. For example, the French introduced ingredients like asparagus, potatoes and onions. These vegetables didn't exist in Asia back in 1800s.
Onions are now widely used in Vietnamese cuisine. They are called hành tay or "western" shallots. Potatoes are called khoai tây or Western yam. Though not as popular as the local sweet potatoes, they are very much a part of Vietnamese food.
In fact, 200 years ago, it was the French colonists who brought coffee to Vietnam which has an excellent geographical condition to grow the crop. Today, coffee has become an integral part of Vietnamese cuisine. To clarify, currently Vietnam is the second largest producer of coffee in the world.
Even the famous Baguettes (Bánh mì in Vietnamese) has its roots in French cuisine. In the 1800s, breads were not common in South-East Asia. French brought crisp crust thin loaf bread to the country. Vietnam has also customised and adapted the baguettes. They make it with rice flour.
Furthermore, the most popular Pho soup might also have a French connection. Pho has lots of similarity with the classic French Pot-au-Feu. Both use beef bone stock, ginger and onion.
6. Extraordinary handicraft 
One of the best souvenir we bought from this mesmerising country is a token of its 700 year old tradition. The popular Vietnamese hand embroidery. Vietnam has its unique artistic tradition and history.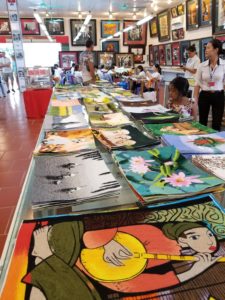 Learning sewing, painting and embroidery is an intrinsic part of Vietnamese culture. Traditionally, young girls are encouraged to learn hand embroidery.
It is a very common and a popular extra- curricular activity for girls in schools along with sewing and cooking.
In almost every household, female members would decorate pillow covers, table cloths and curtains with these amazing hand embroidery.
Vibrant and bright pictures are sewed on a piece of cloth with the help of colourful threads. The intricate details of each and every image are woven with a typical cross-stitch needle work.
Each and every piece of art has a theme. They reflect Vietnam's culture, tradition, religious beliefs and natural beauty. They are entirely hand crafted and thus, expensive.
7. Pearl cultivation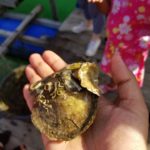 For decades, pearls have been a symbol of beauty and elegance. Vietnam produces this 'natural gem'. One of the most noted farms is the Ha Long Bay Pearl Farm. This farm produces salt water 'Akoya' pearls and it is open to public.
In this farm you can understand the process of pearl harvesting. The friendly staff explained us the entire process starting from harvesting to extraction of pearls.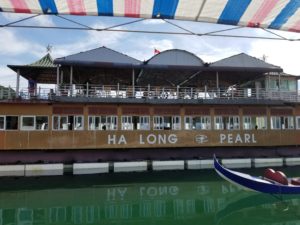 Nurturing and cultivation of pearl is an extremely slow process. Pearl is a unique gem created inside an oyster.
It takes over five years for an oyster to mature enough to produce a pearl.
Moreover, a salt water pearl has a longer life span outside the shell as compared to fresh water pearls.
The harvesting of pearls depend upon various factors including depth of the water, salinity and environmental pollution.
8. Exploring the natural wonders 
The tropical wet climate led to the formation of limestone caves in Ha Long Bay. The limestone formation of this region dates back to 500 millions years. Majority of the islands are untouched by humans and thus, pristine.
Moreover, the beautifully sculpted caves and arches created by these lofty natural pillars add more dimensions to the entire seascape.
There are several such caves scattered over the bay area. These natural wonders can be explored by Kayak. They are super fun and exciting. Even my 6 year old daughter (adult accompanied) was out there and thoroughly enjoyed kayaking.
Out of many, the most commonly visited is the Sung Sot Cave. It is located on the Bo Hon Island. This humongous cave is adorned by stalactites and stalagmites.
9. Outdoor activities 
Vietnam is known for its pristine beaches. There are enough opportunities for various activities including surfing and kayaking. In fact the smaller isles and karst mountain caves are only accessible by Kayak. Vietnam has quite a few hiking trails which attract hikers from around the world.
10.

Affordability 
Lastly, being a developing country, Vietnam is quite cheap in terms of transportation, accommodation, food, shopping and adventure activities. In fact, a survey released in 2017, named Vietnam as the most affordable country in the world for foreigners. It is one of the best options for budget travellers. Backpackers can easily make it within $50 per day. The best part is that you can also avail luxury accommodation at an affordable rate.
Food is extremely cheap. Do you know why? Vietnamese food is balanced and filling yet light. It doesn't include exotic spices or ingredients. It is made out of fresh and nutritious greens, vegetables, proteins and carbohydrates.
Overall, Vietnam is a year round destination for travellers across the globe. There isn't any good or bad time to visit the country. It all depends on how you want to spend your vacation. Enjoy Vietnam!