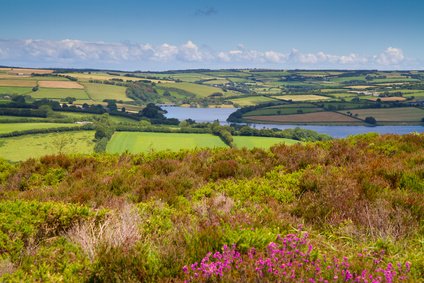 It was six forty-five in the morning as our USA plane touched down at Gatwick airport. This was the start of my one weeks vacation in Southern England. As we drew up to the disembarkation gate the captain told us the weather forecast for the next few days was warm and sunny … what a bonus no rain.
Once we cleared customs and located our hire car which, as luck would have it, had a diesel engine. What a great reward, considering gas is around five dollars a gallon in the UK and this car would achieve sixty miles to the gallon. So off we set on our journey down to Devon, where the rolling hills and lush green valleys are a sheer delight. When we turned off the highways (after an hour) and on to the county roads the scenery started out quite level, with the odd hill scattered here and there. All of a sudden I began to see Stonehenge straight ahead. As we approached the amazing monuments of age-old stone my heart began to sense a bygone age of ancient rituals. I slowed down to a crawl (much to the disgust of the impatient drivers behind) and could envision sacred blessing being bestowed to faithful worshipers. A time gone by that holds many mysteries and conjures up mystical thoughts that spark the soul.
All to soon the unexplainable stones disappeared in the rear view mirror as the car picked up speed and headed towards Devon. As the scenery began to change to rolling hills there was no need to look at the map to know we were approaching Somerset and then Devon. Originating from Florida where everything is flat, the rolling hills were a truly a refreshing pleasure to behold.
After four hours driving and one rest stop for toasted tea cakes and tea, we arrived at our Devon cottage in the countryside where we were to spend the first week of our vacation.
Lancombe Cottages is a delightful series of eight individual cottages catering to all tastes in size. We lodged in a one bedroom cottage that was the home of two horses before the conversion to a holiday home. It was tiny but very comfortable. The owners of Lancombe Cottages are Vanessa and Chris Lewis. They are a wonderful couple who go out of their way to make every guests stay a pure pleasure. With a heated indoor swimming pool and children's play area the secluded cottages are and idyllic setting for a peaceful holiday. Magnificent Rolling hills that encircle the cottages accommodate a farm with sheep, cows, a Rooster and an angry farmer who will not allow anyone on his land. Of course one day we tried to walk over to the cows only to be told to Bugger off in no uncertain manner. Gee! it's great to be back in the UK and be greeted with such frank honesty. When I blew the farmer a kiss his faced turned to beetroot (nice to see county folks with color in their cheeks)
Chris's father was MP for a north eastern town in England for many years. One evening he brought over his fathers memorabilia, which contained amongst other things, a collection of letters Chris's dad had receive from Winston Churchill, Harold Macmillan and the infamous Enoch Powell. Every letter told a story and there was even some correspondence from a minster at the center of the Perfumo affair in the early sixties. What! you don't remember the call girl scandal that brought down the defense minister…..Of course you do. They made a movie called "Scandal" and I was reading a letter that was part of all the Hoo-Har……Fascinating stuff.
The cottages are very close to the sea side towns of Paignton (Famous for its great zoo), and Torquay. Both are well worth a day visit and the zoo is a real nature reserve in natural settings. but be warned … very hilly. Torquay takes first prize for magnificent Gardens and superb sea front walking promenade. No wonder they call it the "English Riviera" It even has palm trees, swaying in the light balmy breezes. As we walked along the promenade we came to a large grassed area that was holding a festival in aid of a charity. The site was filled with many Marques that had children's gifts and there was a large stage for children's entertainment. A little further down the line was a marque with a large sign "Free Men's Health Check." It has been twenty years since I had a health check so what a golden opportunity to get an examination. "What do you do" I enquired. Cholesterol, blood pressure, blood sugar levels, and testicle test came the reply from a young good looking nurse. "Really, where do I sign up" was my immediate, cheeky smiling, response.
All my blood levels were perfect, then it came to the testicle test. The cute young nurse brought over a rubber sack that resembled a mans genitals and she showed me how to squeeze each testicle looking for and signs of a lump. It was not the physical I imagined, but it was an important piece of information on do-it yourself health check that can save a life. I had learnt something new and I thanked all the staff kindly for their great work in preventing illness. Another bonus to a great holiday.
There was an adjoining marque so I went inside to see what was going on. My eyesight is not what it used to be when it come to reading small print. Sitting on a table was a basket with small black packages in it, that had the words "extra strong" in bold white letters. The rest we lots of small words I could not read without my glasses. I Thought they were extra strong mints, so I asked the girl if it was OK to take a couple. "Yes, certainly it is OK and you will need this lubricant to go with them." She kindly replied. "What! Lubricant with a mint?" I laughingly responded.
She laughed out loud and declaimed, "They are not mints .. They are condoms"!!! The laugh was on me and everyone in the tent fell about laughing. What with testicles and condoms this was turning out to be very safe sex, but alas……. No mints!!!
Meanwhile back at the cottages Vanessa and Chris had organized a get-together with all the other guests. It turned out to be a great party with many interesting English folks who all had stories to tell. More about that some other time.
Another lovely place close by is the ancient town of Totnes. It is a town steeped in English history. Steeped is the correct word for the town is built on an extremely steep hill and walking up is not for the unfit. We had a lovely guide to show us around and tell us of the local history. Medieval legend has it that, Brutus of Troy, (based on myths) is the originator of the British race And this would be the place early settlers would have arrived along the South West coast in the 10th century. Totnes, which means 'The Fort' was originated by the Saxon kingdom of Wessex. In 1206 people secured their charter of independence from King John, and sent their first MP to Parliament in 1295. The list of Mayors in the Guildhall begins in 1359.
Many houses in the town depict the wealth of rich merchants from the 16th century, several with lavishly carved ceilings. Throughout the Civil War, both sides used the town as a base, with Sir Thomas Fairfax, Charles the Second and Oliver Cromwell visiting the town and leaving their mark in the history books. Today the ancient character of the town is still in felt with the clock tower in the center to chronicle an ambiance of past era. Shoppers will enjoy strolling around some unique and diverse shops in the town. It also boasts of a great old fashioned fishmonger with very fresh fish.
There are so many day trips in the local area, we would have needed a month to see them all. One of the place we did visit was a working farm called Pennywell. It is filled with an assortment of half-hourly events and various cute animals that make for a very enjoyable day out. The highlight for us was the bird of pray display that was truly amazing. Another subject I will be writing about in an other article.
Some of the other places to visit in the area, which the locals told me were great fun are: Canonteign Falls , Cardew Teapottery, Coleton Fishacre House and Garden, Dartington Ciderpress Centre, Hedgehog Hospital, Paignton and Dartmouth Steam Railway, Quaywest Waterpark, River Dart Country Park, Sharpham Vineyard, Sorley Tunnel Adventure Farm, South Devon Railway, Totnes Rare Breeds Centre, Woodlands Leisure Park. Numerous choices and with our weeks visit was bathed in sunshine, we visited as many places as we could.
************************
Bio sketch MICHAEL LEVY
Michael levy was born in Manchester, England on the 6th March 1945.
After many life experiences and a successful business career he retired to Florida in 1992.
In 1998 Michael established Point of Life, Inc., as a vehicle to project his philosophy and spiritual understanding. The website www.pointoflife.com and the associated newsletter (Point Of Life Global Newsletter) are visited and read by thousands of people around the world every month. Michael is a frequent speaker on radio, television and at seminars where he shares and discusses his views about the purpose of life, finding peace and enjoyment and leading a healthy, stress-free life.
In just a few years he has become a world renowned poet. In 2002 Michael was invited to become a member of the prestigious Templeton Speaker's Bureau.
Michael has recently established the Point of Life Foundation, a National Heritage Foundation dedicated to bridging the gap between science and religion and to bringing a clear, unbiased message to the general public to help them lead a meaningful, sharing and enjoyable existence. Starting in 2003 the Point of Life Foundation will present seminars and conferences bringing together opinion leaders from the fields of science, religion, medicine, philosophy and nutrition to help find common guidelines for leading a purposeful life.
Michael Levy is the author four books "What is the Point? ISBN 0966806905", "Minds of Blue Souls of Gold"ISBN 0966806913 , "Enjoy Yourself – It's Later Than You Think"ISBN "0966806921 and "Invest with a Genius"ISBN "0966806948. His poetry and essays now grace many web sites, Journals and Magazines throughout the world. His philosophies have become a major source of Truth, Wisdom and Love for many world organizations.
Web Sites www.pointoflife.com