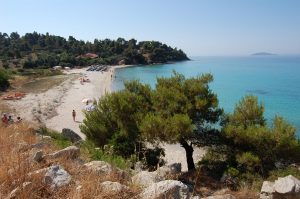 Halkidiki is the "3-finger" peninsula located in the northern part of Greece. Left in the shadow of Greece's famous destinations (Santorini, Corfu), Halkidiki is a real surprise for its visitors. It is known for its golden sand beaches and crystal-clear waters and for its proximity to Greece's second largest city after Athens, Thessaloniki. It boasts the largeset monastic complex in the country, Mount Athos.
Images that come to mind when discussing Halkidiki are always framed with the blue Aegean Sea. And the numerous beaches inviting one to relax on them and swim in their turquoise waters. Mount Athos is on the third "finger" of the peninsula and is closed for tourists. But the first two fingers, Kassandra and Sithonia, welcome their guests with ancient, well preserved villages, sea side resorts and remote beaches waiting to be discovered.
Best beaches in Halkidiki: Kassandra
Starting on the Eastern side of the peninsula, your first stop will be Afitos. The beach in Afitos is one of the best-known sandy beaches in Greece, but the impressive thing here is the color of the sea: a turquoise – blue with shades of green.
Next in line on the Eastern cost of Kassandra is Kallithea. Kallithea beach is not very wide, and the water is clean and very clear due to all the large stones lining the beach. Kallithea means "the best view" and you must go there to see why.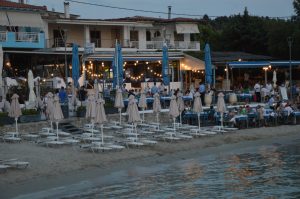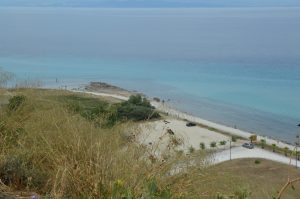 Kriopigi is another large resort featuring villas and hotels; to get to the beach one needs to walk 1 kilometer through the woods. Some hotels will offer transport. The beach of Kriopigi is a little isolated and it is bordered by a hill covered in pin-trees, so in the afternoon they offer natural shadows. There are some stones in the water, but once you swim past them you can enjoy the sand on the bottom.
One of the biggest resorts in Kassandra, ready to receive tourists, is Hanioti. The beach in Hanioti often becomes overcrowded, but it is one of the most animated places in Halkidiki for those seeking night life (or at least a fun evening).
Two of the best beaches I discovered in Kassandra are Paliouri and Golden beach located in the south. They are both sandy beaches, very large and with a smooth water entrance. Paliouri beach has sunbeds and umbrellas while Golden beach is more open.
I saved the best for last and that is my favorite beach here: Possidi beach. Located on the Western Side of Kassandra, Possidi beach is a cape with a lighthouse on it. If you walk to its top and look at the lighthouse you will have an amazing view with a long sliver of sand bordered from both sides by the sea.
Right where the beach ends the water currents are very strong and the waves always clash here.
The western side of Kassandra features other small resorts and isolated beaches. Once you start exploring it this part of Greece, you will always discover something new!
Best beaches in Halkidiki: Sithonia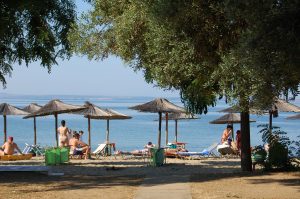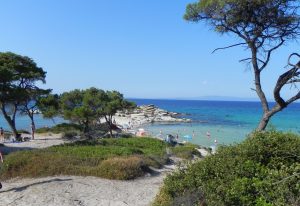 Karidi beach in Vourvourou is among the best beaches in Sithonia. Bordered by a pine tree forest, with fine sand and shallow waters, Karidi is perfect for small children. It is not very accessible, but families still come here to enjoy it.
Sarti has also an interesting, wide beach, with sunbeds and umbrellas, but it has a steep water entrance. Sarti offers the best view of Mount Athos.
Porto Koufo is the biggest natural port in Greece and it was used during the war to hide ships. The water entrance is smooth but at some point, it becomes very deep and with water offering a diversity of changing olour. A great discovery was also Kalogria beach. I liked the name so much that we said we must visit it; we did and discovered waters with manyt shades of blue.
After visiting both sides of the peninsula, I think Sithonia hosts the best beaches in Halkidiki.
Halkidiki beaches are the main reason to visit this part of Greece. But if you are not a beach person, small villages, amazing views and other attractions will still convince you it this is paradise! Add this part of Greece to your bucket list because Halkidiki is still one of Greece's best kept secrets!