A slice of local life on Skopelos Island
Last June, my husband and I spent three wonderful weeks on Skopelos Island in Greece, the largest island of the Sporades chain east of the mainland. One evening, after a dinner down by the Skopelos town harbor at Στου Δημητράκη (where we dined on giouvetsi, mousaka and ekmek, by the way), we ventured back up the hill around to the City School to watch a night of traditional dancing. The show started at 9 p.m. and lasted to midnight and was hosted by the Cultural & Folklore Association of Skopelos.
Jill Somer, assistant director of Skopelos Foundation for the Arts, told me that this was the first night of three end-of-year recitals for a local teacher who had 200 dancers enrolled, including children to adult age groups. Here's a poster for the festival, which I retrieved from Skopelos News blog.
As you can see from the poster above, the festival continued through Sunday night and featured ballet, modern dance, gymnastics, and musical performances.
The concert was held in a large concrete amphitheater. Dance teams performed traditional dances from various locales and regions of Greece in the dresses and suits of the respective areas.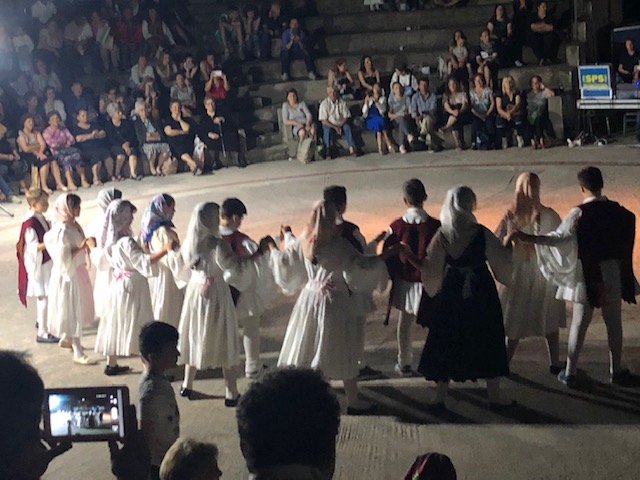 When we arrived, many people were there, watching in the stands or chatting on the large plaza behind the dancers. People filtered in and out of the stands all throughout the night.
Parents and grandparents scurried to and from the dance floor to take close-up pictures on cell phones and tablets.
Some kids played in a large concrete plaza off to the side of the amphitheater. Others practiced their dances while they waited their turn to perform, adjusting their dresses and suits as they prepared. And of course, the occasional cat wandered through.
It seemed to mostly be a local crowd, but there seem to be so many people visiting and re-visiting Skopelos Island, that the definition of a "local" might be a little blurry here. (And let's be real, that probably depends on whom you ask!)
At midnight when the concert concluded, we walked back to our unit at Mayorka Apartments.
It was a long trek, but much of the town was still awake.
Neighbors chatted quietly in the streets and tiny walkways.
Two or three random scooters with bright headlights zoomed past as we stepped aside.
Google Maps refused to refresh our trek, and we finally gave up, deciding instead to just keep going up and over to where we knew we would eventually find our apartment. At one point as we climbed, the stairway before me continued as far as I could see.
Envision Jacob's Ladder or the Stairway to Heaven and you'll get the picture! Eventually, we found a landmark (what we called the stone wall), took a left, and knew we had only one final push to the summit.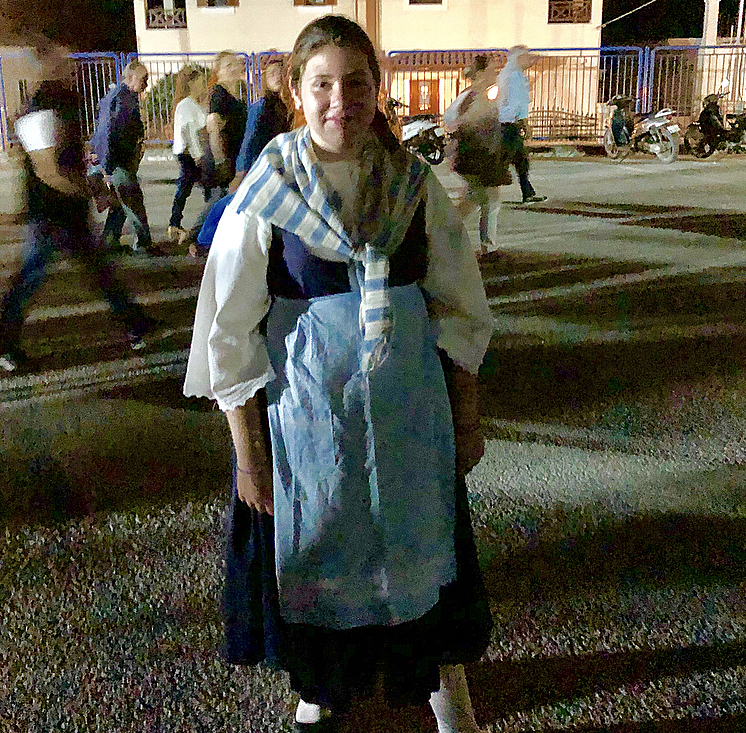 The night was breezy and mild.
The music was loud.
The culture was "full steam ahead."
Footwear varied, as it often does at kids' dance recitals back in the United States. Some kids opted not to wear traditional dance shoes. Some girls wore black shoes and some wore shimmery pink shoes instead. A few boys wore Nikes and Converse instead of black loafers.
I was fortunate to be able to see this slice of authentic Skopelos Island culture. Being a teacher, I had wondered where the school was located and was surprised that it was nestled right in with the hotels, homes, and businesses of this beautiful little town.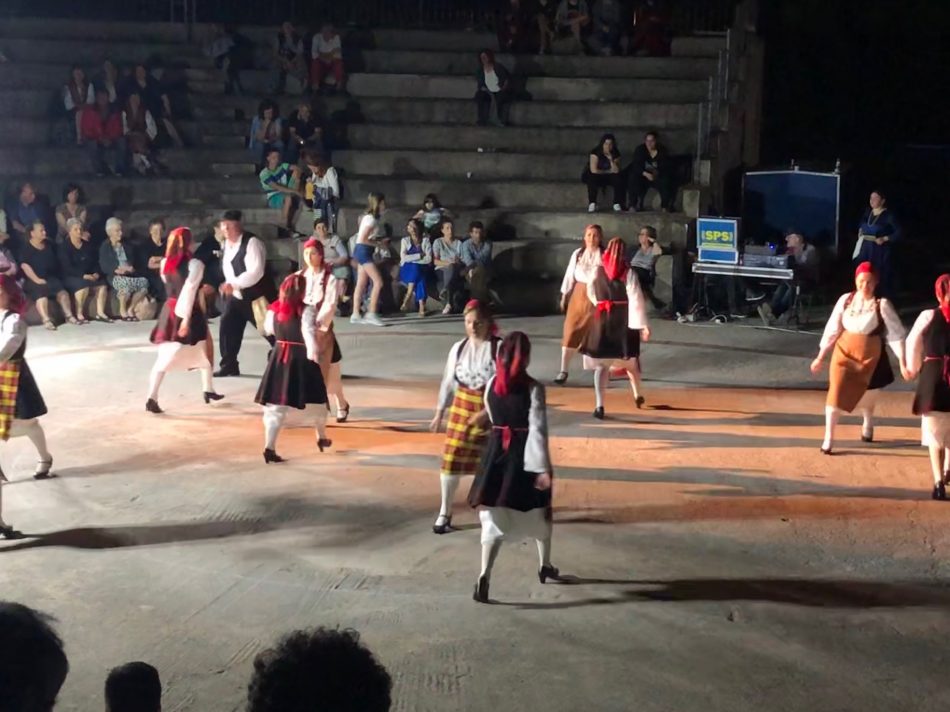 Thanks for reading about one of the more interesting nights on Skopelos Island! It was a beautiful opportunity. I'll post soon about the Skopelos Foundation for the Arts, where my husband served a three-week artist's residency.