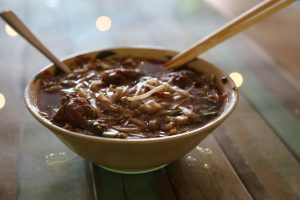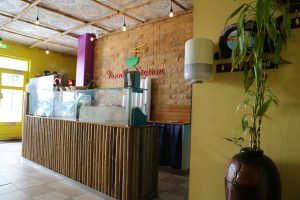 I've never come across such a wide range of plays of light and darkness in a single day as today, my first introduction to Iceland. Enormous dark clouds layered themselves over plateaus in the distance – themselves layered by alternating white and dark between land, snow and glaciers. The sun shone in the foreground contrasted by the darkness in the background. The play of light and color between the water, the sky and the clouds was impressive all day.
While stumbling around town I came across the Noodle Station, a small nondescript restaurant hidden away in some sort of Industrial park area. Expecting to find the typical dramatically altered non appealing Thai food that I have come to expect outside of Thailand I had no hopes for the food here.
I walked in the door and spotted a photo of Robin Williams hanging on the wall posing with the owners. The lady at the front immediately gave me a price in broken English – this was odd so I asked for the menu. "No menu she replied, we only have one dish" – apparently, normally they have two dishes – a beef soup and a chicken soup. Today (and as it turns out, all week) they were out of beef. For obvious reasons, I opted for the chicken.
This delicious soup arrived not more than a moment later – all the normal priks (extra seasonings) that I've come to expect at noodle shops in Thailand were waiting – Thai music was playing. I was sitting here in Iceland having a really good Thai soup. Who would have thought?!
Later in the evening I drove slowly around Reykjavik – watching the sun part through the clouds at times – lighting the far shore while the boats in the harbour were hidden by the clouds.
Then I stumbled across Valdís Ice Cream in the old harbour area. On such a brisk evening I was amazed to see a line out the door and a crowd of people inside all waiting to order various flavors of ice cream. Yes, I can attest this ice cream was worth the wait!
I then spotted a round building on the hill in the distance perfectly lit up by the sun while ominous dark clouds hovered behind it towards the snow covered hills. This turned out to be the Perlan – a strikingly memorable building containing a cafe and a nice restaurant as well as an observation deck sitting on top of city water tanks. I snuck in just before they closed and from the observation deck was treated to nice views in all directions.