The region of Skåne is Sweden's "breadbasket", a landscape filled with agriculture, both rolling hills and flatlands and is surrounded by the Baltic Sea on three sides. Entry to this region is easy – Malmö, Sweden's third largest city behind Stockholm and Gothenburg is merely 20-30 minutes by train or car from Copenhagen's International Airport. Driving is straight forward in Sweden – roads are well signed and the rural country roads are generally not heavily traveled. These locations described below are mostly located in the vicinity of Ystad with several in the region between Malmö and Ystad.
The following are a few agri-tourism highlights from our recent exploration of this picturesque region.
Southern Sweden Agritourism Highlights
Kopingsbergs Vineyard
Proprietor Carl-Otto Ottergren left a 10-year career in finance to return to his family's property and start a vineyard. His small vineyards face the Baltic Sea and on a clear day you can easily see the blue waters in the background. Today Carl-Otto focuses his efforts entirely on producing sparkling wines. Production is tiny, with only about 6000 vines, volume is measured in the number of bottles produced annually; all are hand riddled (turned).
A visit is as personal as one finds at a winery (be sure to make an appointment prior to arriving). The house here dates to the 1600's but the winery is modern and so is the tasting room. You drive down a dirt/gravel road to reach the property – and a tour and tasting is always with Carl-Otto. He is an engaging fellow who loves to talk about viticulture and the unique challenges of wine making in this climate.
Visit: www.kopingsberg.se

Osterlenkryddor Herb Farm
This family farm run is by the husband-wife team of Eva and Olle Olsson. During a recent visit, even their children were hard at work in the fields during school holidays. Their focus of production is on a variety of herbs and spices all grown and processed on site; tours are given in their fields and shop and production facilities. Their gift shop has a wonderful collection of locally produced herbs from their farm as well as other regional products.
The majority of their production is Green Herbs for use in foods. They use steam distillation to produce natural essential oils – mostly from lavender. It is amazing the diversity of products they make from lavender including bees wax, paste, oils for health uses, for use in ironing and as foot salts and soap.
Besides offering general educational tours, they offer classes in growing and using herbs in a variety of ways.
Other products grown and manufactured on site include Marigold (its oil is made for use on skin) and Lovage which has a variety of uses ranging from culinary to medical. With a small cafe on site, they serve this herb in a delicious dip as well as their other farmed products.
(Listen to Eva Olsson)
Visit: www.osterlenkryddor.se

Olof Viktors
This small cafe and bakery is located in the middle of the rural Skåne countryside. It is hard to believe that this little place produces such an array of tasty products. This is a 24 hour business – with baking starting at midnight and running through the early morning before they even open to the public. The name is tribute to the owner's grandfather and his way of life. Olof used to own a small convenience store nearby and made his own food from scratch, salting meat, making his own ice cream etc. The focus here is on healthy locally sourced and produced foods made by hand that contain no unhealthy and or artificial additives.
While this is their only physical location, they also selectively distribute to a number high end retail locations within Sweden and other European countries. As Marten Gothberg, the Managing Director told us, "people who are interested in food want to see if there is a story behind a product and we are that original story, people want to see how things are made." If you want to see their work in action just ask. They will show you the flower they use in their breads, how they roll the dough by hand and the process of how they bake the items.
(Listen to Marten Gothberg)
A visit here is a culinary treat. A small cafe and eatery is located on site; crayfish sandwiches are one of their trademarks. They go through over 3,0000 kilograms of crayfish each year! Olaf is also noted for their desserts – having won a number of prizes over the years for these tasty treats. These prize winner desserts are available at the cafe. Their long time pastry chef and chocolatier Jan Hedh is a prolific baker and author – and a number of his books are for sale in the giftshop. Visit: www.olofviktors.se

Kerstin Rosengren Design
It is hard to find a more personalized shopping experience than this one. Kerstin and her husband live in the Österlen-region just outside of the town of Glemmingebro, east of Ystad. Their restored farmhouse is next to a small road which is entirely surrounded by agricultural fields. With a degree in Fashion, Kerstin creates knitted wool clothing that honors Swedish tradition for both men and women. This is a rare opportunity to visit a fashion designers studio, gallery and workshop with her by your side as you shop!
Kerstin is also a prolific hobby farmer – with a garden that contains a surprising diversity of plants ranging from Mediterranean (such as an olive and lemon tree and passion fruit) to 150 varieties of hot chili peppers including the world's hottest, the Trinidad Scorpion. It is remarkable how with the help of a greenhouse her garden can get an early start – often in the beginning of February. By the first part of June tomatoes may even be ripening and her chili peppers are flowering, some with peppers already.

Gunnarshog Specialty Oils Farm
Gunnarshog in Hammenhog is a medium sized agricultural farm specializing in a number of natural oils including from rapeseed, flaxseed and linseed. If you visit during late Spring and Summer you may see fields ablaze in yellow – these are most likely rapeseed flowers. This product is rich in vitamins, anti-oxidants and the "good" kind of fat which can help lower blood cholesterol. They also produce skin and hair care products from the cold-pressed rapeseed oil.
Gunnarshog process a number of locally grown crops and during season they are open 24/7 for processing agricultural products. Tours are given of their extensive production facility every Wednesday and Sunday by reservation. The tour includes an overview of the silo's, the equipment needed to separate husks and the cold pressing equipment for the actual oil produced.
(Listen to Anja Persson)
All products are sold on site in their small gift shop as well as a small cafe. As expected, the oil produced here is used in the items sold in their cafe. Visit: www.gunnarshog.se

Grona Butiken pa Orelund Fruit & Vegetable Farm
Craving fresh tomatoes, cucumbers, peppers and other vegetables? Look no further than the husband and wife team of Britt and John Orelind who operate this fruit and vegetable farm. With the modern conveniences of using specialized greenhouses combined with hydroponics and long daylight hours from April through September, they can produce an array of fresh vegetables.
This farm has been in their family since 1892 – in 1989 the Orelund's formed a tomato company and built a 4,000 meter greenhouse. For those who have never seen how this type of agriculture is managed, a visit here is a fascinating experience. During the growing season vegetables are planted row after row and these tall vines are lined with fresh tomatoes, cucumbers and chili peppers. The "soil" area is quite small – rather, the crops depend on a rich nutrient base which is piped down each row.
Their small farm shop contains a number of their own vegetables and fruit including tasty strawberries and seasonally – apples, cherries, pears and plums as well as items imported from overseas. Britt enjoys canning and cooking; her Mexican style salsa, a much requested Gazpacho and other marmalades are for sale. Other regional products include specialty cheeses, breads and desserts. But the focus is on their own products. And after you have visited their store, take some time to enjoy the fruits of their labor, outdoors in the "garden cafe".
Visit: www.orelund.se
Kiviks Musteri & Applets Hus Cider
This cider shop is located nearly next door to Stenshuvuds, Sweden's smallest National Park. Orchards of apple trees dominate the surrounding landscape – Kiviks Musteri has been producing cider here since 1935 and the 5th generation is currently involved in the operations. A small museum displays some of their original equipment, the working factory can be visited and if the weather is good, the outdoor courtyard is a perfect place to enjoy a variety of snacks and drinks.
Cider enthusiasts should take note of this place – a large shop contains a mouth watering array of various apple and pear ciders as well as fruit wines. Due to Swedish law the alcohol levels of the cider are extremely low – but then so to are the prices! Two of the light wines we recommend are the sparkling white flavorful Fladerblomsvin Elderflower and the pink "summer" Sommarvin wine – with flavors of rhubarb, gooseberries and elderberries. We even brought some of these bottles back to the states – unfortunately it was only a few bottles!
(Listen to Tour Guide)
Visit: www.kiviksmusteri.se

Hallakra Vineyard
The thing about driving through the rural and agricultural Skane countryside is vineyards are easily spotted – because they are so rare. Hallakra is located among fields of other agricultural crops including wheat and rapeseed. In the late 1990's, Proprietor Hakan Hansson left a long career as a successful International banker, based in Stockholm and moved back to his family's property to start this vineyard.
Hakan is a visionary and an early pioneer in Sweden's still fledgling wine-making industry. He has a broad vision and is focused on what needs to happen in order to create successful wine-making and healthy vineyards in this part of Sweden. He is not only in this for the business of making wine but also to promote Swedish wine making through partnerships with education – in his case with the University of Lund to develop a research and development program for wine in Sweden.
He also recognizes the importance of being true to terroir – focusing on what his land will give him – grapes that are higher in acidity – growing both red and white varietals that are adapted to life in these northern latitudes such as Solaris and Rondo grapes. Solaris produces a fruity white wine and Rondo produces wines with good acidity and structure.
And then perhaps something unique. For example a dessert wine. With no preconceived notions and prior knowledge about how to make dessert wine from Sweden, Hakan thought outside of the box when crafting this wine (2010 being the first vintage). The wine is made of three of the red varietals on site (Rondo, Leon Millot and Regent) and was aged in Swedish Oak. It was then fortified with a wheat spirit – from wheat grown locally. The end result is a delicious, delicate and elegant wine that is not overly sweet.
Visits are by appointment and include a tasting, and a tour of the vineyard. Hakan's wife is an excellent cook – and she also serves food with their wine. They also have space to host small business meetings – their location is ideally located close to the Malmö Airport.
Angavallen Organic Farm
Proprietor Rolf Axel Nordström has owned this property since 1971. Today he is a visionary for his ecological sound farming practices and a farm to table organic approach. It has not always been this way in Sweden. Why would you spend additional time and cost on managing farm animals individually if there was a cheaper way to raise them collectively? However, for the better part of several decades Angavallen has proven that cheap and or industry "shortcuts" do not lead to quality of product or coincide with a more natural, or organic approach to farming.
All feed for their animals to eat is produced organically on their property. Each animal is treated with individual care, great respect is given to the young and their parents allowing them to interact naturally rather than separating them, no mutilation is done (branding, cutting tails, teeth etc), the cattle are allowed to roam free and careful attention is given when an animal becomes sick. This care and quality of life for their animals has remarkable results – their animals live significantly longer than others being raised under standard conditions and they are healthier. Similar to the aging of wine – slower growing animals leads to a better quality of meat.
Today Angavallen is a self contained community with a hotel, restaurant, bakery, gardens, animal farm, art gallery, conference facilities and a large gift shop. This is truly a family affair – two of Rolf's three sons are actively involved and his sister runs the modern art gallery on site. The restaurant is a culinary highlight of a visit here. Everything is prepared by hand made by what is grown or raised on the property. It is all organic. If they have to source something outside the property – it is within a short distance away and it must also be organic. The exception to this is their wine list – which is extensive and represents a fine International collection. Others have taken notice of their culinary standards; they were awarded "Eco Restaurant of the Year" by the White Guide, Sweden's leading restaurant guide.
They are conveniently located from Malmö (about 15 kilometers away) and about 40 minutes from Copenhagen's International Airport (CPH). Visit: www.angavallen.se/en
Wallåkra Stoneware Factory
This was originally a site where pottery was made with local clay taken from the surrounding land. The original buildings date to 1864. In the late 1980's, occupational therapist Åsa Orrmell was shown this property by a friend. She had no formal training in what would come next. The site was abandoned and in serious disarray with major work needing to be done before it would become a working stoneware factory again. In 1988 with help of friends, Asa reopened the stoneware factory.
Today Åsa overseas this rural center of creativity and is the driving force behind its success and its central mission to educate about and preserve the unique history of the property. She wants to bring to life in a contemporary setting – the beauty of the past. As she says, "if we don't preserve the past and its ways of life, we will lose this forever."
With customers and visitor's looking for culinary options in the vicinity it made a lot of sense to open a restaurant on site. Åsa converted an old storehouse, hired a chef and now serves lunch here. Using local products and ingredients is a primary goal of this restaurant – from the wash-bin and waste basket in the restroom (built on site) to some kitchen ware to herbs and other vegetables grown on site. Care, creativity and quality are essential ingredients to every meal served here.
After enjoying a meal or whipping up that "special" pot – take some time to enjoy the calm of the gardens. A stop here is worth every minute.
Visit: www.wallakra.com
Stay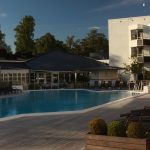 Ystad Saltsjobad
Perfectly situated on the edge of the Baltic Ocean – this fine resort delivers excellent service and pampering- from their spa, to the Port Restaurant to the comfort of their well appointed rooms. The hotel is easy to get to; it is located about 45 minutes from Malmo. The nearby charming town of Ystad has plenty of things to do.
Think there are no beaches in Sweden? Think again! Over 40 kilometers of white sand beaches are spread out along this part of the Baltic Sea. In fact their indoor and outdoor spa overlooks these beaches, a long pier and the sea. While there is a cold plunge pool inside the spa – why not enjoy the real thing. After a sauna or soak in one of their indoor or outdoor hot tubs head straight for the pier and take a swim in the Baltic! A large pool is also located in the interior of their courtyard near the lobby.
The rooms are well decorated and elegant – with many having a small balcony and windows that overlook the beautiful views below. The Port Restaurant is a hub bub of activity during dinner, with classy gentleman in jackets and ladies dressed up nicely. The food is excellent – especially their seafood. Indoor and outdoor dining available. This is a premium place to stay with an International "air". Visit: www.ysb.se/en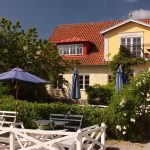 Kiviks Strand is located in the small town of Kiviks directly across from the Baltic Sea. This personally and meticulously cared for Bed & Breakfast is owned by a husband wife team. Each of the 14-rooms are individually styled; several hostel style rooms are also available. It is superbly quiet here – the inn is located in a residential neighborhood on the north end of town. A small sauna is located across the road on the beach – and guests can use this to relax with advance notice. This is your chance to swim in the cold Baltic Sea regardless of the time of year – often guests warm up and then take a quick plunge into the nearby cold waters!
Their cafe serves light breakfast, lunch and bakery items and coffee throughout the day. For more information and to reserve, visit: www.kivikstrand.se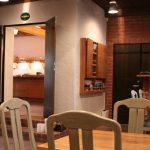 Angavallen – (see review above) – is not just a hotel but an organic farm, restaurant, bakery, art gallery – a self contained community if you will. This is an ideal location from either Copenhagen or Malmo. While Angavallen is in the country – they are only about 20 minutes from Malmo. All the materials used in their hotel rooms are environmentally friendly. They even source electricity that has been certified by the Swedish Society for Nature Conservation's "Good Environmental Choice". Choose from a two story row farm house accommodation (with a cozy loft on the second floor) to single and double rooms. Breakfast is included – and is prepared from items grown on site. www.angavallen.se/en
Our return trip to Sweden was sponsored by Volvo, Visit Sweden, West Sweden Tourism and Skåne Tourism.