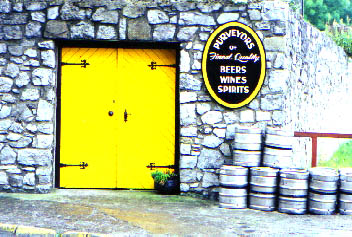 I was planning a solo trek through Iceland when my Father decided to invite himself along on my vacation. He further changed my mind and decided we were going to Ireland, a country he had wanted to see for quite some time. Being the ever-obedient son I gave in. With destination chosen, the hard part was going to be trying to figure out the logistics of creating a travel experience both of us would enjoy.
This trip had to be as stress free for my Father as possible. The upside to this would be that if Dad wasn't stressed, I certainly wouldn't be stressed. While I travel extensively for business, I still hate the hassles of driving all day then getting into a strange city or town and trying to find a clean, affordable hotel and a decent meal. I knew from previous experience in Ireland that driving the narrow shoulderless tree-lined roadways from the 'wrong side' of the car was going to be a challenge in and of itself without having to play tour guide, historian, navigator and photographer. And what about my own rubber-necking? Wasn't I entitled to enjoy the sites too?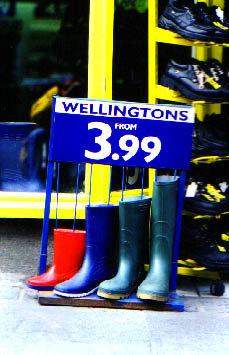 All this anticipated hassle combined with car rental charges, taxes, insurance, petrol, etc. lead me to the conclusion that this vacation was going to be "work" and I wasn't going to put up with that. So, despite having said for years that I would never, repeat 'never', be caught dead on an escorted bus tour I booked my Father and I on a one week tour of southern Ireland by escorted motor coach.
Dad had never been on a formal coach tour before and I had concerns about how well he would enjoy giving up the freedom and comfort of his own car not to mention the complete lack of control over daily departure times, time and location of meal breaks, etc. I must admit an even bigger concern was who we would get stuck with on the bus next to us for eight hours a day. These all proved to be of little consequence once we boarded the coach and started getting to know our fellow travelers, 32 in all – some from as far away as Australia, others from England, the northern United States and Texas.
Our travel companions ranged in age from mid-teens through to their seventies, which meant plenty of scope for conversation and plenty of experiences to share. We rotated seats daily to give everyone a fair shake at looking out the front window or having a window seat and while the coach didn't have an on-board bathroom facility the driver afforded us ample opportunity for rest stops throughout the tour.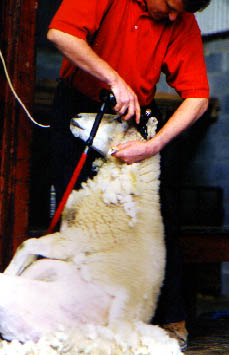 Our nightly accommodations were all in very clean hotels, some with sauna and workout facilities. Most rooms were of a comparable size to North American hotel/motel rooms with television and air conditioning, however, a couple nights we shared a cozy little room with double beds. All hotels were within easy walking distance of shopping, restaurants, pubs and a thousand photo opportunities. Every morning our luggage was picked up at our door and loaded on the coach which we found waiting for us at the front door of the hotel without fail – cleaned and ready for another day of travel and good natured camaraderie.
Had we not been part of an organized tour we probably never would have ventured to the many attractions that formed part of our itinerary including the Waterford Crystal factory, Ireland's oldest handweaving mill at Avoca, the Royal Tara China Factory, tea in a traditional 150-year-old thatched farmhouse complete with sheep shearing demonstration, and the Irish National Stud at Kildare not to mention Blarney Castle, staying in the same hotel as singer James Brown and seeing his live outdoor concert. OK, so this last part was completely by accident, but it was fun.
Throughout our seven days on the island, we sampled Irish hospitality and cuisine from Dublin through Galway, Tralee, Killarney, Blarney, Cork, Waterford and Avoca to name but a few of the many cities, towns and villages steeped in romance and tradition. As luck would have it, we were not attached by any of the little green people but I was struck by a strong desire to return.
Despite words of discouragement before we left from friends and neighbours who did their best to convince us it always rained in Ireland, we had but one day of rain and a portion of another in which we had light drizzle. But then it is this rain that keeps Ireland green, beautifully green.
Between the landscape that seldom wants for colour – over fifty shades of green they told us, the kaleidoscope of colour found at every turn of the road in the cities and towns and the flowers spilling over from window boxes and planters everywhere, Ireland is a constant source of inspiration for photographers. The often partially overcast sky makes it perfect for achieving images saturated with rich colour. Remember to take plenty of film.
Evenings and most late afternoons were available to us to explore on our own and on three evenings there were optional excursions which included a dinner banquet at Knappogue Castle and a re-enactment of episodes from Ireland's past, an evening at the cabaret in Dublin and a night out with the locals at a neighbourhood pub in Waterford.
Further, had we not opted for an escorted tour we would certainly have lacked the constant expert guidance provided by our ever jovial coach driver and tour director – both of whom had spent many years touring Ireland and could easily serve up geographic, historical, economic and cultural information at the drop of an Irish punt (punt=Irish Pound currency).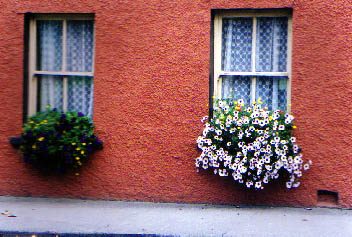 When comparing the actual cost of our escorted tour versus fly and drive, we came out winners again. Once we factored in air fare, airport/hotel transfers, car rental, insurance, petrol (and we think we have it bad here in North America), maps, guide books, meals, hotel rooms, tips, etc. we were hundreds of dollars ahead. Had we initially given ourselves a little more time to make our decision we may have been able to find cheaper airfare that would have decreased our cost even further. In total our week cost $2,100 CDN each including meals, airfare from Ottawa to Dublin, tips and tour package charges.
As with any vacation, don't forget to apply common travel sense. Always work with a trusted travel agent to reduce the chance of surprises and problems while away. My agent had extensive experience booking coach tours so was able to quickly recommend a reputable tour company and get us booked on an excursion he knew would satisfy our time and dollar limitations. Finding a travel agent you both like and trust is a difficult chore. Once you find one, hang on to them.
Protect your cash and valuables, don't flaunt your jewelry, cameras, etc. and take all your necessities including prescription medications in your carry-on. As they say, there are two kinds of luggage when you fly: "carry-on" and "lost".
In the words of the song, "it's a long way to Tipperary" but I can't think of a more comfortable and enjoyable way to get to Tipperary than on a luxury motor coach, staffed by professional, friendly, and knowledgeable staff who will do all they can to ensure everyone has an enjoyable time. I heartily encourage you to consider an organized coach tour at least as your first introduction to a new country. It will give you an informed flavour and may just inspire you to return for a more leisurely and relaxed tour next time.
Author Bio
Kent Waddington is a freelance writer and photographer
Kent Waddington