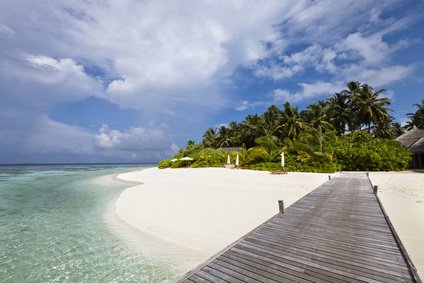 The owners of Fiji's largest budget accommodation chain have decided to counter the burgeoning bus and package tour trade by refocusing on the independent traveler.
With more and more visitors being booked onto pre-arranged itineraries straight off the plane in Nadi, Cathay Hotels (Fiji) Limited has made a conscious choice to do things a lot differently. They're betting on the market niche of those who prefer to make their own decisions about where to go and what to do.
Guests at their flagship property, Tubakula Beach Bungalows on the Coral Coast, an hour south of the international airport, have cooking facilities built into their units, relieving them of the need to purchase pricy resort meals. In keeping with the laid-back atmosphere, there are no TVs, telephones, or mini-bars in the rooms, although these are readily available in the main building, where there's also an inexpensive restaurant serving tasty local-style food.
The lagoon in front of Tubakula has been identified as a suitable nursery site for corals, and re-planting has begun. According to Cathay Hotels (Fiji) general manager Elain Barrett-Power, "Tubakula Beach Bungalows has long had a policy of minimal interference with the natural marine and coastal environment and does not offer tourist-oriented watersports in the lagoon; this means that the corals will be able to re-generate undisturbed."
At the Saweni Beach Apartment Hotel, north of Nadi Airport, the 12 one-bedroom apartments have been fully renovated with new beds and modern kitchens. This quiet property will appeal to mature travelers or couples and families in search of a peaceful retreat. As at Tubakula, starting prices are in the US$50 range, and there's a 10 percent discount on stays of a week or more.
Close to Saweni, the Cathay Hotel in Fiji's second city Lautoka is a good alternative to the tourist ghettos of nearby Nadi. Lautoka's bustling market is wonderfully picturesque, and there are countless eating and drinking options around town. Rugby players from all over Fiji come to compete at Churchill Park behind the hotel, and to prepare themselves for careers in international sports. Hotel guests can watch the action from the hotel's lounge bar, and maybe meet a few of the future superstars, many of whom will be staying at the hotel. Rooms at the Cathay are budget priced.
In Fiji's capital, Suva, Cathay Hotels (Fiji) operates the venerable South Seas Private Hotel near Albert Park. The floors of this backpacker institution have recently been sanded and polished to reveal the original Oregon pine timber flooring imported in the 1930s. Colorful canvas awnings are being fitted across the front of the building to provide additional shade and add ambience of this historic property. According to Barrett-Power, "South Seas has long catered to independent travellers looking for the 'real' South Pacific, and we continue to resist the trend towards the package and coach tour circuit." As usual, South Seas guests have access to full cooking facilities, and the gamut of accommodations ranges from low budget dorms to simple but spotless rooms with fan.
###
Cathay Hotels (Fiji) is a locally-owned company which operates the Cathay Hotel, Saweni Beach Apartment Hotel, Tubakula Beach Bungalows, Travel Inn, and South Seas Private Hotel. Their rates are non-commissionable and sold direct to the travelling public. They offer you clean, comfortable, and unpretentious accommodation, friendly staff, terrific locations, and excellent value-for-money rates. Visitors preferring more upmarket or full-service hotels will not find their properties suitable. Detailed information on all properties, including discounts and special offers, is available on their website www.fiji4less.comand in Moon Handbooks.