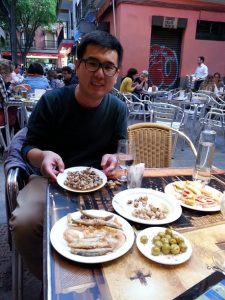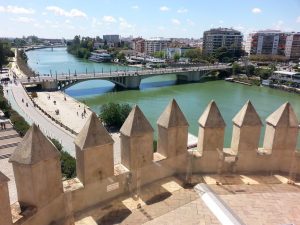 Sometimes it is better to travel and be surprised by a destination rather then trying to do research ahead of time. My time in Seville has given me a new perspective about this beautiful part of Spain and my trip here has been without any preconceived expectations. Previously I had only heard of Sevilla through an opera that was based on a story about a barber – other than this fragment of knowledge I knew nothing about this charming little town nestled in the southern Spanish province of Andalucía.
Upon arriving, I discovered a frequent bus service that takes you into the city center for €4 one-way. I got off at the main railway station and walked about one mile to my hotel, Pension Virgen de la Luz, located at edge of the historical quarter. The walk was complemented by the pleasant scent of frangipani lingering in the air – a warm welcoming treat for me.
The receptionist that checked me in was not very friendly. He spoke very little English and appeared to be rude and impatient with my inquiry about my stay but I managed to shrug off his bad attitude.
Pension Virgen de la Luz is a traditional Andalusian house that offers budget accommodation for backpackers. The room was assigned to me looked basic but clean enough and included a sink for washing and an air-conditioner.
What I liked most about this hotel is the rooftop balcony and it's spectacular view overlooking the old town. Deck chairs were provided and I soon was relaxing with a can of chilled beer in conversation with a pretty Spanish girl. All feelings of my unpleasant check-in soon disappeared as we both connected over our respective alcohol and mutual interest in travel. Gazing into her eyes, I knew I had found one more reason to love Spain. The atmosphere became even more zen-like when the bells of the nearby chapels chimed.
All the major attractions such as Alcázar of Seville, Plaza de España, Seville Cathedral and Torre del Oro are clustered around the old quarter and within walking distance of each other. Before heading out, all you need is a comfortable pair of shoes and a bottle of water to prevent dehydration under the scorching sun.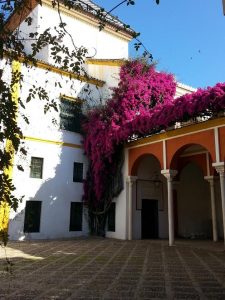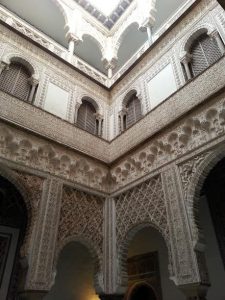 Alcázar of Seville is always packed up with visitors in the morning. I would recommend visiting it in the late afternoon when the crowds begin to thin. I started my day with a typical Spanish breakfast of churros con chocolate; this cost me less than €6 at a restaurant in a square. More romance: I watched horse-drawn carriages whisk couples away – plodding through the cobblestone streets.
After the breakfast, I made my way to Plaza de España, a semi-circular brick building with stunning Renaissance architecture that was built for the Ibero-American Exhibition of 1929. The length of this monumental building was complemented with a colossal fountain and a canal filled with row boats. I continued my journey to the riverside where anglers were relaxing and basking in the sun while waiting for fish to take the bait.
Torre del Oro is a watchtower located next to the river. This concrete tower is made up of several floors spiraling up to the open-air top that offers picturesque view of Seville. An exhibition room showcases dazzling ancient pieces dating back to the old maritime era.
Alcázar of Seville is an example of elaborate Moorish architecture but I had to admit that the overall ambiance was not as stunning as the Great Mosque of Córdoba.
The circuitous route back to my hotel took me through the windy cobblestone alleys lined with traditional Andalusian houses. I stopped at a few homes and took a quick peek into the plush courtyards adorned with various plants and flowers. This view washed over me like a gentle wave – bringing inner peace and tranquility.
I was invited to a dinner by a local Couch Surfing host named Guillermo where I was treated to a variety of delicious Spanish tapas. I was ecstatic when a plate of escargot was served – eating snails has been on my must-do list for years.
Guillermo doesn't speak much English so most of our communication had to rely on a translation app on his IPad. We later walked to La Carboneria, a pub popular with tourists catching the free flamenco show. This show would definitely energize you but do remember to tuck your camera away, as pointing your camera at the dancers immediately results in bouncers coming over your way – making a motion that cameras are not allowed. Just like they did to me!
It was already late at night but I did not want to go to bed yet. I walked to a quiet corner of an alley and took a seat on a bench softly illuminated by the glow of streetlight, soaking in the dreamlike silence and tranquility offered by this beautiful Spanish town. Losing myself in those zen moments, I made a mental note that Seville had officially climbed up on my "must revisit" list.

Teh's writings focus on a combination of reality and fictionalized accounts of his travels.