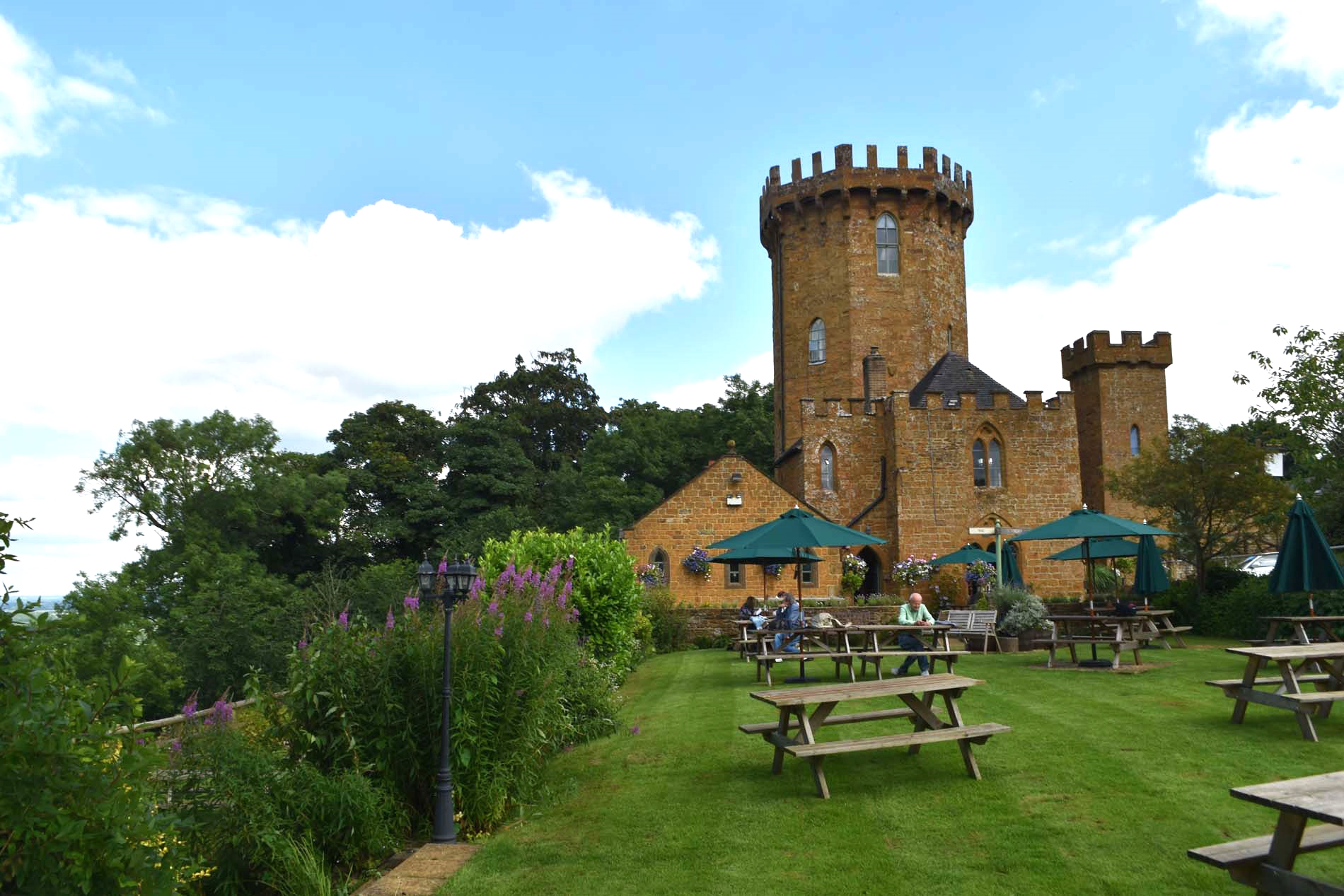 HISTORY is integral to the story of the tiny village of Edgehill in Warwickshire, the scene of the bloodiest battle in The English Civil War.
Today, the din of muskets and cannons are, thankfully, confined to those history books and the battlefields instead offer idyllic views from one of the most impressive vantage points in the country, The Castle pub.
Perched on the summit overlooking the infamous battlefields, The Castle at Edgehill is also renowned for its exceptional hospitality. With award-winning food, four-star accommodation and now, a brand new gin school, it was time to see for myself what was putting Edgehill back on the map four centuries later.
Accommodation
There is an abundance of character and opulence on display in each of the Castle's five uniquely decorated boutique rooms.
My friends and I were able to congregate for a proper girlie catch up in the grandeur of The Cromwell Suite, offering a huge space in which to spread out, set across the entire first floor, with connecting lounge and double bedroom, plus en suite.
Perfect for small groups, this is their biggest room which can more than comfortably sleep up to four people by turning down the bed settee.
Two of our party stayed one floor up in the tower's Prince Rupert room, highlights of which are the four-poster bed (a better choice for romantic weekends!) and its breathtakingly stunning vista. I can count on one hand the number of times I've woken up to a view like this one.
Both offered comfort and luxury in equal measure – and were well equipped with SMART TVs and a useful mini fridge. The quirky décor in Cromwell proved a fun talking point.
It would be remiss not to mention the tight spiral staircase guests have to negotiate to reach their quarters however, unless staying in the ground-floor Verney room.
But it's important to remember, most of the accommodation is within a tower. Access is something which should be carefully considered by the less able-bodied when selecting their room choice here. Fear not though as help is at hand from friendly staff so you won't be left to hoist your bags aloft up unaided. Two of our group had some mobility issues and managed okay.
For those willing to put in the work, I refer you back to the picture-perfect views from Prince Rupert's windows. Aspects like that don't come from ground level! (And not bad for your daily step count either!)
Restaurant
The team in the Castle kitchen pride themselves on going that extra mile when it comes to culinary creativity and excellence – a fact born out by their many awards and strong local reputation for supreme pub fare.
The chef's pledge to produce a full seasonal menu using ingredients sourced within a 30-mile radius showcases some of the best local suppliers – and if the impressive plates of food served to us are anything to go by, long may that continue!
The post-gin school treat became probably, the most memorable chapter of our stay at The Castle. We devoured our Starters of Seared Scallops (with Houmous, Black Pudding Bon Bon); Asparagus (& Crispy Hen's Egg & Hollandaise Sauce); Chef' Soup (with Artisan Bread) and Goats Cheese (with Mango Curd, Toasted Brioche & English Micro Herb Salad) followed by, in my case, simply the most exquisite Blade of Beef (& Creamy Mash & Braised Red Cabbage), literally melting in on the tongue.
In fact, all of the mains – including 6oz Beef Fillet (Parmesan Gnocchi & Spring Greens) and Asparagus, Pea & Mint Risotto and Crayfish, Crab and Lobster Bisque Linguine all won very high praise all around the table for Head Chef Pawel Neumann and his kitchen crew.
We'd been determined to leave room for desserts (if the rest was anything to go by we didn't want to miss out!), and the Vanilla Panna Cotta (with Warm Raspberry Compote); Vegan Chocolate Brownie (& Vanilla Ice Cream) and Sticky Toffee Pudding (with Vanilla Ice Cream) left us feeling full to the brim – but justified in our decision.
My friend's British Cheeseboard selection came complete with more ample ingredients than many I've seen in my time. (My husband is a cheese lover so I've seen a few!)
For those lucky enough to be staying the night, there's also a small, but delicious, breakfast menu to refuel you for the next day of exploring ahead.
The only aspect which in any way enhanced our dining experience brings us back to the views. I never tired of enjoying these.
Gin School
One of the main reasons for our stay was so, like many, we could take full advantage of The Castle's fabulous new gin school, situated in the highest point of the tower. (Yes, I'm going to bang on about those views again!)
I defy anyone to show me somewhere else in the country where you can distil your own gin recipe whilst looking out across five (yes five!) counties. The Castle tower, also known as the 'Radway' or 'Round tower', was intended to replicate Guy's tower at nearby Warwick Castle and, after sitting derelict for 40 years, it is now home to Pinnock Distillery founded by Dan Beckett.
I suppose you could say Dan is proud to have realised the 'height' of his ambitions a few months ago by also opening the gin school in this truly unique (an oft overused word but NOT in this case) premises.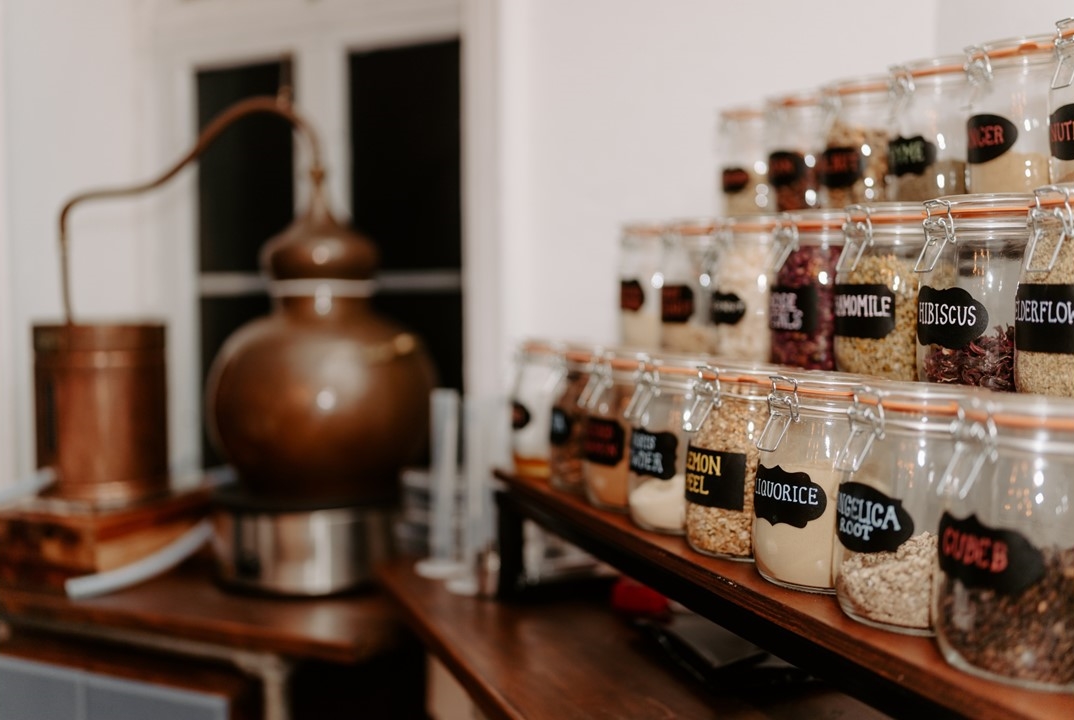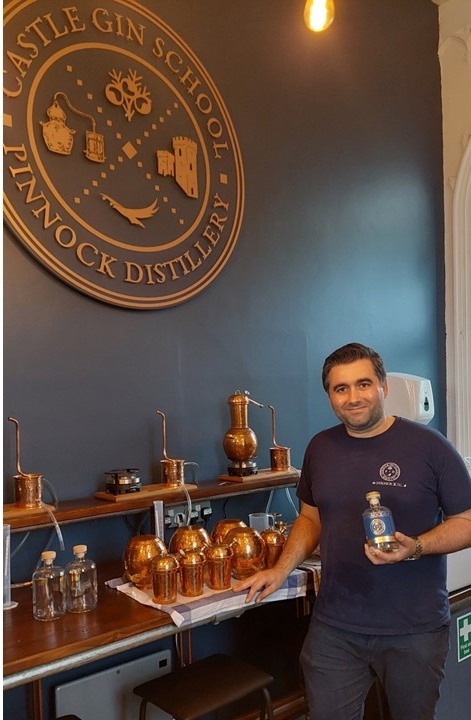 It marks a collaboration for Dan and Castle owner Mark Higgs- and, from what I've experienced, it's a partnership of pure genius. The Ultimate Gin Experience package that we enjoyed includes gin school, dinner, overnight stay and breakfast. After all, who wants to be the designated driver for this one? Especially when I tell you what the gin school entails. . .
Dan comes across as extremely passionate, knowledgeable and affable in his approach to his classes. After explaining the provenance of his products and their historical connections to The Castle (no spoiler alerts here!), we are guided through his three gins, enjoying samples along the way. Well, it would be rude not to!
Then, after a short toilet and snack break (nibbles are also laid on) Dan offered helpful advice on flavour infusions and, before we knew it, it was time to pair up and create our own unique gins armed with our recipe of botanicals and a small copper still. Plus there was plenty more gin flowing to help inspire us along the way. (Do watch those spiral stairs on your way back down from the top of the tower though!)
Three hours goes by in a flash but it's with a sense of pride that, with a 70cl bottle of our gin concoctions in hand (plus a few extra purchases) we wend our way back downstairs to prepare for dinner. (By this time we were definitely ready to line our stomachs!) What a hugely satisfying way to spend a Friday (or Saturday) afternoon with friends.
Shorter one-hour Gin Tasting sessions are also available at a lower price point.
Summary
All in all, our Castle experience could not be faulted, with comfort, character and attentive service from General Manager Dariusz Remiz and his team throughout.
While not a rambler myself, this is also the perfect base from which to explore a host of beautiful walks- and some of the rooms are also dog friendly.
It would be only too easy to let the views do all the talking here, but The Castle has found a way to make this a must-visit destination pub in its own right.
The Castle may sit in a former site of conflict – but there's nothing you'll find here anymore that's remotely disagreeable!
Visit: https://castleatedgehill.co.uk/ and https://castleatedgehill.co.uk/gin-school
Background
The Battle of Edge Hill was fought on Sunday, 23rd October 1642 and was the first major battle in the English Civil War between the Royalist forces of King Charles I and the Parliamentarian Army commanded by the Earl of Essex.
The King's army had to descend from the edge of the escarpment if they wished to engage the Parliamentarians in battle, because the escarpment was far too steep for Essex to consider an attack against the Royalist army while it was on the edge. At the time of the battle, there were far fewer trees. The battle was inconclusive, with both sides claiming victory. It would take several more years and many more battles before the Parliamentarians won the war.
The Castle first became a pub in 1822, when it was sold by Sanderson Miller and acquired by the Hook Norton Brewery in 1922, with Mark Higgs, the current tenant, taking over the lease in 2013.
Now, the venue is one of five in the Midlands under the ownership of The Free Spirit Pub Company founded by Mark Higgs.
The others are: The Bell at Ladbroke https://bellinnatladbroke.co.uk/
The Seven Stars at Marsh Baldon https://sevenstarsatmarshbaldon.co.uk/
The Sun Inn, Hook Norton https://thesuninn-hooknorton.co.uk/
The Red Lion, Hellidon https://redlionathellidon.co.uk/