It's a courageous move for an airline to begin flying new transatlantic routes during a transitional time for the airline industry, but that's exactly what PLAY has done. This Icelandic airline was founded in Reykjavik in 2019 by a team with significant experience in the aviation industry. They started flying to Reykjavik from the East Coast of the United States in 2022.
I recently flew PLAY's daily nonstop service to Keflavik, Reykjavik's main international airport, from my home in New York City. They also have daily flights from Boston's Logan International Airport and Baltimore/Washington International Airport. Initially, I was enticed by PLAY's advantageous pricing, with one-way tickets starting at a rock-bottom $99. I soon learned that there were additional benefits to flying PLAY.
An Airport That's Actually Pleasant
I usually depart from JFK or Newark. Both airports are congested, with long lines at check-in and even longer lines at immigration. I have to queue to use the restroom as well as to eat at restaurants. Any way you slice it, the experience is unpleasant.
PLAY flies out of New York Stewart International Airport in Newburgh, in the Hudson Valley, a 90-minute drive from Midtown Manhattan. It's this tiny airport's only international flight.
PLAY's website mentioned direct bus service departing from NYC's Port Authority to Stewart Airport. The bus picks up and drops passengers off curbside, so you don't deal with the chaos inside of hectic Port Authority bus terminal. The Stewart Airport Express coordinates with PLAY's daily flight, so there's no waiting around the airport for hours. I reserved my bus ticket for a reasonable $22 each way. The coach was clean, comfortable and efficient. There was Wi-Fi and a restroom on board. On my return flight from Reykjavik, I booked the shuttle back to NYC and once again, it worked like a charm.
When I arrived at the airport, there were no lines. I had no bags to check, so I practically skipped through security and was at my gate in five minutes. I didn't know such a bucolic airport experience was possible.
Nordic Style Before You Land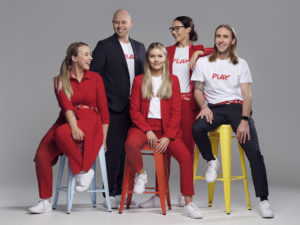 Nordic style was apparent from the moment I arrived at the gate. The Icelandic cabin crew were waiting to board, dressed in chic lipstick red skirts or pants, with matching red blazers, white t-shirts and sneakers. They each had a red puffer jackets emblazoned with the PLAY logo. They looked so youthful and sporty, they could have been mistaken for an Olympic ski team. Once I was in my seat, I found the bilingual crew to be polite and helpful.
Have It Your Way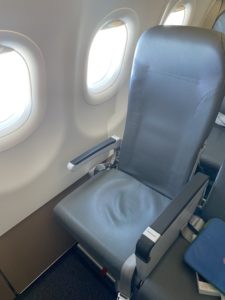 When you purchase your ticket on PLAY, you're getting a seat on the plane, nothing more. This pay-for-what-you-need model keeps fares affordable, allowing passengers to choose the upgrades they need and not pay for those that they don't. You'll pay extra for food, drinks including water, priority boarding, carry-on bags, checked baggage and a few other customizable options to enhance your flight. You pick and pay for the options you want, building an individual in-flight experience that caters to your specific needs. The checked bag fee was $99 while a carry-on bag costs $66 and includes priority boarding.
Don't Expect Frills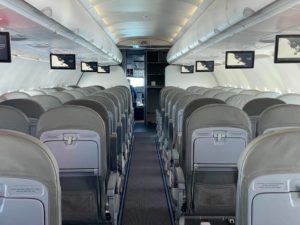 PLAY operates Airbus A321NEO and A320NEO aircraft. There's one main cabin with 6 seats per row for a 3-3 configuration. It's a no-frills experience, without Wi-Fi or in-flight entertainment.I knew this in advance and came prepared with a good book. I read and napped for most of the 5-hour flight.
You Won't Go Hungry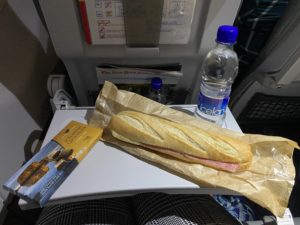 There's no full meal served on board but a range of nibbles and three types of sandwiches are available for purchase. I choose a ham and cheese baguette on my way to Iceland and a vegan falafel wrap on my return trip. The ham and cheese sandwich is served warm on crusty bread, while the falafel wrap included date chutney and crunchy salad for added flavor and texture. Both were tasty. The only sandwich I didn't try was the Club Sandwich, with bacon, lettuce and tomato. Each sandwich cost a reasonable 9 Euro, approximately 9 US dollars. I also purchased water, hot tea and a delectable Icelandic milk chocolate bar loaded with bits of toffee and a sprinkling of sea salt for a sweet-salty contrast. There's a wallet-savvy deal that includes a sandwich of your choice, beverage and a candy bar for a very fair price of 12 Euro.
A selection of beer, wine and spirits are available for purchase. I enjoyed sampling a can of Gull, an easy-to-drink lager that's one of Iceland's most popular beers.
Things to Do in Reykjavik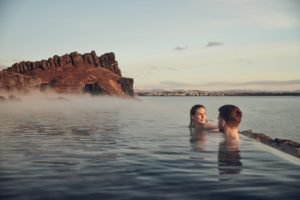 Iceland's otherworldly beauty is a magnet for tourists. Reykjavik is the capital, with fantastic bookstores, innovative architecture (don't miss Hallgrimskirkja, city's the soaring modernist cathedral) and good restaurants. I stayed at Center Hotels Thingholt. My room was comfortable, service was friendly and the breakfast buffet was a winner.
 For high-tech fun, Fly Over Iceland has a state-of-the-art spherical screen and sensory extras such as wind, mist and scents that gives viewers the virtual sensation of flying over Iceland while remaining safely buckled in their seat.
For an immersion in Icelandic bathing culture, Sky Lagoon is an outdoor volcanic spa complex. Try the seven-step ritual and feel your jet-lag melt away.
To savor Iceland's glaciers, waterfalls, volcanos, geysers and lava fields, get out of town and visit the Golden Circle. I booked a full day coach tour with Reykjavik Sightseeing. My guide, Amelia, was a fountain of knowledge. The tour stopped at UNESCO World Heritage Site Pingvellir National Park, the magnificent Geysir Hot Springs and breathtakingly beautiful Gullfoss waterfall.
Fly Play to Other European Destinations
PLAY's flights from the United States arrive into Reykjavik's Keflavik airport very early in the morning. This is advantageous if like me, your time in Iceland is limited and you want to hit the ground running to maximize every precious second. It's also beneficial if you are connecting on to one of the 22 other European destinations that PLAY flies to. Want to get to Paris cheaply? Play flies into Charles de Gaulle. Feel like going to the theatre in London? Play connects to London Stanstead. Copenhagen, Berlin, Dublin and many other cities are also served connecting via Reykjavik. The airline has recently expanded to include Liverpool and Athens, with Stockholm and Hamburg coming in spring, 2023.
Play in a Nutshell
I'd gladly fly PLAY again. Low ticket prices, customizable amenities, simple yet tasty food, friendly service and Nordic style made the in-flight experience pleasant. Departing and arriving into Stewart airport allowed me to avoid the headache and hassles of NYC's major airports, making my trip unexpectedly easy from start to finish.