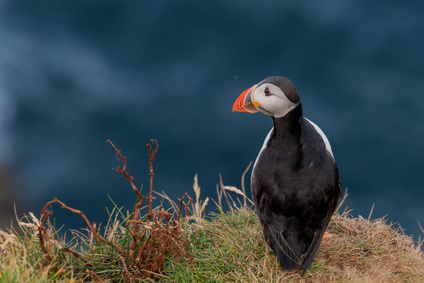 As an international holiday destination, Wales is a little way off the beaten track. All the great cities of the UK- London, Manchester, Edinburgh, and Glasgow- are far away. While Wales has a rich culture and history of its own, they are much less well known than those of England or Scotland.
Pembrokeshire lies in the extreme south-western corner of Wales- it's a quiet and sparsely populated even for a part of Wales, but those visitors who do make the trek down here are rewarded with some of the most beautiful beaches and sea cliffs in the British Isles. It's home to incredible wildlife, literally thousands of years of visible history, and of course, very few crowds.
It's a well-kept secret shared by locals and people like me, who live in the city (this almost always means Cardiff or Swansea, to the east) but want to get out every so often and enjoy some fresh air and open space.
There is a great deal to see, and the best way to see it is usually on foot. The Pembrokeshire Coast Path runs for 186 miles from Amroth in the south to St Dogmaels in the north. Starting the walk, you might see the remains of a petrified forest on the beach. The fossilized stumps are only visible at low tide but it's well worth timing a visit to the beach to catch them.
Further on, hikers pass the Green Bridge of Wales, a natural arch carved by the sea. It's almost 100ft and about as wide- a huge, curving mass of limestone dropping down into crystal clear blue sea. Humans have left their mark too. The Coast Path is littered with prehistoric stone circles, the remains of Neolithic settlements, standing stones, and medieval chapels. It takes in St David's Cathedral, which has been a focus for pilgrimage for 1400 years, and passes close to the colossal castle at Pembroke.
As spectacular as the Coast Path is, not everyone comes to hike. The cliffs attract rock climbers from across the UK and although the waters are quite cold even at the height of summer, it's an excellent destination for surfers and sea kayakers. There are several local adventure guides operating so it's not difficult for beginners to give extreme sports a try.
Boat tours are also very popular, both for fishermen and sightseers. It's one of the best places in Western Europe to see whales, porpoises and dolphins. More than 100 bottle-nose dolphins make their home in Cardigan Bay, and minke, fin, orca, and humpback whales are all regularly sighted from the cliff tops or from boats.
Despite the wealth of other attractions, Pembrokeshire is probably most famous for its seabirds. In the summer months, birdwatchers can tens of thousands of manx shearwaters, skuas, auks, petrels, razorbills, and guillemots, but there is one bird that just steals the show: the Atlantic Puffin.
There is really only one place to see Puffins south of Scotland and that's Skomer Island just off the Pembrokeshire coast. The whole island is a nature reserve, with carefully marked trails and restricted access. Visitors are ferried across in a fairly small boat and do have to pay for the privilege but the trip is well worth it.
About 12000 puffins come to nest on Skomer every year. They use every available patch of turf for burrowing, and because all land predators were carefully removed from the tiny island, the puffins have become very bold indeed. Hikers often have to wait while a puffin waddles across the path in front of them with a beak full of sand eels.
As you can imagine, it's a paradise for amateur photographers and birdwatchers but Skomer is also a great place to take kids. There is something very comical and lovable about puffins, with their bright beaks and painted clown eyes. Dozens of other birds nest on Skomer, some abundant and some rare, but the puffin is everyone's favourite.
We've been to Skomer and the nearby coast many times, and the atmosphere of the place varies dramatically with the weather and the season. In the summery, warmer months there are seabirds everywhere and grey seals haul out on the rocks under the cliffs. Wildflowers abound and the water is often glassy, beautifully clear and calm.
In the winter it can be a very different story. Huge Atlantic swells batter the coast and the wind comes roaring off the sea. The boat trips are cancelled on days like that, but just walking along the coastal paths feels invigorating. In empty, unspoiled Pembrokeshire you can really feel the power of nature at its wildest.
It doesn't matter what time of year you come, Pembrokeshire can provide something special. Of the many weekends I've spent there no two have been the same, but it has always been a worthwhile journey. The trip is about two and a half hours from Cardiff or five from London, so it feels a lot further away than it really is.
Jess Spate lives in Cardiff and works for a camping gear retailer. She visits Pembroke five or six times a year and can't imagine being bored of it.