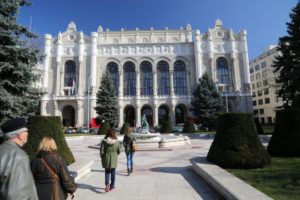 Budapest has been a place of inspiration for many writers and composers. For this reason the city was known for its coffee house culture which served as a meeting point for creative minds. In Budapest you can find historical coffee houses that are traditionally owned by one family and passed on generation to generation, but also there are many trendy hip cafes to enjoy a good cup of coffee.
The coffee houses are often very elegant and still have the flair of the historic past when they were the No 1 meeting point for many artists, especially writers. A main reason for this was that many of the artists were poor and they couldn't afford to heat their apartment all year around, so spending the day at a coffee house was a lot cheaper. Some of the coffee houses even offered paper and pencil to some of their frequent clients.
And these coffee houses are the best place to eat sweet delicacies. Here are some suggestions that you can try when you're staying in apartments in Budapest:
Somloi galuska: Sponge cake dumplings with chocolate sauce. They usually get prepared with whipped cream and chocolate sauce on top.
Eszetehazy torta – This is a very rich cake layered with walnut cream. You can't really eat too much of it (– at a time).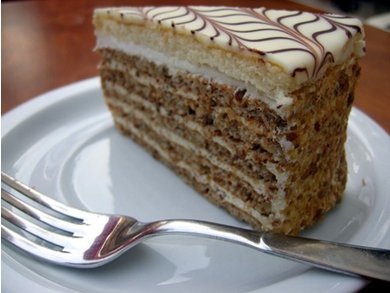 Rigo Jancsi – Chocolate cake that has a chocolate mousse filling and a chocolate frosting. Did I mention that it contains chocolate?!
Rakoczi Turos – Cottage cheese cake. For anyone who loves cheese cake this is a must. Sometimes it is served with berries or peach on top. Absolutely delicious!
Retes – or simply Strudels, a flaky pastry that can come with different fillings (cottage cheese, apple, poppy-seed or cherries). My favorite variation: Warm apple strudel with a scoop of vanilla ice-cream on top.
Are you in the mood for something sweet now? Well, I sure am. And if you are in Budapest you should know places where to order at least one of these deserts. Here are two popular addresses in the city that won't disappoint with the ambience or the deserts you order:
Ruszwurm
Buda, Castle District, Szentharomsag utca 7.
Cafe Gerbeaud
Vorosmarty ter 7., Pest, district V.
But the deserts should not be the only reason to rent Budapest apartments to visit the "Pearl of the Danube." The city has much more to offer and maybe one of the best perks of it is that it is very affordable compared to other big European cities.