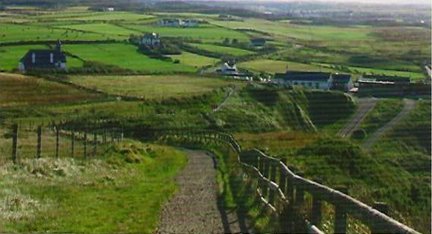 As our plane dipped down below the mist, patchwork fields of green came into view. Then we went in for the landing in Belfast and could see sheep in a nearby pasture. This was hard to explain, but I felt like I was entering into an ancient homeland. Maybe because my family had distant Irish ancestry.
My sister-in-law met my mother, sister and I and we went by car to the Inishowen Peninsula in County Donegal along the coast to Moville. The first day, we just tried to get rid of the jet lag and catch up with my brother and his wife who had two churches to pastor and were there for a two-year term.
The next day we walked from their house to a walkway that went all the way into Greencastle. This path followed the shore of Lough Foyle past cows that lined up to watch us pass by with their big heads within touching distance because the other side was against a rock wall. The trees looked like they were out of some storybook, big, dark and shadowy. Then we walked by Green Castle which was in ruins, but sent one's mind back to centuries ago. I felt like I was treading on sacred ground as I thought about all the people that had long ago followed this path.
Once in Greencastle, we saw the many fishing boats that made a picturesque scene as their hulls and names reflected in the water. Nearby was a museum and a memorial to all those lost at sea. Apparently the North Sea could be merciless in bad weather.
The second day, we went the other direction into Moville and met many Irish people who would stop and talk to us. Some had dogs that were not on leashes that would trot alongside them. Their willingness to converse with us and their patience with their animals were impressive.
We were told there was something in bloom all year long. On this walk, we noticed palm trees next to birch trees and were surprised to see these subtropical plants.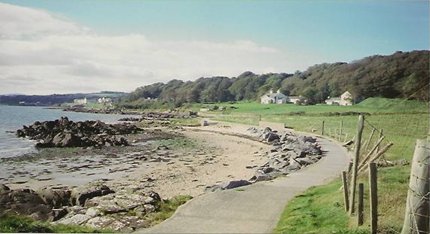 Then we visited a farm family. The house and fields were surrounded by stone walls built decades ago by their industrious ancestors. We were ushered into their small, but cozy living room and sat in front of a fire fueled by peat. After a good conversation, we were led into the dining room for tea. The table was laden with all kinds of tray bakes (brownies, little pies, and scones, etc.) and of course tea in beautiful cups and teapots.
Here the elderly gentleman told us a beautiful story of his Border collie that rode the bus. It seems the dog would help the local butcher herd the cows into town, but when the job was done, the dog was fed and sent home. Well, every farmer had a dog that was very territorial and the poor dog would have to fight his way past every farm. Thus, one day at the request of the farmer, the butcher put him on the bus and the dog knew when to get off. We all enjoyed this tale as we sipped our tea around the table.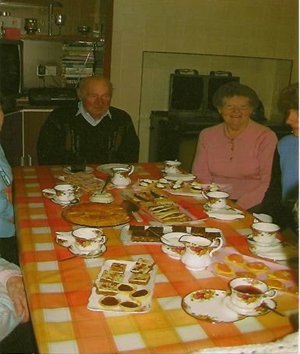 The first church function we attended was a service of Harvest Celebration. The windows were all decorated with home-grown foods, peat, flowers, small replicas of cows, sheep, etc. It was all so earthy. Then after the service, we remained there because they didn't have a hall. We were served goodies and tea in real china cups and saucers. I have to give credit to these people as they didn't use paper plates or napkins. They were very concerned about not polluting our earth.
Here we were able to talk to the local people again. The older men wore suits and the women were dressed up. I felt like I was stepping back in time about 50 years. Most were farm people and worked long hours raising livestock. Once again we heard an old story about a man's family dating centuries ago. The family was poor and had to pay rent to the landowner, but didn't quite have enough. They sent their son to the landowner to plead for more time to pay. However, the heartless landowner's thugs rode past the boy on his way home. When he got there the house was burned down. This boy vowed to get even one day and in time married into a wealthy family in England. When he came back to Ireland, the landowner was having financial difficulties. The boy, now a man, bought the property and kicked out the landowner. The person telling this story was quite proud and said to this day the castle was still in his family.
We later went to Londonderry/Derry to go shopping. Here we had to use pounds instead of Euros as we were no longer in the Republic of Ireland. One of the most fascinating sites for me was to see statues depicting immigrants departing for America. The elderly parents stood together with downcast faces and the young family with the father and daughter eager to move ahead, but the mother and son were looking back. It evoked sadness as one guessed many families never saw each other again.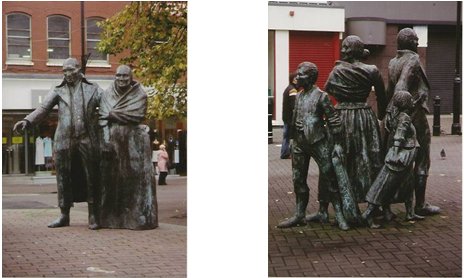 In Derry, we also saw several school kids from various schools. They were dressed in uniforms of their school colors. The girls had pleated skirts and blazers with a scarf or tie. The boys had trousers and blazers with ties. It was neat to see teens so well dressed. Maybe they changed into jeans when home, but while there, they looked great.
We also got to experience an Irish pub. It was not like in America where young people come to party, but a mix of generations that came to enjoy food, drink, and good music. Fiddles, concertinas, and other instruments depending on the musicians that showed up gave concerts of Irish ballads and many lively tunes.
Northern Antrim County was a must see according to my brother. We took a ferry across Lough Foyle. Then saw the Giant's Causeway which was an awesome hexagonal formation of stones that extended into the sea. Therefore, I could understand the myth of them being stepping stones for giants to get to Scotland.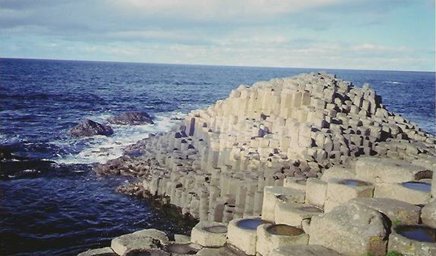 Also, on the way, we saw the ruins of Dunluce Castle which was several feet above the sea. It was said that the kitchen portion fell away and some of the domestic help fell to their deaths.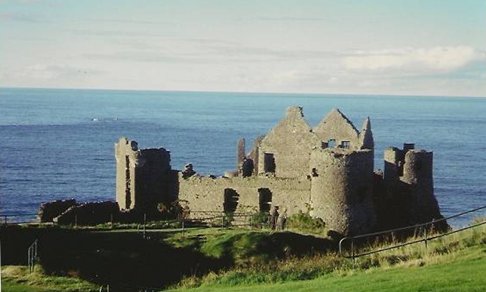 From our upstairs bedroom, I could see the beautiful sunset over the bay. I recalled the vivid rainbows like I had never seen before, the waterfalls cascading over stone cliffs, and the hills and valleys in patches of various shades of green, the Giant's Causeway, the North Sea as it roared against the cliffs on the northern most part of Ireland. These scenes are etched in my mind. The people were so endearing and friendly. As one fellow walker said on the way into town, "You'll be back". Yes, maybe not physically, but this part of Ireland will be revisited in my memories.