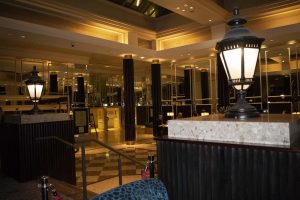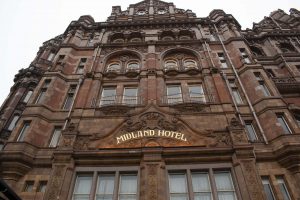 The Midland Hotel in Manchester, England, was built in 1903 to serve railway passengers from the then Manchester Central Station, situated behind the hotel. Although the station is now gone and the hotel has been much refurbished, it remains the oldest purpose-built hotel in the city. One look at its gothic exterior as you approach, and you know this is going to be something special.
I took my daughter for a spa break at The Midland last week, and from the moment we entered to the moment we left relaxation and luxury enveloped us. You might not think it when you view this classical building from the outside, but this is a modern stylish hotel with an incredible spa that recently won Best Urban Spa at the Good Spa Guide awards. Alongside its ultra-modern spa and modern British cuisine restaurant, the hotel retains its original charm and many original features, bringing you the best of both worlds.
We took full advantage of the spa facilities while we were there, using the relaxation pool, steam room, sauna, and powerful hot tub, almost as soon as we arrived. Fully relaxed on our first evening, we headed down to dinner. With Mr Coopers restaurant closed for refurbishments, we were served dinner in the Tea Room, traditionally used for afternoon tea, taken by those Edwardian ladies and gentlemen travelling to and from their train journeys. The food at The Midland is varied and much of it is authentic British cuisine, along with a fantastic wine list. Following this we took our drinks to relax in the stunning art deco bar, which is bathed in Mediterranean blue that glows in the high domed ceiling, making you feel like it's perpetually cocktail hour. We were already feeling like royalty when we spotted the actor Ian McDiarmid who played Emperor Palpatine in Star Wars. If it's good enough for an emperor, it's good enough for me! The emperor isn't the first or last important person to pass through these doors. In 1904 Charles Rolls met Henry Royce for lunch in the then grill room at the hotel, to talk over the possibility of designing and selling a very special car together.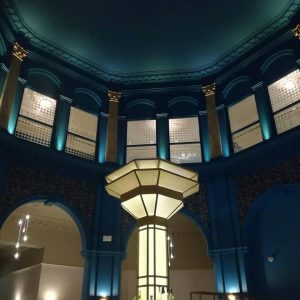 The Midland is full of stories and history and a simple walk along the corridors of its six floors will give you an insight into the lives of the guests who've stayed here over the years. Exhibits of old letters and postcards found in the hotel while refurbishment was underway, line the walls in glass covered displays, and are fascinating to read.
But back to our main reason for visiting. That spa. The next morning we headed down to the basement spa for our treatments. I had Relax in the City, a body exfoliation, back massage and pressure point facial massage, and my daughter had City Living, a back exfoliation and deep tissue massage. Both of these are included in the Spa Break package, along with a short menu of other options to choose from. You can, of course, opt for a day spa or just book yourself in for individual treatments, of which the hotel offers a long and varied list. Following the treatments we were shown to the relaxation room. I've got to say, this is one of the best of its kind I've seen. This large low-lit room with tepees suspended from the ceiling, relaxation pods, beds, and cushioned alcoves to lay out in and have a snooze, is the ultimate in post treatment after care. Pots of herbal teas and jugs of lemon water, cucumber water and lime water are lined up for you to sample, and gentle relaxing music plays while the tepees sway and a nap on the cushions beckons. I could have stayed in this room for hours!
Unfortunately the spa experience has to end at some point and it was time for us to gather our things and check out. The staff at The Midland are all welcoming and helpful, and we were made to feel that nothing was too much trouble. This is a stunning hotel where conventions and seminars go side by side with quiet business meetings over dinner, and cosy up to spa breaks and relaxation, right up close with afternoon tea, a quiet drink in the bar, or a history buff's paradise. A quick walk around the back of the building and you can see the former railway station, Manchester Central, now an exhibition centre. Take a moment to imagine the comings and goings from the station to this magnificent hotel. The station may not exist anymore, but The Midland is here to stay, evolving and modernising, while keeping its atmospheric and historic exterior. This truly is where old meets new, and it does so beautifully.